---
Album info
Album including Album cover
György Kurtág (b. 1926): Játékok / Spiele / Games, Band VIII (2010):

1

Kurtág: Játékok / Spiele / Games, Band VIII (2010): Flowers we are ... (embracing sounds)

00:24

Johann Sebastian Bach (1685 - 1750): Nun komm' der Heiden Heiland (BWV 599):

2

Bach: Nun komm' der Heiden Heiland (BWV 599)

01:33

György Kurtág: Játékok / Spiele / Games, Band VIII (2010):

3

Kurtág: Játékok / Spiele / Games, Band VIII (2010): One more voice from far away

01:57

Johann Sebastian Bach: Herr Christ, der ein'ge Gottes-Sohn (BWV 601):

4

Bach: Herr Christ, der ein'ge Gottes-Sohn (BWV 601)

01:06

György Kurtág: Játékok / Spiele / Games, Band VIII (2010):

5

Kurtág: Játékok / Spiele / Games, Band VIII (2010): Responsorium (Pilinszky: A snow-white arm)

03:26

6

Kurtág: Játékok / Spiele / Games, Band VIII (2010): Hommage à J. S. B.

00:58

Johann Sebastian Bach: Aus tiefer Not schrei' ich zu dir (BWV 687):

7

Bach: Aus tiefer Not schrei' ich zu dir (BWV 687)

03:59

György Kurtág: Játékok / Spiele / Games, Band VIII (2010):

8

Kurtág: Játékok / Spiele / Games, Band VIII (2010): Dirge

00:37

Johann Sebastian Bach: Dies sind die heil´gen zehn Gebot´ (BWV 635):

9

Bach: Dies sind die heil´gen zehn Gebot´ (BWV 635)

00:41

György Kurtág: Játékok / Spiele / Games, Band VIII (2010):

10

Kurtág: Játékok / Spiele / Games, Band VIII (2010): Study to Pilinszky's 'Hölderlin' (Position exercise)

01:13

Johann Sebastian Bach: Alle Menschen muüssen sterben (BWV 643):

11

Bach: Alle Menschen muüssen sterben (BWV 643)

01:04

György Kurtág: Játékok / Spiele / Games, Band VIII (2010):

12

Kurtág: Játékok / Spiele / Games, Band VIII (2010): Beating – Quarrelling

00:56

13

Kurtág: Játékok / Spiele / Games, Band VIII (2010): A quiet farewell to Endre Székely

00:39

Johann Sebastian Bach: Gott, durch deine Güte (BWV 600):

14

Bach: Gott, durch deine Güte (BWV 600)

00:57

György Kurtág: Játékok / Spiele / Games, Band VIII (2010):

15

Kurtág: Játékok / Spiele / Games, Band VIII (2010): János Pilinszky: Waltz – for two pianos

01:07

16

Kurtág: Játékok / Spiele / Games, Band VIII (2010): Faltering

03:09

Johann Sebastian Bach: Das alte Jahr vergangen ist (BWV 614):

17

Bach: Das alte Jahr vergangen ist (BWV 614)

01:47

György Kurtág: Játékok / Spiele / Games, Band VIII (2010):

18

Kurtág: Játékok / Spiele / Games, Band VIII (2010): Flowers we are ... for Miyako

01:12

Johann Sebastian Bach: Gottes Zeit ist die allerbeste Zeit:

19

Bach: Gottes Zeit ist die allerbeste Zeit: Sonatina (BWV 106)

02:26

György Kurtág: Játékok / Spiele / Games, Band VIII (2010):

20

Kurtág: Játékok / Spiele / Games, Band VIII (2010): In memoriam Sebök György

02:39

21

Kurtág: Játékok / Spiele / Games, Band VIII (2010): ... goodbye Jan ...

00:40

Johann Sebastian Bach: O Lamm Gottes, unschuldig (BWV 618):

22

Bach: O Lamm Gottes, unschuldig (BWV 618)

03:13

György Kurtág: Játékok / Spiele / Games, Band VIII (2010):

23

Kurtág: Játékok / Spiele / Games, Band VIII (2010): Flowers we are... (in another way) for Miyako

01:23

24

Kurtág: Játékok / Spiele / Games, Band VIII (2010): ... a solemn melody ...

00:52

Johann Sebastian Bach: Allein Gott in der Höh´ sei Ehr (BWV 711):

25

Bach: Allein Gott in der Höh´ sei Ehr (BWV 711)

02:09

György Kurtág: Játékok / Spiele / Games, Band VIII (2010):

26

Kurtág: Játékok / Spiele / Games, Band VIII (2010): Flowers we are... for piano, upright piano and percussion

01:33

György Ligeti (1923 - 2006): Fünf Stücke für Klavier zu vier Händen:

27

Ligeti: Fünf Stücke für Klavier zu vier Händen: Induló (Marsch). Allegro (1942)

01:51

28

Ligeti: Fünf Stücke für Klavier zu vier Händen: Polifón etüd. Allegro comodo (1943)

02:00

29

Ligeti: Fünf Stücke für Klavier zu vier Händen: Három lakodalmi tánc (Drei Hochzeitstänze) (1950)

02:56

30

Ligeti: Fünf Stücke für Klavier zu vier Händen: Sonatina (1950)

04:36

31

Ligeti: Fünf Stücke für Klavier zu vier Händen: Allegro (1943)

00:35

Total Runtime

53:38
Info for Flowers we are ...

With György Kurtág,György Ligeti and Péter Eötvös, Hungary produced three of the most important composers of the European post-war era. The present recording with Ani and Nia Sulkhanishvili combines piano works by Kurtág and Ligeti and shows that the four-hand character piece also has musical significance and genre-historical justification in contemporary music.
Ani & Nia Sulkhanishvili, piano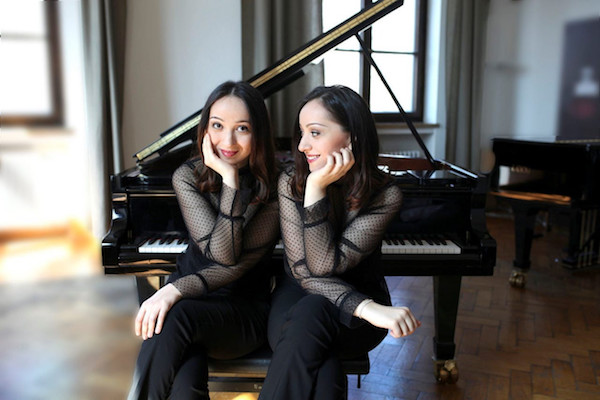 Ani and Nia Sulkhanishvili
were born as twins in Tbilisi / Georgia in 1988.
At the age of 6 they received their first piano lessons from Svetlana Arakelova. The twins later moved to the Z. Paliashvili Music High School under Prof. Lali Sanikidze, who accompanied them until they completed their studies at the Tbilisi State Conservatory.
Until the age of 13, the girls never tried out in a duo. It was only by chance that they came across Debussy's Little Suite for four hands. The interaction fascinated both of them so much that they convinced their teacher to teach them as a piano duo. Shortly afterwards, both took part in the piano duo competition "International Competition for Young Pianists" (Tbilisi / Georgia) and received first prize and the jury's special prize. From this moment on, Ani and Nia continued their intensive two-pronged training - in addition to studying piano, they also studied piano duo. They gave their first important concert with a large program as a duo at the age of 16 in Moscow - with overwhelming success. Since then they have constantly expanded their repertoire, both for four hands and for two pianos and with orchestral accompaniment.
In 2004 they were awarded first prize at the "Konzerteum" piano competition (Athens). Intensive concert activity took the young musicians far beyond Georgia to Russia, Germany, Switzerland and Poland.
Other international competitions followed:
2005: "Taneev International Chamber Music Competition" (Moscow): 2nd prize and two special prizes
2008: "San Marino Piano Competition Allegro Vivo" (San Marino): 1st prize, special prize from Chick Corea, special prizes from the Republic of San Marino, special prizes from TV Rai Uno
2010: "International Valberg Piano Duo Competition (France): 2nd prize
2011: "5. International Piano Duo Competition (Poland, Lomza): 2nd prize, special university prize
F. Chopin in Warsaw and special prize from the Lomza Philharmonic Orchestra
From 2012 to 2014, thanks to a DAAD scholarship, they studied at the University of Music and Theater in Munich and then until 2014 at the Mozarteum University in Salzburg with the piano duo Yaara Tal and Andreas
Groethuysen. During this time, Ani and Nia gave numerous concerts in Germany.
In 2015, the American composer Mar Maarder dedicated his composition Andante & Tocata to them, which premiered in Warsaw.
The highlight of her career to date was second prize at the "64th ARD International Music Competition" in Munich in 2015. This was the start of an international career with performances in Europe, America and China.
The piano duo masters a large repertoire that spans the eras from classical to modern. (2022)

This album contains no booklet.