---
Brahms: 25 Variations & Fugue on a Theme by Handel, Op. 24 & 8 Piano Pieces, Op. 76 (Live) Maria Narodytska
Album info
Album including Album cover
Johannes Brahms (1833 - 1897): 25 Variations & Fugue on a Theme by Handel, Op. 24:

1

25 Variations & Fugue on a Theme by Handel, Op. 24: Aria (Live)

00:52

2

25 Variations & Fugue on a Theme by Handel, Op. 24: Var. 1, Più vivo (Live)

00:44

3

25 Variations & Fugue on a Theme by Handel, Op. 24: Var. 2, Animato (Live)

00:33

4

25 Variations & Fugue on a Theme by Handel, Op. 24: Var. 3, Dolce (Live)

00:41

5

25 Variations & Fugue on a Theme by Handel, Op. 24: Var. 4, Risoluto (Live)

00:45

6

25 Variations & Fugue on a Theme by Handel, Op. 24: Var. 5, Espressivo (Live)

01:17

7

25 Variations & Fugue on a Theme by Handel, Op. 24: Var. 6, Misterioso (Live)

01:19

8

25 Variations & Fugue on a Theme by Handel, Op. 24: Var. 7, Con vivacita (Live)

00:37

9

25 Variations & Fugue on a Theme by Handel, Op. 24: Var. 8 (Live)

00:37

10

25 Variations & Fugue on a Theme by Handel, Op. 24: Var. 9, Poco sostenuto (Live)

00:54

11

25 Variations & Fugue on a Theme by Handel, Op. 24: Var. 10, Allegro (Live)

00:33

12

25 Variations & Fugue on a Theme by Handel, Op. 24: Var. 11, Moderato (Live)

00:52

13

25 Variations & Fugue on a Theme by Handel, Op. 24: Var. 12, Soave (Live)

00:50

14

25 Variations & Fugue on a Theme by Handel, Op. 24: Var. 13, Largamento, ma non più (Live)

01:15

15

25 Variations & Fugue on a Theme by Handel, Op. 24: Var. 14, Sciolto (Live)

00:38

16

25 Variations & Fugue on a Theme by Handel, Op. 24: Var. 15 (Live)

00:47

17

25 Variations & Fugue on a Theme by Handel, Op. 24: Var. 16, Ma marcato (Live)

00:37

18

25 Variations & Fugue on a Theme by Handel, Op. 24: Var. 17, Più mosso (Live)

00:34

19

25 Variations & Fugue on a Theme by Handel, Op. 24: Var. 18, Grazioso (Live)

00:50

20

25 Variations & Fugue on a Theme by Handel, Op. 24: Var. 19, Leggiero und vivace (Live)

00:53

21

25 Variations & Fugue on a Theme by Handel, Op. 24: Var. 20, Legato (Live)

01:08

22

25 Variations & Fugue on a Theme by Handel, Op. 24: Var. 21, Dolce (Live)

00:38

23

25 Variations & Fugue on a Theme by Handel, Op. 24: Var. 22, Alla musette (Live)

00:51

24

25 Variations & Fugue on a Theme by Handel, Op. 24: Var. 23, Vivace e staccato (Live)

00:35

25

25 Variations & Fugue on a Theme by Handel, Op. 24: Var. 24 (Live)

00:32

26

25 Variations & Fugue on a Theme by Handel, Op. 24: Var. 25 (Live)

00:38

27

25 Variations & Fugue on a Theme by Handel, Op. 24: Fuga. Moderato (Live)

05:37

8 Piano Pieces, Op. 76:

28

8 Piano Pieces, Op. 76: No. 1, Capriccio. Un poco agitato (Live)

03:06

29

8 Piano Pieces, Op. 76: No. 2, Capriccio. Allegretto non troppo (Live)

03:06

30

8 Piano Pieces, Op. 76: No. 3, Intermezzo. Grazioso (Live)

02:03

31

8 Piano Pieces, Op. 76: No. 4, Intermezzo. Allegretto grazioso (Live)

02:30

32

8 Piano Pieces, Op. 76: No. 5, Capriccio. Agitato ma non troppo presto (Live)

02:36

33

8 Piano Pieces, Op. 76: No. 6, Intermezzo. Andante con moto (Live)

03:31

34

8 Piano Pieces, Op. 76: No. 7, Intermezzo. Moderato semplice (Live)

03:29

35

8 Piano Pieces, Op. 76: No. 8, Capriccio. Grazioso ed un poco vivace (Live)

03:06

Total Runtime

49:34
Info for Brahms: 25 Variations & Fugue on a Theme by Handel, Op. 24 & 8 Piano Pieces, Op. 76 (Live)

"Her music style unites subtlety and intelligence" (Russian Line Agency) Maria Narodytska is a laureate in piano and composition at the Tchaikovsky National Music Academy of The Ukraine under the guidance of Natalia Tolpygo and Iryna Aleksiychuk. Ms. Narodytska won over twenty-five awards in international competitions, including prizes at "Le Muse", Italy; "Grand-prix", Serbia; "School of the XXI century" and "Evgen Stankovich", Ukraine. Her compositions were added to the collection of the Central National Library of the Academy of Sciences of Ukraine. We are pleased to publish Ms. Narodytska's performance, recorded live by producer Alessandro Simonetto at the historical Sala Maffeiana in Verona during the 2019 Aevea Piano Prize.
Maria Narodytska, piano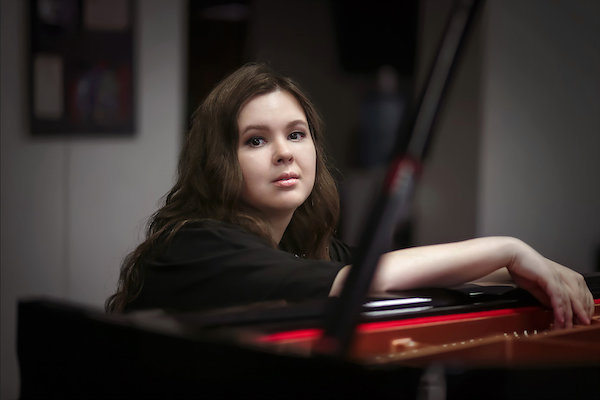 Maria Narodytska
Maria Narodytska was born in Kiev, Ukraine. She had finished Tchaikovsky National Music Academy of Ukraine in 2011 as a pianist under the guidance of professor Natalia Tolpygo and in 2014 as a composer, guided by Iryna Aleksiychuk. Maria holds a degree of Master of Music Arts.
Now she continues her studies in Hamburg High School of Music and Theater under the guidance of professor Ralf Nattkemper.
She is the Ist prize laureate of the International Competition for Young Pianists "Le Muse" (Agropoly, Italy); "Grand-prix" laureate of the Petar Konjovic International Competition for Young Musicians (Belgrade, Serbia); Ist prize laureate of the "School of the XXI century" International Piano Competition (Kiev, Ukraine); Ist prize laureate of the Evgen Stankovich International Competition for Instrumentalists (Kiev, Ukraine); owner of a silver medal at Manhattan International Music Competition, IInd prize laureate at Tkaczewszki International Piano Competition (Busko-Zdroj, Poland), as well as a prize winner at more than 25 other international piano and composition competitions.
Compositions by Maria Narodytska have been included into the fund of the Central National Library of the Academy of sciences of Ukraine.
Numerous praising assessments on Maria's performance and compositions have been published in the newspapers and art magazines of international, national and local levels.
Participating in numerous master courses, Maria had a chance to take lessons from Daniel Pollack, Lily Dorfman, Andrzej Jasinski, Lev Natochenny, Grigory Gruzman, Mikhail Arkadev, Akiko Ebi.

This album contains no booklet.