---
Dominique Lemaître: De l'espace trouver la fin et le milieu Dan Barrett
Album info
Album including Album cover Booklet (PDF)
Dominique Lemaître (b. 1953):

1

Orange and Yellow II

07:53

2

Thot

06:13

3

Mnaïdra (Version for Cello)

06:18

4

Stances (Hommage à Henri Dutilleux)

13:35

5

Plus haut

10:10

Total Runtime

44:09
Info for Dominique Lemaître: De l'espace trouver la fin et le milieu

Cellist Dan Barrett releases a recording of works for cello by composer Dominique Lemaître. Lemaître (born in 1953), who has written more than one hundred pieces ranging from electroacoustic to vocal chamber music and from pedagogical to concertante works, is a composer of sensitivity and mystery. Aesthetically, his musical palette is tinged with sentimental moods, reminiscent of an early infatuation with recording studios and influenced by his thorough knowledge of the music of Claude Debussy, Edgard Varèse, Giacinto Scelsi, Maurice Ohana, György Ligeti, Gérard Grisey and Tristan Murail.
As for Lemaître's musical philosophy and language, it is worth mentioning the underlying modality, the palpable attraction of pole notes, the distinct coloring of some light and shadow zones, the stratification of polyrhythmic play, the writing of singular tone sequences, the obsessive combination of relevant poly-textures maintained by loops or swirling effects – all gestures arranged through a practice of inner listening and realized in the privacy of his music studio located in Fécamp (a harbor town in Western Normandy).
Orange and yellow II (2013) for two cellos is a transcription for cello of the piece Orange and Yellow: Homage to Morton Feldman, originally written for two violas in 2009. The cycle explores homogenous duos that could almost be qualified as "stereophonic," written for identical instruments – or voices. The title, Orange and yellow, makes reference to the eponymous painting created by Mark Rothko in 1956.
Thot (1994) for clarinet and cello alludes to the Egyptian god of scribes, but suggestions of immensity (the sand) and eternity are equally present. Thoth is a creator god, linked to the Moon, the nocturnal double of the Sun. He is also the master of writing, medicine, and liturgy. He is the divine record-keeper of the relationships between beings and things. As Claude-Henry Joubert notes, "Thus prayed the scribes of the 19th dynasty, and thus do the cello and clarinet express themselves as they rush past one another, prolong one another, like shadows, joining together only to go their separate ways the next moment, without idle talk."
Claude-Henry Joubert remarks that:
"Mnajdra is a Bronze Age temple situated to the south of the island of Malta, the isle of bees or the isle of honey, as it was called in ancient times. Mnaïdra is a lyrical and robust piece. The cello speaks out on all four strings, an oration punctuated by premonitory pizzicatos. Each phrase is opened with a penetrating high B-flat, and it is to this note that it continually returns during the entire first part of the piece. It then wavers, and gathers itself into a diminished octave on the B-natural. The lyricism vanishes, lengthy sustains set in. Suddenly the A becomes the dominant force, illuminating the scene. It is with an embellishment of this note, the A, that the piece will end, in a long melody that soars across four drawn-out notes (A-flat, A, B-flat, B), a melody punctuated by pizzicatos of open strings. The high B-flat will return, five times, like a reminiscence, then will melt away into a harmonic of the A and the piece will fade away, high F-sharp perdendosi… This is a world that has passed, a presence that has disappeared, a voice that has gone silent but of which the echo lingers on, a memory."
Lemaître openly acknowledges how fortunate he was to have known the famous French composer Henri Dutilleux (1916-2013) and to have received both his encouragement and his compliments. The score for Stances, hommage à Henri Dutilleux (2015) for cello and piano, dedicated to Barrett, which unfolds over roughly fourteen minutes, consists of sixteen adjoined sections made up of three tempos and three pitch reservoirs, which alternate regularly, all fashioned after the same model. This results in a general form that effectively calls to mind the poetic structure of the stanza: a personal meditation on an identical schema that can be seen throughout the piece.
The solo cello piece entitled Plus haut ("Higher") picks up elements from the "concertante"-style piece Altius, a state-commissioned work composed in 1999 for Anne Gastinel and brought to life in Lyon in 2000 by the dedicatee herself. Made up of three adjoined sections, this solo piece seems to be driven by the same desire for ascension, for elevation, almost for levitation. Indeed, like Altius, which evoked a transition from the Earth element to the Air element, the soliloquy Plus haut seems to lead to a musical metaphor that describes the sensation one feels when leaving the ground.
With this prolific musician, listeners can hear the latent ambiguity that lies between consonances and dissonances, as well as the aesthetic ambivalence persisting between uniqueness and diversity, a principle favoring both melodic monologues (Mnaïdra, Plus haut) and mosaic orchestrations (Altius). So, overall, there is no doubt that Dominique Lemaître has the soul of a philosopher, particularly when dealing with time, as he is continuously À la recherche du temps suspendu (In Search of Suspended Time) – a book about his music in the 21st century, published in 2018.
Dan Barrett, cello
Stanislav Orlovsky, cello
Michiyo Suzuki, clarinet
Jed Distler, piano
Produced by Brian Keane and Dan Barrett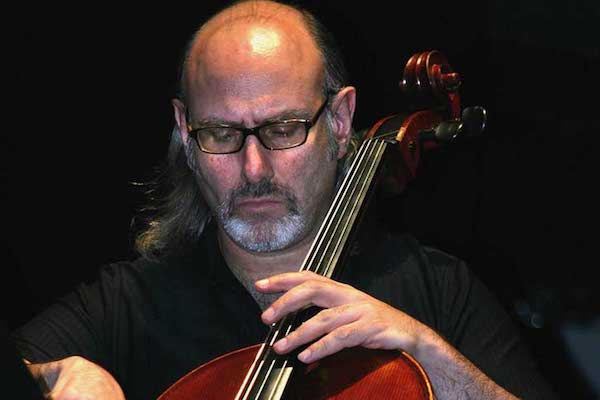 Dan Barrett
Hailed as "a brilliant and driven cellist, composer, and conductor" (Huffington Post), whose instrumental playing is described as "fire and ice" (The New York Times), Dan Barrett is the creator and director of the music ensemble International Street Cannibals (ISC). He has played extensively for BBC America in their TV series Copper, and for the national public television station PBS, particularly as solo and ensemble cellist for documentaries such as Ric Burns' Oliver Sacks: His Own Life, Death and the Civil War, The Way West, Andy Warhol, and his 10-part series The History of New York, and for The Great Depression. He has also performed in numerous documentaries for HBO Television and for the national sports station ESPN. His solo performance credits include Festival Radio France, Gulbenkian Festival (Lisbon), Festival Présences (Paris), Alvin Ailey American Dance Theater and WQXR. Featured solos can be heard on recordings by Iannis Xenakis (Mode and Vandenberg labels) and the renowned Irish ensemble Cherish the Ladies (RCA), and on the soundtrack of Andy Warhol (Sony). In addition to being the onstage cellist in James Joyce's The Dead on Broadway, Barrett performed with the Orchestra of St. Luke's, New York City Opera, American Ballet Theatre, Philomusica, Brooklyn Philharmonic, Sirius Quartet, ST-X Ensemble, Strathmere Festival Orchestra, Spectrum Orchestra, Stamford Chamber Orchestra, Connecticut Grand Opera, S.E.M. Ensemble and the concert series North/South Con- sonance. His compositions have been performed by the national public station NPR, Absolute Ensemble, International Street Cannibals, West Virginia Symphony Orchestra and New York Mandolin Orchestra. Barrett has con- ducted The New York Bach Ensemble, the Ethos Ensemble, and the Composers Concordance Ensemble, among others. He has also taught at New York University, Outreach Academy (Schwaz, Austria) and the Chamber Music Institute for Young Musicians (Stamford, Connecticut).
Stan Orlovsky
was born in a musical family in St. Petersburg, Russia. He studied with his father, Arkady Orlovsky (former principal cellist of the Indianapolis Symphony Orchestra and the Kirov Orchestra and Ballet), then with Boris Pergamentchikov at the music conservatory of Köln, Germany. Orlovsky has worked with the New York Philharmonic Orchestra and the Indianapolis Symphony Orchestra and as the principal cellist of the Mariinsky Theatre Orchestra in St. Petersburg. He is a member of the Arts String Quartet of New York.
Michiyo Suzuki
A native of Japan, Michiyo Suzuki began her musical studies with piano at age three, violin at age six and clarinet at age thirteen. As a recitalist and chamber musician, Ms. Suzuki has performed extensively in her native country as well as in Europe and the United States. She studied with Charles Neidich at Purchase College Conservatory where she received her MFA degree and at SUNY Stony Brook in the DMA Program. In 1996 she made her New York Debut at Carnegie Recital Hall as an award winner from Artist's International and has been heard with increasing frequency in New York particularly in contemporary repertoire. Ms. Suzuki is a member of ST-X Xenakis Ensemble USA and Absolute Ensemble, and can be heard on "Xenakis Live In New York"and "Iannisimmo" from Vandenburg, and "Absolute Ensemble" and "Absolute Mix" from CCn'C.
Jed Distler
Composer/pianist Jed Distler studied with Andrew Thomas, Stanley Lock and William Komaiko and taught for more than 20 years at Sarah Lawrence College. Early in his career, Distler gained acclaim for his transcriptions of jazz piano solos by Art Tatum and Bill Evans, while his new music piano recitals have offered premieres of works by Virgil Thomson, Richard Rodney Bennett, Frederic Rzewski, Alvin Curran, Lois V Vierk, William Schimmel and many others. Distler's presenting organization ComposersCollaborative, Inc. earned a 2013 Guinness Record for the world's largest keyboard ensemble, featuring a composition of his scored for 175 electronic keyboards. A Steinway Artist, Distler records for the high resolution Spirio player piano and is featured on an upcoming Steinway & Sons CD release, Cole Porter on a Steinway Volume 1. The TNC label recently released Distler's solo piano CD Fearless Monk.
As Artist-in-Residence at WWFM's The Classical Network, Distler is the creator, host and producer of Between the Keys, a weekly program that won the 2017 ASCAP Deems Taylor Virgil Thomson Award for excellence in broadcasting. Distler gained notoriety helping to uncover a scandal of hundreds of recordings fraudulently attributed to pianist Joyce Hatto and was featured in a BBC television documentary on the subject. Distler contributes reviews and articles to Gramophone and Classicstoday.com and is the author of numerous CD booklet notes. His music is available on the Sony, Point, Nonesuch, CRI, New World, Bridge, Steinway & Sons, Musical Concepts and TNC Music labels.

Booklet for Dominique Lemaître: De l'espace trouver la fin et le milieu