---
Album info
Album including Album cover Booklet (PDF)
1

Good Feeling

00:50

2

Constructive Interference

02:17

3

Where there is Smoke

03:28

4

There is probably Fire

04:10

5

Gun Burial

03:01

6

Big Man Do Cry

03:13

7

Magic Whistle

00:51

8

Some Body

04:04

9

9LRR

01:53

10

Revolution Serenade

03:25

11

Sun Rise

01:58

12

Free Dom

04:40

13

Joy River

04:10

14

Stay Tuned!

00:37

Total Runtime

38:37
Info for Stay Tuned!

Stay Tuned!, is Dominique Fils-Aimé's sophomore album, the follow-up to her debut full length Nameless, part of her trilogy that brings to center stage the resiliency of mankind in the face of adversity and oppression and pays homage to Afro-American history and culture.
In this second recording, containing 14 original songs, Dominique delves into the civil rights movement of the 60s and explores several significant socio-political events which deeply affected the course of black history (Lincoln Hills Country Club, Little Nine Rock, Emmett Till). She honours unsung heroes of the civil liberties movement as well as historical figures of the time such as Rosa Parks, Joséphine Baker, Lena Horne, Malcolm X and Martin Luther King.
The album combines elements of soul, jazz, gospel and blends vocal harmonies, double bass, piano and trumpet over stirring and permuting grooves. Stay Tuned!'s lush vocal arrangements bring out Dominique's voice as a stand-alone instrument, giving prominence to the words and the message she carries. Part rebellious and fiery, part sentimental and intimate, Dominique embodies afro-american music from then and now, all the while highlighting its defying power in a violent and divisive society. Breaking away from the standards of traditional compositions, the singer and songwriter presents a body of work focused on liberated musical forms hinting at the spirit of jazz.
Moving on from the blues-tinged Nameless—which boldly confronted historical silences and sorrows—Stay Tuned! is both a call for and reminder of revolution expressed with the fury of red-hot jazz.
Dominique Fils-Aime, vocals
Jacques Roy, bass
Salin Cheewapansri, drums
Elli Miller Maboungou, percussion
Nathan Vanheuverzwijn, keyboards
Etienne Miousse, guitar
Jean-Michel Frederic, piano
Hichem Khalfa, trumpet
Kevin Annocque, didgeridoo
Produced and engineered by Jacques Roy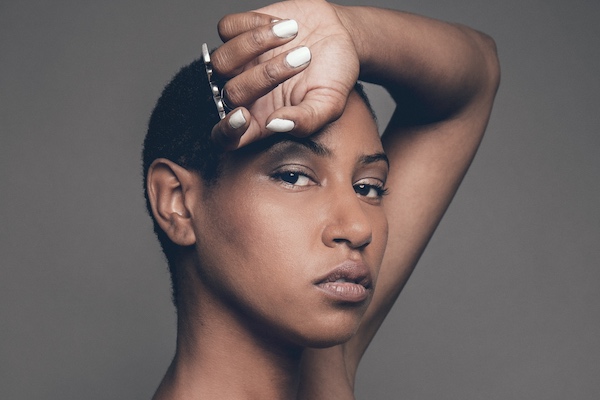 Dominique Fils-Aimé
is a singer-songwriter from Montreal whose inspiration is drawn from soul icons of the 40's and the 60's including Billie Holiday, Etta James and Nina Simone. While her musical roots are grounded in early soul and jazz, her branches glide through contemporary urban soundscapes.
In 2015 she took part in the TV show The Voice and made it to the semi-finals. Her sultry and genuine voice gripped the audience to this day. She released her first recording, The RED Ep, independently and took part in a series of events: Montréal en Lumière, MUTEK, Montreux Jazz Festival in Tokyo (Japan), Mundial Montréal, C2 Montréal, and the Chicago Ideas Week.
Her debut full-length album Nameless released in February 2018 via Ensoul Records pays homage to Afro-American work songs and blues. She performed her album live at the 39th edition of the Montreal International Jazz Festival on July 4th and 5th.

Booklet for Stay Tuned!