---
Album info
Album including Album cover Booklet (PDF)
Philipp Heinrich Erlebach (1657-1714): Sonata terza:

1

I. Adagio - Allegro - Lento (From: VI. Sonate à Violino e Viola da Gamba col suo Basso Continuo, Nürnberg, 1694)

02:25

2

II. Allemande

02:26

3

III. Courante

01:41

4

IV. Sarabande

01:11

5

V. Ciaconne

03:40

6

VI. Final - Adagio

01:58

Johann Sebastian Bach (1685-1750): Matthäus-Passion, BWV 244:

7

Rezitativ. "Ja! Freilich will in uns das Fleisch und Blut"

00:43

8

Arie. "Komm, süsses Kreuz"

06:31

Johann Michael Kühnel (1670-1728): Concerto à Liuto, viola di gamba, basso:

9

I. Allegro - Adagio - Allegro

05:47

10

II. Adagio

01:54

11

III. Allegro

02:41

August Kühnel (1645-1700):

12

Sonate ô partite ad una ô due viola da gamba con il basso continuo: Sonata III à 2

11:09

Dietrich Buxtehude (1637-1707): Sonata No. 4 for Violin, Viola da gamba and Basso Continuo in C Minor, BuxWV 262:

13

I. Poco adagio

01:19

14

II. Allegro

01:30

15

III. Lento - Adagio

03:01

16

IV. Vivace

02:28

August Kühnel (1645-1700): Sonate ô partite ad una ô due viola da Gamba con il basso continuo, Sonata No. 9:

17

I. Sonata

09:06

18

II. Aria and Variations

05:55

Total Runtime

01:05:25
Info for Komm, süsses Kreuz!

"The Stylus Phantasticus is the most free and unrestrained type of playing" said Johann Mattheson in 1739. Around 1700 this style was transfered from the organ to the chamber music where the viol played an important role. Famous viol virtuosos, like August Kühnel, tried to draw attention to the instrument with their compositions. Dieterich Buxtehude also wrote charming trio sonatas in which a viol was required explicitly as second solo voice. Finally the great Johann Sebastian Bach used the gamba in his St Matthew Passion. Frauke Hess and her colleagues develop the blaze of color of Baroque viol music with their new recording.
Frauke Hess, viol
Andreas Arend, baroque lute
Josh Cheatham, viol, violone in G
Torsten Johann, organ, harpsichord
Veronika Skuplik, violin
Dominik Wörner, bass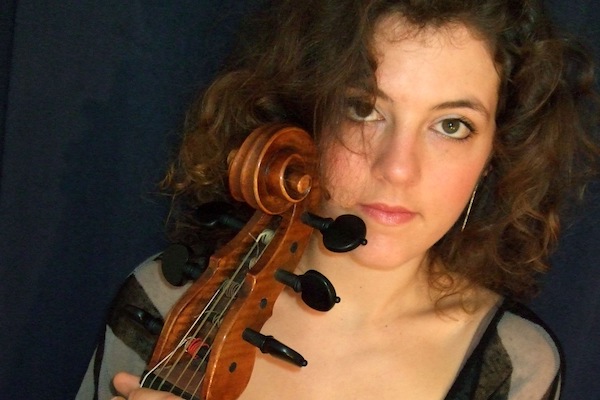 Frauke Hess
studierte zunächst in Hamburg Musikwissenschaft, bevor sie 1999 ihr Gambenstudium bei Sarah Cunningham und Hille Perl an der Hochschule für Künste Bremen begann. Sie ergänzte Ihr Studium durch Besuche verschiedener Meisterkurse, u.a. bei Jordi Savall, Wieland Kuijken, Paolo Pandolfo und Vittorio Ghielmi. Seit 2000 tritt sie als freischaffende Solistin auf den renommierten Festivals im In- und Ausland auf mit Gruppen wie Orlando-di-Lasso Ensemble, Musica Antiqua Köln, Teatro Lirico, Movimento, Dt. Kammerphilharmonie Bremen, Musica Fiata, Balthasar-Neumann Ensemble, Cantus Cölln, Bellarte Salzburg, Ensemble Resonanz, Concerto Copenhagen, Freiburger Barock Consort u.a.
Außerdem nahm sie an zahlreichen CD- und Rundfunkproduktionen mit Gesualdo Consort Amsterdam, Weserrenaissance Bremen, Hamburger Ratsmusik, Boston Early Music Festival Orchestra, Sirius Viols, Il Desiderio u.a. teil und wirkte als Continuospielerin mit Gambe, Lirone und Violone bei Opernproduktionen mit Thomas Hengelbrock, Konrad Junghänel, Stephen Stubbs, Lars-Ulrik Mortensen u.a. an den Opernhäusern in Schwetzingen, Hannover, Düsseldorf, Berlin, Amsterdam, Kopenhagen, Wien, London und Luxemburg mit.
Sie ist Preisträgerin des 3. Internationalen Telemannwettbewerbs.
2007 beschloß Sie mit Auszeichnung Ihre Ausbildung mit dem Konzertexamen an der Abteilung Alte Musik Bremen bei Hille Perl, wo sie seitdem auch als Lehrbeauftragte arbeitet.
2012 wird ihre erste Solo-CD mit norddeutscher Gambenmusik von D. Buxtehude, C.PH.Erlebach, A. Kühnel u.a. bei Coviello Classics erscheinen.

Booklet for Komm, süsses Kreuz!