---
Album info
Album including Album cover
I`m sorry!
Dear HIGHRESAUDIO Visitor,
due to territorial constraints and also different releases dates in each country you currently can`t purchase this album. We are updating our release dates twice a week. So, please feel free to check from time-to-time, if the album is available for your country.
We suggest, that you bookmark the album and use our Short List function.
Thank you for your understanding and patience.
Yours sincerely, HIGHRESAUDIO
1

Disappear

03:15

2

Be Good

03:32

3

You Will Die

03:11

4

No Love

02:53

5

Take Me Away

04:07

6

Tear Me Apart

02:35

7

Trash It

03:31

8

Let It All

02:18

9

Severe Errand

02:53

10

Locking Eyes

04:51

11

Death

02:49

Total Runtime

35:55
Info for Be Good

Off With Their Heads' new album, Be Good, distinguishes itself from the rest of the band's catalog with one very unique characteristic: It's actually good. Frontman Ryan Young thinks so, anyway. "It's the first record I've ever made that I like," laughs Young. "Because there was no reason to make it anything other than what I wanted it to be." The band has been relatively quiet over the last few years, largely because Young was tending to an ill family member who ultimately passed away last year. But through mourning came inspiration. "She was a photographer, and at the wake were all these photos she took," he remembers. One of those photos struck him immediately. It shows a Mennonite family enjoying a sunny day at the beach while an ominous cooling tower looms in the background. "I said: That's gonna be the cover of the album that doesn't exist yet." That photo captures the spirit of Be Good. While all of Off With Their Heads' previous work shares a common thread of being rooted in Young's fatalistic view of the world, Be Good at least allows a tiny glimmer of hope to peek through. "All the other records were about moping around and feeling sorry for yourself," says Young. "This one is less about feeling sorry for yourself and more about accepting how goddamn miserable you are."
Forced acceptance is big theme of Be Good, though it's a hard-learned one, often emerging in the form of primal screams in the band's trademark style of gruff-punk. "Hands up to the sky and shout at the top of your lungs, til the floor falls out!" Young yells on the title track, sounding somewhere between motivational speaker and hard-nosed therapist.
Much of the self-deprecation that defined the band's previous work has been adjusted. It was the years spent out of the van, developing a life at home in Chicago, that gave Young his newfound, slightly more positive perspective. "Not being on the road 250 days a year, actually trying to develop some sort of life outside of playing shows and drinking, you'd be surprised what that does," he says. "I've lost a bunch of weight, I've been going to a gym every day, trying not to kill myself all the time."
Young and the band members—bassist Robbie Smartwood, guitarist John Polydoros, and new drummer Kyle Manning—holed up for two and a half weeks at Pachyderm Studios, a mid-century mansion in Minnesota where Nirvana recorded In Utero, to make Be Good. Young produced the record himself, and it was the first time he enjoyed the process, or at least tolerated it. "I don't like how the old records sound, and I hate recording so much," he says. "You could just hear all the dumb shit on them where I was like, whatever, just let it go, I want to get out of here."
Be Good will be released by Epitaph Records on August 16 and, if ever there was a time for Ryan Young's distinct brand on cautious optimism, it's now. "The title is an answer to that question of what you're supposed to do now that the world is so awful and the climate of this stupid country is so shitty," he says. "Be good, be loud—that's sometimes all you can do, I guess, as cheesy as that sounds."
Off With Their Heads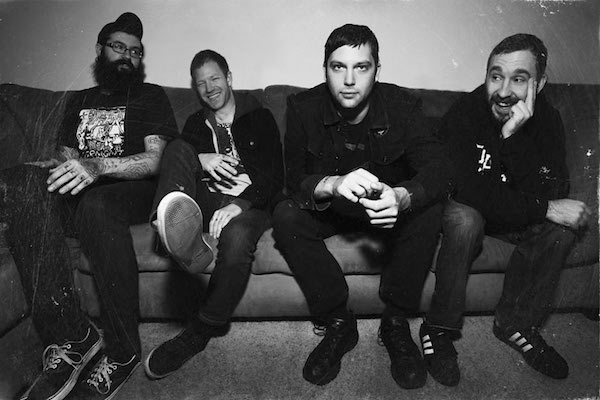 Off With Their Heads
When it comes to unpredictable, self-deprecating, beer-swigging, working class punk rock, you don't have to look much further than Off With Their Heads. Whether they're playing to a crowd of twelve at a dingy sh*thole in Iowa or in front of thousands on tour with bands like Against Me, one thing is always certain, OWTH deliver honest rip-roaring punk rock in it's true form time and time again. And as the band readies the release of their second full length album, In Desolation, OWTH soldiers on in their busted up RV, playing to those who'll listen and self-loathing every minute of it.
Formed in 2002, Off With Their Heads went through a slew of musicians before finally cementing the lineup with Ryan Young on vocals/guitar, Justin Francis on drums, Zack Gontard on guitar and Robbie Swartwood on bass. Since their inception, the band has released an impressive catalog of music including seventeen 7"'s, one LP and a few comps, and has toured relentlessly in US, Europe, Canada and Japan for the past five years with bands like Against Me, Youth Brigade, The Bouncing Souls and Municipal Waste to name a few.
It was during Off With Their Heads' 2009 tour with Against Me when the band got the call from Epitaph's owner/president Brett Gurewitz saying that he was a fan of the band.
"Off With Their Heads might be the best punk band going right now, Epitaph needs them; music needs them," says Gurewitz.
"I remember the first time I'd heard of Epitaph," Young adds. "It was when I was in junior high and Rancid had just released Let's Go. I saw the video, and immediately went and bought the record. I got into the compilations, and that started me on the road to finding all these great aggressive catchy punk bands. Living in a small farm town, I had never been exposed to this kind of music before, and from there I learned about punk. I guess you could say Epitaph was my gateway into everything that I would wind up becoming. For that reason alone, I am ecstatic to be a part of one of the biggest influences on my life."
Off With Their Heads are well on their way to carving out their own punk rock story with their modern take on vintage punk fueled anthems. As the band begins the next chapter of their career they took the time to record their best album to date.
Produced by Off With Their Heads and Jacques Wait at the Terrarium in Minneapolis, In Desolation is 34 minutes of non-stop gut wrenching honesty. Singer Ryan Young's candid lyrics about life's misadventures, stress, drugs, love, death and everything between add a raw surly edge to the band's full-throttle music.
"This record is kind of a collective mix of all the styles we've done in the past," Young explains. "Everything from aggression to sappy bullshit, because that's who I am! This is going to be the record for people who like the whole spectrum of what we do."
From its first track, "Drive," a petal-to-the-metal opener about Young's incessant habit of over thinking things and becoming his own worst critic, to the harsh reality of OD'ing on the sobering yet rowdy song "Trying to Breath" and the explosive middle-finger-in-the-air sing along "Their Own Medicine,"
In Desolation is authentic punk rock to its core from a working band who lives and breathes it every day.
When it comes to touring virtually year round it isn't a choice as much as it's a lifestyle for Off With Their Heads, and after years on the road the band has finally taken a brief break.
"Until the record comes out in June, we won't be doing any shows," says Young. "That's the longest stretch in almost two years that we haven't been on the road. People ask us how it feels to finally get to relax. I'm fucking bored. The other guys are bored. We want to get back out. Not to further our band, but just because we love doing it and are used to it. The title In Desolation comes from a lyric in the song "ZZYZX" on the record. I chose that because after years constantly on the road, being 100 percent by myself sounded pretty rad."
In June Off With Their Heads will once again pack the RV and head out on another indefinite tour strapped with one of the year's most engaging punk rock records and the sheer will to keep the wheels turning.

This album contains no booklet.