---
Album info
Album including Album cover
1

SR Prelude

01:32

2

The Glamattack

05:15

3

Golden Age Of Music

05:12

4

The Rise Of The Starman

04:49

5

Burn It Down

04:52

6

Odyssey

06:46

7

They Took Us By Storm

05:05

8

Golden Boy

05:49

9

Holy Holy Ground

05:06

10

Fight Of The Century

03:55

11

Came To Mock, Stayed To Rock

06:07

12

Children Of The Revolution (Bonus Track)

03:05

13

Heard It On The X (Bonus Track)

02:55

14

Fantasy (Bonus Track)

04:09

15

Love Is All (Bonus Track)

03:08

Total Runtime

01:07:45
Info for Golden Age of Music

Arjen Lucassen's Supersonic Revolution will release their spectacular debut album Golden Age of Music.
You think you know Arjen Lucassen? Towering Dutch prog rock polymath? The man behind the super successful prog rock conceptualists Ayreon? Not to mention his prog metal of Star One and Guilt Machine? Enormous overarching concept albums about space and time, packed to the hilt with special guests that read like a who's who of modern day progressive rock? Arjen Lucassen? Well, think again…
Supersonic Revolution, the band behind 'Golden Age Of Music', are simply five men: Arjen on bass, long-standing keyboard player Joost van den Broek, guitarist Timo Somers, drummer Koen Herfst and singer Jaycee Cuijpers. Five men rocking out and having one hell of a time doing it.
The whole project grew from a request to provide a track for a cover album for the German music magazine Eclipsed. "They asked if I had any cover versions lying around," he recalls. "I said, 'No but I'll happily record one for you.' So, they gave me a list of bands and I saw a ZZ Top song 'I Heard It On The X' that I really like. I said I could record it for them, but then they told me it had to be ready in one week…"
"I was like 'Oh my god!'. I contacted my favourite musicians in Holland via WhatsApp and literally within 30 minutes I had assembled five people. A band basically. From there the seed was sown in Lucassen's mind. 'I want to form a band. And I want to simply have fun!'.
"I'm a perfectionist as you know, so I'm always sending musicians their parts back and asking them to change stuff," he acknowledges. "But this was all brilliant. We were having fun, calling and WhatsApping all the time, and within a week we had a complete product." He continues, "Also I wanted to have an up-beat, positive project."
"I was like, let's form a band and let's write songs in the style of the 70s, and have the lyrics be a celebration of all the memorable things from that time, because those were my formative years," he enthuses. "But I didn't want it to sound like the 70s because that's already been done, and I can't do it any better than 'Stargazer' or 'Kashmir'."
"The guys are all younger than me – around 30 – so they weren't even alive yet in the 70s. So, it was a great way for me to make 70s music with lots of Hammond and blistering guitars, but to update it to this time."
The end result is 11 tracks of high energy, progressively inclined heavy rock that swings with the kind of groove Deep Purple rocked with in the early to mid-1970s. "This album is not a typical prog album. It's not Yes or Genesis. But it's not a metal album either. There's a track called 'Burn it Down'," Lucassen notes, "it's totally based on 'Smoke On The Water' but written from the perspective of the 'stupid with a flare gun' mentioned in the original lyrics.
The album also features covers of some legendary songs given the Arjen Lucassen treatment as bonus tracks: T-Rex's 'Children of the Revolution,' ZZ Top's 'Heard It On The X,' Earth Wind and Fire's 'Fantasy' and Roger Glover's 'Love Is All.'
Jaycee Cuijpers, vocals
Joost van den Broek, keyboards
Timo Somers, guitars
Arjen Lucassen, bass
Koen Herfst, drums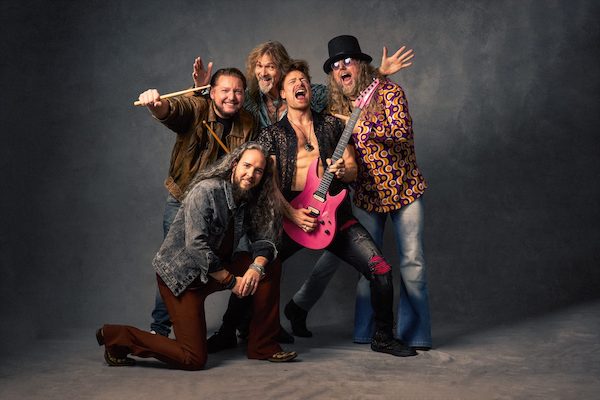 Arjen Anthony Lucassen
Best known for his musical project Ayreon, Arjen Anthony Lucassen was born on April 3rd, 1960 in The Hague. Both Arjen and his older brother Gjalt were good students, but unlike Gjalt, Arjen wasn't interested much in studying. A notorious trouble-maker in class, Arjen decided to pursue a career in the music business after graduating high school. During his teens, Gjalt always teased Arjen a lot, and Arjen has been taking his revenge by playing jokes on his brother in the credits of his Ayreon CDs. If you look carefully, you'll find a Gjalt 'joke' in the booklet of every CD released after 1995. Arjen's love of music was sparked in the 60s, when he became a big fan of the Beatles. He started buying albums in the early seventies when the glam rock era started and bands such as T-Rex, Alice Cooper, The Sweet, David Bowie were rising stars. Arjen really wanted to be in a band but he was too lazy to learn to play an instrument so he started a play-back band mimicking his heroes Alice Cooper, Slade, and The Sweet. He actually did get a lot of gigs in schools and already then he was a busy guy.
Then one day one of the older pupils approached Arjen saying "You have to listen to this," and handed him a copy of Deep Purple's 'Made in Japan'. "Glam rock is OK, but this is really great." When Arjen listened to it and heard Ritchie Blackmore's guitar playing, he knew what he wanted: to play guitar! So he learned to play guitar and went through a stage where he had a lot of different bands until 1980. One of these bands was called 'Mover'.
Bodine: Arjen had heard that the Dutch band Bodine had been looking for a new singer. Although he didn't consider himself a great or gifted vocalist, Bodine was his favorite band so he wanted to get involved.
The first album with Jay van Feggelen on vocals was one of his favorite albums. He figured that he would audition as a vocalist, and bring his guitar, hoping they would give him the position of second guitarist in the band. And they told him that he had good ideas, good lyrics and good melodies but his voice was not what they were looking for. So Arjen told them he had brought his guitar. Those were the days of guitar tandems in bands such as Judas Priest, Iron Maiden, Thin Lizzy. Arjen pulled out his guitar and his amps and just began to play some Bodine songs that he had been working on for a month. And they said: Ok, you're in! Arjen stayed in Bodine from 1980 to 1984 and did two albums with them: 'Bold as Brass' and 'Three Time Running'.
Vengeance: Then Arjen got a call from a young and fresh band named Vengeance asking him if he knew a guitarplayer. Arjen thought just a moment, thinking about how great Bodine was, and what amazing things he had learned from the older much more experienced musicians, but also how limited he felt about expressing his own musical ideas. He couldn't develop himself as a composer and realized that there was a lot of spirit in Vengeance. So Arjen answered: "Yes, I know a guitarplayer… me!"
Vengeance was surprised and very happy, but wondered about his commitment to Bodine. Arjen told them that it was time for a change. He joined Vengeance shortly after that phone call and considers the time with them great, wild and quite enjoyable. He had more freedom to do what he wanted and to compose songs. But still, he had to make concessions since he was in a band and also had to deal with record companies demands. Not every band member agreed on his ideas, which made sense given the fact that they all hailed from different musical backgrounds. In 1989 the band replaced singer Leon Goewie with English native Ian Parry, but the band had a hard time getting a new style off the ground. In the early nineties the grunge and alternative rock genre exploded on to the scene. Arjen wished to go into a Rainbow direction with keyboards and bombastic sounds, and other guys wanted to explore Bad Company or Thin Lizzy styles. Because of this they wondered what the audience wanted to hear and started to write songs to please the fans. That was a bad decision. After a very successful farewell tour in 1992 Arjen parted ways with Vengeance.
Striking out alone! Now the road was open for Arjen to work on his own material without interference or having to make concessions to band members. He recorded a few songs with himself on vocals and a record company heard it and was very interested to release the songs on an album. This album became Pools of Sorrow, Waves of Joy and Arjen went by his middle name Anthony. On this album Arjen played all instruments himself, except bass guitar which was played by Peter Vink and keyboards which were played by Cleem Determeijer. He didn't know what he wanted to do musically so the album became a hodge-podge of styles. Country, pop, rock, prog all sorts of different songs, and, even though three singles were released and Arjen performed on various radio shows and small clubs, the album flopped. But to those who listen to the album can hear that there are a few songs that became the basis for a massive project that was still to come. He was looking for a way to make a life-long dream come true of creating a rock opera.
Ayreon: One particular album released during the 60s left a huge impression on Arjen. The album had everything Arjen was looking for: the music took him on an adventure, lyrics drew him into an emotional story, and reading lyrics along to discover that famous vocalists were playing parts. It became the ultimate tool for escapism for Arjen. The album was Andrew Lloyd Webber's Jesus Christ Superstar. This album was followed by other similar albums such as War of the Worlds featuring Phil Lynott, The Who's Tommy, Pink Floyd The Wall. After that Arjen realized that time had come to do it himself, and to do it his own way. Not limited music to one style. He used all his styles — prog, metal, folk, Beatles — despite being convinced that listeners with strong genre preferences would hate not being able to pigeonhole the music. But that didn't matter to Arjen: for once in his life he wanted to make an album without compromises, just making the music he loved. This album became Ayreon – The Final Experiment. He found a small Dutch label interested in the project and the album simply took off. Several years later, after changing record companies, Arjen has released seven Ayreon albums as well as one compilation.

This album contains no booklet.