---
Album info
Album including Album cover Booklet (PDF)
Pierluigi Billone (b. 1960):

1

Sgorgo Y

25:06

2

Sgorgo N

23:15

3

Sgorgo Oo

26:03

Total Runtime

01:14:24
Info for Pierluigi Billone: Sgorgo Y, N & Oo

There are not many works for solo e-guitar in the genre of New Music, as the e-guitar has a bigger place in other genres. But if you listen to this recording by excellent guitarist Yaron Deutsch, you will wonder why. Played with brilliant technique and an elaborate sound, this release takes you on a journey through the cosmos of Pierluigi Billone. Pierluigi Billone was born in Italy in 1960 and now lives in Vienna. He studied composition with Salvatore Sciarrino and Helmut Lachenmann. Billone's music has been performed by relevant interpreters in festivals all over the globe, and his works have received numerous international awards.
Yaron Deutsch, guitar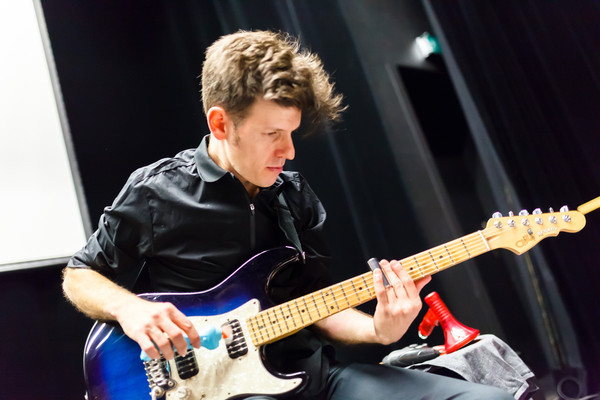 Yaron Deutsch
(Israel 1978), guitarist and artistic director of Ensemble Nikel. At age eighteen, founded and led his first group - Ofek III - a fusion trio playing his own compositions. In 1999, he enrolled and did his studies at the "Rubin Academy for Music and Dance" in Jerusalem under the instruction of guitarists Steve Paskof and Yossi Levi. In 2006 together with saxophonist Gan Lev he founded the Tel Aviv based Ensemble for Contemporary Music - Ensemble Nikel. With the ensemble, Deutsch has presented world premiere performances to pieces by Raphaël Cendo, Chaya Czernowin, Clemens Gadenstätter, Philippe Hurel, Eduardo Moguillansky, Marco Momi, Helmut Oehring, Stefan Prins and Michael Wertmüller to name a few.
As a soloist he is frequently playing with Ensemble Klangforum Wien. Additional guest performance he had with Ensemble Ascolta (Stuttgart), Ensemble Court Circuit (Paris), Ensemble Ictus (Brussels), Ensemble Phace (Vienna), The Israeli Philharmonic Orchestra under Maestro Zubin Mehta, RAI Orchestra (Turin), Vienna Radio Symphony Orchestra under Maestros Peter Eötvös and Pascal Rophe among others.
In addition he is part of a duo named BAND together with Eva Reiter - composer and viola da gamba/blockflute player. In this structure they both explore the fusion of old and modern instruments together with heavy use of electronics.
Besides being an active musician, Deutsch is also the director of "Tzlil Meudcan" (Hebrew: "Update Tone") - The International Summer Course & Festival for Contemporary Music in Israel. It is a structure he initiated and established for the promotion of contemporary music where composers Chaya Czernowin & Steven Takasugi are leading the composition class and colleuge guest performers from various leading ensembles in Europe are coaching young performers in the practice of contemporary music performance.
Deutsch is currently spending his time between Tivo'n and Vienna.

Booklet for Pierluigi Billone: Sgorgo Y, N & Oo