---
Album info
Album including Album cover
1

Hybrid

07:28

2

Layers

06:53

3

Arpeggio

07:28

4

Triad

04:04

5

Sincope

06:35

6

Random

07:21

7

Ambient

05:27

Total Runtime

45:16
Info for Dialect

Genzo Okabe: "In the 'Okabe Family' project, including this album, I have been creating music by relying only on my own sensibilities for about 10 years, without being caught up in what is authentic or what is progress. Whether it's real jazz or not, it's not a problem at all from my personal point of view. Create something voluntarily and throw it into a global platform. Then, if someone somewhere in the world reacts in any way, a new movement will come out. I hope that localization will bring artists to make new communities in the sense of musical interest rather than national or geographic framework, and a variety of music as many dialects enrich our entire society."
Genzo Okabe, saxophone
Miguel Rodríguez, piano
Steven Willem Zwanink, bass
Francesco De Rubeis, drums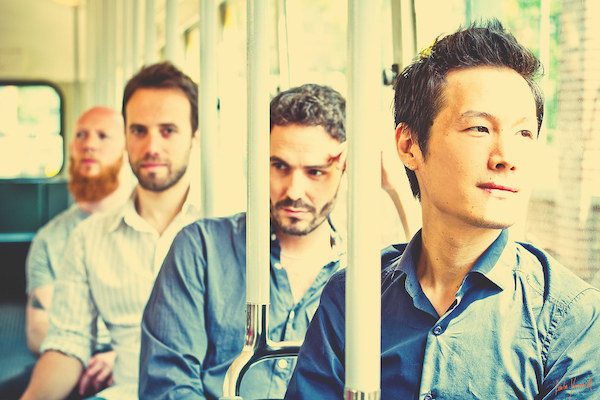 Genzo Okabe
Born in Tokyo, Genzo moved to Italy at the age of twenty, where he studied classical saxophone at the Conservatorio di Musica di Perugia and jazz saxophone at the Conservatorio di Musica "Santa Cecilia" di Roma. Moving to the Netherlands, he obtained bachelor's degree in jazz saxophone at the Koninklijk Conservatorium in The Hague. During this period he founded his own group Okabe Family and released his first album as a leader, Okabe Family (O.A.P. Records, 2013), in which he demonstrated his insights in composition and arrangements as well as a unique sense of creativity. Having accomplished his master's degree in Jazz Saxophone at the above-mentioned conservatory in 2014, Genzo re-interpreted and incorporated the essence of old pre-jazz music into new contemporary sound in his second album, Second Line. The feedback of Second Line was extremely positive and in 2016, his project was selected for the Young VIP's Tour. In this occasion, Genzo released his third album "Disoriental" from Challenge Records International receiving once again great responses from audience and critics.
Okabe Family formed as a group in 2009 in The Netherlands, which is considered to be one of Europe's leading countries in regards to arts and culture. The group has been playing regularly around The Netherlands since its inception. The formation of the band is that of a traditional acoustic jazz quartet, however, the group has made a goal out of pushing the boundaries of what such a group can accomplish in terms of sound and complexity of texture. In February 2013 Okabe Family released their first album on Dutch label O.A.P. Records. Following a CD release tour in the Netherlands, Okabe Family played a larger, seventeen-day tour of Japan in October and November of 2013. Okabe Family released their second album, Second Line (O.A.P. Records), in July 2014, which was based on Okabe's research about reinterpreting 'good and old jazz' and incorporating it into new contemporary music during his master degree at the Royal Conservatory in The Hague. In 2017 Okabe Family released its third album, Disoriental (Challenge Records International), after being selected to take part of the Young VIP's Tour, which awards rising artists in original jazz music and performed at the most renowned venues in Holland such as Bimhuis, LantarenVenster, TivoliVredenburg (Transition Festival) etc. After achieving great responses during Japan tour in October of the same year (Pit-inn, Body & Soul, Motion Blue Yokohama, Mister Kelly's and so on), the band will tour also in Italy and Germany in the first half of 2018.

This album contains no booklet.