---
Garland: Moon Viewing Music (Inscrutable Stillness Studies #1) William Winant
Album info
Album including Album cover Booklet (PDF)
Peter Garland (1952- ): Moon Viewing Music (Inscrutable Stillness Studies No. 1):

1

I. Living Alone in the Woods [Ryokan]

04:21

2

II. Even More So [Buson]

04:49

3

III. Only the Moon [Saigyo]

05:03

4

IV. As I Look at the Moon [Saigyo]

09:37

5

V. When I Die [Saigyo]

05:24

6

VI. I Cleansed the Mirror [Renseki]

04:56

Total Runtime

34:10
Info for Garland: Moon Viewing Music (Inscrutable Stillness Studies #1)

Moon Viewing Music (Inscrutable Stillness Studies #1) is a quiet, sparse, introspective six-movement work for three large gongs and a large tam-tam. Performed by celebrated new-music percussionist William Winant, it unfolds with a muted sensuality and a glacial inevitability—as if bent on suspending time. Each of the movements (or individual "pieces," as the composer sometimes refers to them) has a distinct character, developing in its own fashion—utilizing such traditional means as canons and rhythmic augmentations, as well as more free-form structures.
The composer writes: "Moon Viewing Music is composed for three large knobbed gongs and one large tam-tam. For the gongs I want a deep low sound; but at the same time the relationship between them {and the character of the pieces in which multiple gongs are featured) is essentially melodic. I am not fixing pitches or interval relationships, so as not to limit possibilities (and to accommodate what might be available on hand). But the tonal (and harmonic/vibrational) character of the three gongs is very important.… The gongs and tam-tam should be allowed to resonate and decay freely. At no time should any of them be damped.
"This music is low and slow—an obvious correlation exists between tempo and pitch register. I might also suggest a correspondence between the round shape of the gongs and tam-tam and that of the full moon.… Each of the six pieces has a corresponding haiku or short poem, and there is meant to be a correlation between text and music…. "For me moon viewing is a year-round activity, though I'm aware that it is associated with autumn in the Japanese literary tradition (as in the text for #4). This cycle was composed in the winter. There is a unique light and intensity in a winter moon, as it rises in the darkest days (nights) of the year, and shines on a landscape of trees stripped of their leaves and of white snow that amplifies and reflects the moonlight, often creating an eerie sense of daylight—further reinforced by the shadows cast on the snow. There is also a special silence because of the extreme cold and the absence of animal, bird, and insect sounds. If autumn is the moonlight of nostalgia, winter is the moonlight of loneliness, an inscrutable stillness…."
"From the home of one of my favorite labels when it comes to modern classical music…Peter Garland's Moon Viewing Music…which is performed by a single player, William Winant in this case, on three large gongs and a large tam-tam. Unlike the previous works by Garland that I've heard, this is quite experimental and could easily be seen as an unreleased early work by Thomas Köner, when he used gongs as sound sources. The music here is very slow and very meditative, with slow melodies being played on these instruments. The sound is very low in terms of frequencies, and if you play this somewhat louder you feel the waves resonate through your body. Twenty or so years ago this would have been easily called 'isolationist' music—music that is very atmospheric and has its origins in the world of ambient music, but it is very dark and fills your entire space, music that is all immersive. And here's an example of how it could also sound, without any electronic processes and as purely instrumental music. This is a more than excellent release; very contemplative, very Zen, perhaps, even if you are not into that at all." —Vital Weekly (Netherlands)
William Winant, percussion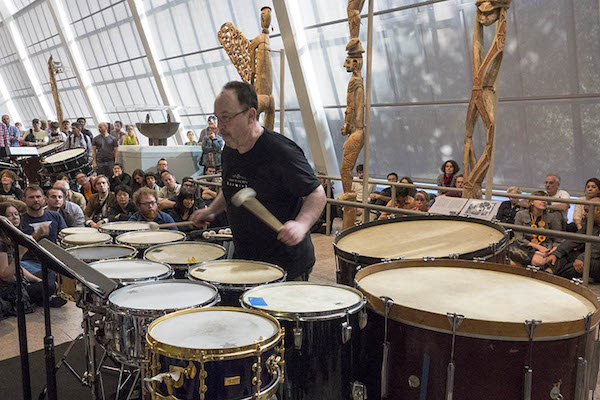 William Winant
declared "the avant-elite's go-to percussionist" by SPIN magazine, is a Grammy-nominated new-music champion who has appeared on more than 200 recordings. Among his recent recording appearances are Roscoe Mitchell's Bells for the South Side and Discussions, Joan Jeanrenaud's Visual Music, Fred Frith's Field Days (The Amanda Loops), John Zorn's Fragmentations, Prayers and Interjections, the collaboratively composed (with Wadada Leo Smith, Henry Kaiser, and Tania Chen) Ocean of Storms, John Cage's The Ten Thousand Things, and Alvin Curran's Shofar Rags.
Winant has worked with and collaborated with some of the most innovative and creative musicians of our time, including John Cage, John Zorn, Alvin Lucier, Iannis Xenakis, Pierre Boulez, Frank Zappa, Keith Jarrett, Roscoe Mitchell, Wadada Leo Smith, Anthony Braxton, Fred Frith, James Tenney, Terry Riley, Cecil Taylor, Gerry Hemingway, Mark Dresser, Barry Guy, Marilyn Crispell, George Lewis, Steve Reich, Nexus, Peter Garland, David Rosenboom, Michael Byron, Jean-Philippe Collard, Frederic Rzewski, Ursula Oppens, Joan LaBarbara, Annea Lockwood, Danny Elfman, Oingo Boingo, Sonic Youth, Marc Ribot, Keith Rowe, Joey Barron, Bill Frisell, Yo-Yo Ma, Rova Saxophone Quartet, Lawrence "Butch" Morris, Henry Kaiser, and the Kronos String Quartet. For many years he worked closely with composer Lou Harrison, premiering and recording many of his works.
Winant is principal percussionist with the San Francisco Contemporary Music Players and the William Winant Percussion Group and has been featured as a guest artist with the Los Angeles Philharmonic (under the direction of Pierre Boulez), the San Francisco Symphony, and the Berkeley Symphony (Kent Nagano, director), as well as at the Cabrillo Festival, the Monterey Jazz Festival, the SFJazz Festival, Central Park SummerStage, the Ravinia Festival, the Salzburg Festival, the Donaueschingen Festival, the Victoriaville Festival, the Holland Festival, the Edinburgh Festival, the Ojai Festival, the Sonar Festival, All Tomorrow's Parties, the Taktlos Festival, the Other Minds Festival, the Meltdown Festival, the Lincoln Center, the Royal Festival Hall, the Library of Congress, the Barbican, the Kennedy Center, the Paris Opera, Disney Hall, the Miller Theater's Composer Portraits Series, Merkin Hall, the Guggenheim Museum, and the Brooklyn Academy of Music.

Booklet for Garland: Moon Viewing Music (Inscrutable Stillness Studies #1)