---
Album info
Album including Album cover Booklet (PDF)
I`m sorry!
Dear HIGHRESAUDIO Visitor,
due to territorial constraints and also different releases dates in each country you currently can`t purchase this album. We are updating our release dates twice a week. So, please feel free to check from time-to-time, if the album is available for your country.
We suggest, that you bookmark the album and use our Short List function.
Thank you for your understanding and patience.
Yours sincerely, HIGHRESAUDIO
Sergei Rachmaninoff (1873 - 1943): 6 Moments Musicaux, Op.16:

1

No. 1 in B Flat Minor, Andantino

07:45

2

No. 2 in E Flat Minor, Allegretto

03:05

3

No. 3 in B Minor, Andante cantabile

05:09

4

No. 4 in E Minor, Presto

03:05

5

No. 5 in D Flat Major, Adagio sostenuto

04:05

6

No. 6 in C Major, Maestoso

04:54

Nicolai Karlovich Medtner (1880 - 1951): Forgotten Melodies Book I, Op.38:

7

6. Canzona serenata

04:26

8

3. Danza festiva

04:46

9

1. in F Sharp Major, Andante cantabile

02:40

Alexander Scriabin (1871 - 1915): 2 Poèmes, Op.32:

10

2. in D Major, Allegro, con eleganza, con fiducia

01:36

Sergei Prokofiev (1891 - 1953): Visions fugitives, Op.22:

11

1. Lentamente

01:15

12

2. Andante

01:13

13

3. Allegretto

01:06

14

4. Animato

01:07

15

5. Molto giocoso

00:23

16

6. Con eleganza

00:39

17

7. Pittoresco

02:16

18

8. Commodo

01:17

19

9. Allegretto tranquillo

01:10

20

10. Ridiculosamente

01:26

21

11. Con vivacità

01:06

22

12. Assai moderato

01:22

23

13. Allegretto

00:43

24

14. Feroce

00:57

25

15. Inquieto

00:58

26

16. Dolente

01:52

27

17. Poetico

01:00

28

18. Con una dolce lentezza

01:27

29

19. Presto agitatissimo e molto accentuato

00:44

30

20. Lento irrealmente

02:03

Pjotr Iljitsch Tschaikowski (1840 - 1893):

31

Lullaby, Op.16, No.1 (Transcr. Rachmaninov)

04:50

Tatiana Nikolayeva (1924 - 1993): 24 Concert Etudes, Op. 13:

32

18. Andante sostenuto

06:00

33

15. Agitato

01:53

Sergei Rachmaninoff (1873 - 1943):

34

Polka de V.R.

04:14

Total Runtime

01:22:32
Info for Reflections

Reflections marks the first recording on Decca Classics of Russian pianist Arseny Tarasevich-Nikolaev, second prize winner at both the 2013 Cleveland International Piano Competition and the 2016 Sydney International Piano Competition.
The album features Russian classics including Rachmaninov's Moments Musicaux, Prokofiev's Visions fugitives, and pieces by Scriabin, Medtner and Tchaikovsky. Of the album, Arseny says that it is very special and precious to him, observing that "it's a bit like an old magic mirror — maybe a false one — which has seen a few generations passing by, and contains memories of all of them."
The album also pays homage to the music of Arseny's grandmother, internationally acclaimed pianist and composer Tatiana Nikolayeva.
"when I see Arseny play, the whole history of piano playing begins to unfold before me" (Gerard Willems)
"profound musicality and deeply lyrical talent... a rare treat in a musician of his young age, and we can't wait to see him grow and develop in his career" (Dr. Alexander Buhr, Decca Classics)
"the piano's ultimate aristocrat" (Cyrus Meher-Homji, Universal Music Australia)
Arseny Tarasevich-Nikolaev, piano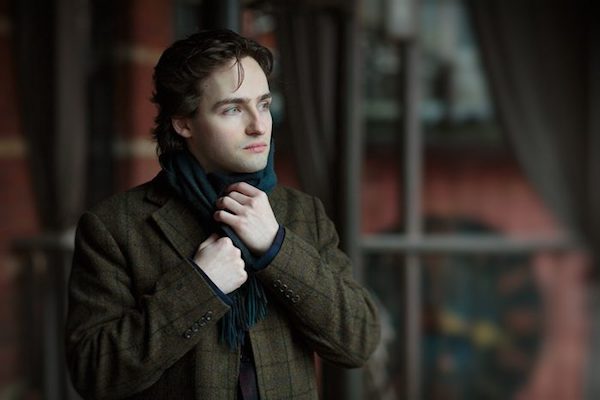 Arseny Tarasevich-Nikolaev
studied piano from the age of four and at nine performed for the first time with the Bryansk Philharmonic Orchestra. During his school years, Arseny won five international youth piano competitions, including the New Names Competition in Moscow. In 2011, he graduated with Honours from the Central Musical School of the Pyotr Ilyich Tchaikovsky Moscow State Conservatory, where he studied with Professor Alexander Mndoyants. He is currently studying with Professor Sergey Dorensky at the Pyotr Ilyich Tchaikovsky Moscow State Conservatory. Arseny won the 5th International Scriabin Piano Competition, was awarded 2nd prize and special prize for the performance of Russian music at the Cleveland International Piano Competition, 2nd prize at the Grieg International Piano Competition in Bergen and also at the Sydney International Piano Competition.
He has toured in Germany, France, UK, Italy, Spain, Switzerland, Norway, Lithuania, Poland, Israel, Macedonia, China, Japan, USA, Mexico and other countries. Arseny has performed with the State Academic Symphony Orchestra 'Evgeny Svetlanov', the Cleveland Orchestra, the Bergen Philharmonic Orchestra among others and has collaborated with conductors including Stanislav Kochanovsky, Stefan Sanderling, Miguel Harth-Bedoya, Dimitris Botinis, Valentin Uryupin and Georg Mais. He has also played the Christmas and New Year Eve Galas with the Mariinsky Orchestra and Valery Gergiev.
With the London Philharmonic Orchestra he will play Rachmaninov's piano concerto number 2 in London and on a UK tour as well as Beethoven's piano concerto number 5 with Sir Roger Norrington on a European tour. He will also play in recital in Australia, Japan and throughout Europe.
In 2015 Arseny recorded his first CD, which includes Debussy's first book of Préludes and L'Isle joyeuse, and Ravel's Gaspard de la nuit. His first recording for Decca Classics, for whom he records exclusively, will be released in 2018 and features works by Tchaikovsky, Rachmaninov, Prokofiev, Scriabin, Nikolaeva and Medtner.

Booklet for Reflections