---
Album info
Album including Album cover Booklet (PDF)
Franz Grothe (1908 - 1982): Sing mit mir (From "Hab' mich lieb") [Arr. U. Sommerlatte for Orchestra]:

1

Grothe: Sing mit mir (From "Hab' mich lieb") [Arr. U. Sommerlatte for Orchestra]

02:54

Michael Jary (1906 - 1988): Ich weiß, es wird einmal ein Wunder geschehn (From "Die große Liebe") [Arr. M. Jovic for Orchestra]:

2

Jary: Ich weiß, es wird einmal ein Wunder geschehn (From "Die große Liebe") [Arr. M. Jovic for Orchestra]

06:03

Davon geht die Welt nicht unter (From "Die große Liebe") [Arr. M. Jovic for Orchestra]:

3

Jary: Davon geht die Welt nicht unter (From "Die große Liebe") [Arr. M. Jovic for Orchestra]

03:18

Werner Richard Heymann (1896 - 1961): Irgendwo auf der Welt (From "Ein blonder Traum") [Arr. N. Dostal for Orchestra]:

4

Heymann: Irgendwo auf der Welt (From "Ein blonder Traum") [Arr. N. Dostal for Orchestra]

04:48

Franz Doelle (1883 - 1965): An einem Tag im Frühling (From "Viktor und Viktoria") [Arr. G. Morh for Orchestra]:

5

Doelle: An einem Tag im Frühling (From "Viktor und Viktoria") [Arr. G. Morh for Orchestra]

03:57

Friedrich Schroeder (1910 - 1972): Ich tanze mit dir in den Himmel hinein (From "Sieben Ohrfeigen"):

6

Schroeder: Ich tanze mit dir in den Himmel hinein (From "Sieben Ohrfeigen")

04:32

Lothar Brühne (1900 - 1958): Ich brech' die Herzen der stolzesten Frau'n (From "Fünf Millionen suchen einen Erben") [Arr. H. Kudritzki for Orchestra]:

7

Brühne: Ich brech' die Herzen der stolzesten Frau'n (From "Fünf Millionen suchen einen Erben") [Arr. H. Kudritzki for Orchestra]

04:12

Theo Mackeben (1897 - 1953): Du hast Glück bei den Frau'n, Bel Ami! (From "Bel Ami") [Arr. G. Mohr for Orchestra]:

8

Mackeben: Du hast Glück bei den Frau'n, Bel Ami! (From "Bel Ami") [Arr. G. Mohr for Orchestra]

02:55

Ralph Erwin (1896 - 1943): Ich küsse Ihre Hand, Madame (From "Ich küsse Ihre Hand, Madame") [Arr. F. Ralph for Orchestra]:

9

Erwin: Ich küsse Ihre Hand, Madame (From "Ich küsse Ihre Hand, Madame") [Arr. F. Ralph for Orchestra]

02:26

Werner Bochmann (1900 - 1993): Kautschuk (From "Kautschuk") [Arr. H. Gardens for Orchestra]:

10

Bochmann: Kautschuk (From "Kautschuk") [Arr. H. Gardens for Orchestra]

01:53

Theo Mackeben: Bei dir war es immer so schön (From "Bei dir war es immer so schön") [Arr. F. Stolzenwald for Orchestra]:

11

Mackeben: Bei dir war es immer so schön (From "Bei dir war es immer so schön") [Arr. F. Stolzenwald for Orchestra]

04:29

Anton Profes (1896 - 1976): Kauf' dir einen bunten Luftballon (From "Der weiße Traum") [Arr. W. Berghamer for Orchestra]:

12

Profes: Kauf' dir einen bunten Luftballon (From "Der weiße Traum") [Arr. W. Berghamer for Orchestra]

04:25

Franz Grothe: Medley (From "Ich denke oft an Piroschka") [Arr. U. Sommerlatte for Orchestra]:

13

Grothe: Medley (From "Ich denke oft an Piroschka") [Arr. U. Sommerlatte for Orchestra]

07:45

Das Wirtshaus im Spessart (From "Das Wirtshaus im Spessart") [Arr. U. Sommerlatte for Orchestra]:

14

Grothe: Das Wirtshaus im Spessart (From "Das Wirtshaus im Spessart") [Arr. U. Sommerlatte for Orchestra]

05:58

Robert Stolz (1880 - 1975): Ungeküsst sollst du nicht schlafen geh'n (From "Ungeküsst sollst du nicht schlafen geh'n") [Arr. C. Michalski for Orchestra]:

15

Stolz: Ungeküsst sollst du nicht schlafen geh'n (From "Ungeküsst sollst du nicht schlafen geh'n") [Arr. C. Michalski for Orchestra]

03:49

Theo Mackeben: Münchner G'schichten (From "Bal Paré") [Arr. U. Sommerlatte for Orchestra]:

16

Mackeben: Münchner G'schichten (From "Bal Paré") [Arr. U. Sommerlatte for Orchestra]

04:33

Total Runtime

01:07:57
Info for Tonfilmschlager

Michael Jary's "Ich weiß, es wird einmal ein Wunder gescheh'n" ("I know there will be a miracle one day") and "Davon geht die Welt nicht unter" ("The World Won't End Because of This"), Theo Mackeben's "Du hast Glück bei den Frau'n, Bel Ami!" ("You're lucky with the ladies, Bel Ami!"), Lothar Brühne's "Ich brech' die Herzen der stolzesten Frau'n" ("I break the hearts of the proudest women"), and Friedrich Schröder's "Ich tanze mit dir in den Himmel hinein" ("I'll dance to heaven with you") are just some of the sound film hits that are still popular today and that, if not already commissioned, were later perfidiously misused by the National Socialists for propaganda purposes. Terms such as "propaganda film" or "morale-boosting film" accompany the program presented on this album as the ugly downside of what were sometimes brilliant musical creations. The Münchner Rundfunkorchester, founded in 1952, has played individual titles from these films again and again in very different scorings and arrangements over the course of its 70-year history. This release was produced as a studio recording in October 2021, and all the sound film hits were played in their purely orchestral form - thus exposing the core of the individual compositions while allowing the necessary historical distance.
Munich Radio Orchestra
Ernst Theis, direction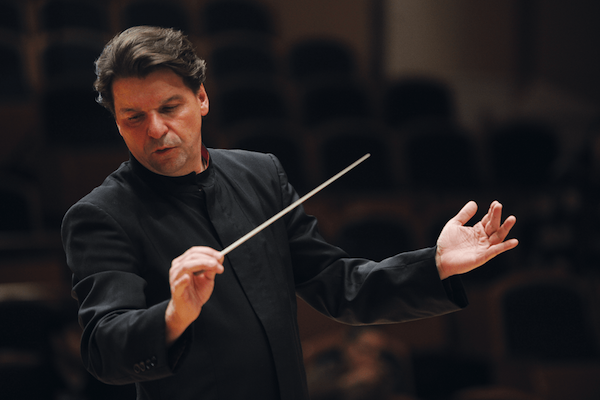 Ernst Theis
Born in Upper Austria, Ernst Theis studied in Vienna at the University of Music and Performing Arts (now the University of Music and Performing Arts Vienna). His beginnings as a conductor lie with the Österreichische Kammersymphoniker, as whose artistic director and managing director he was intensively involved with music of the classical modern period, contemporary music and later also Viennese classical music from 1991 -2003. During this time, he recorded two CD series, a four-part series for cantate-musicaphon, which was centrally dedicated to classical modernism with works by Arthur Honegger, Darius Milhaud, Bohuslav Martinu and Erwin Schulhoff, and later he recorded what is still the world's only complete recording of all of Joseph Haydn's piano concertos for the ARTS MUSIC label. In the course of his work with this orchestra, with which he performed a cycle at the Vienna Konzerthaus for many years and also appeared at various festivals, he became a stand-in at the Vienna Volksoper, which subsequently engaged him as conductor for almost four years.
His career then took him to many orchestras at home and abroad, such as the St. Petersburg Philharmonic, the MDR Symphony Orchestra Leipzig, the Staatsphilharmonie Rheinland Pfalz, the ORF Radio Symphony Orchestra Vienna, the Munich Radio Orchestra, the NDR Radiophilharmonie Hannover, the Deutsche Radiophilharmonie Saarbrücken/Kaiserlautern, the Bruckner Orchestra Linz, the Slovak Philharmonic, the Bochum Symphony Orchestra, the Shenzhen Symphony Orchestra (China) and many others. In these contexts he opened up the great concert repertoire, but also works of classical modern and contemporary music.
From 2003 to 2013, he held the position of principal conductor of the Dresden State Operetta, which was then in crisis. His decidedly conceptual and visionary approach to artistic work opened up the recording market for this theatre. Since 2005, he and his ensemble have produced a total of eight double CDs with works by Franz Schreker, Ernst Toch, Kurt Weill, Paul Hindemith, Pavel Haas and others. (RadioMusiken Volume I and Volume II) but also internationally acclaimed recordings of operettas by Johann Strauss (Das Spitzentuch der Königin, Der Carneval in Rom, Prinz Methusalem) for the German label CPO.
The highly acclaimed artistic development of his Dresden ensemble has led to engagements at renowned concert halls such as the Cologne Philharmonie, Hamburg's Laeisz-Halle and the Brucknerhaus Linz, and to repeated invitations to renowned festivals such as the Kurt Weill Fest Dessau. With his profile-forming conceptual lines in the areas of opera, operetta and musicals, he finally developed his ensemble from a potential candidate for closure, the Dresden State Operetta, to a candidate for a new theatre building in 2003. In 2011, the political decision was made to build a new theatre.
He regularly gives guest performances internationally as a conductor, but also remains true to established concepts such as the RadioMusiken project, which he has been working on for many years as a recording project with the Akademie der Künste Berlin, Deutschlandradio, Mitteldeutscher Rundfunk and the German CD label CPO.
His most recent recordings, not yet released, were with the Munich Radio Orchestra and the ORF Vienna Radio Symphony Orchestra.
In 2018, Maestro Ernst Theis recorded the new complete recording of the operetta "Gräfin Mariza ("Emmerich Kálmán") for Bayerischer Rundfunk. Today, Ernst Theis works successfully with many orchestras on various continents in an artistic spectrum that ranges from the early Viennese classical period to the avant-garde. Since 2016, he has also been the artistic director of the KLANGBADHALL festival.

Booklet for Tonfilmschlager