---
Album info
Album including Album cover
Ludwig van Beethoven (1770 - 1827): Symphony No. 1 in C Major, Op. 21:

1

Symphony No. 1 in C Major, Op. 21: I. Adagio molto - Allegro con brio (Remastered)

09:04

2

Symphony No. 1 in C Major, Op. 21: II. Andante cantabile con moto (Remastered)

08:33

3

Symphony No. 1 in C Major, Op. 21: III. Menuetto. Allegro molto e vivace (Remastered)

03:27

4

Symphony No. 1 in C Major, Op. 21: IV. Finale. Adagio - Allegro molto e vivace (Remastered)

06:15

Symphony No. 3 in E-Flat Major, Op. 55 "Eroica":

5

Symphony No. 3 in E-Flat Major, Op. 55 "Eroica": I. Allegro con brio (Remastered)

15:03

6

Symphony No. 3 in E-Flat Major, Op. 55 "Eroica": II. Marcia funèbre. Adagio assai (Remastered)

16:43

7

Symphony No. 3 in E-Flat Major, Op. 55 "Eroica": III. Scherzo. Allegro vivace (Remastered)

05:48

8

Symphony No. 3 in E-Flat Major, Op. 55 "Eroica": IV. Finale. Allegro molto (Remastered)

11:48

Symphony No. 2 in D Major, Op. 36:

9

Symphony No. 2 in D Major, Op. 36: I. Adagio molto - Allegro con brio (Remastered)

13:06

10

Symphony No. 2 in D Major, Op. 36: II. Larghetto (Remastered)

12:29

11

Symphony No. 2 in D Major, Op. 36: III. Scherzo - Allegro (Remastered)

04:07

12

Symphony No. 2 in D Major, Op. 36: IV. Allegro molto (Remastered)

06:53

Symphony No. 4 in B-Flat Major, Op. 60:

13

Symphony No. 4 in B-Flat Major, Op. 60: I. Adagio - Allegro vivace (Remastered)

12:10

14

Symphony No. 4 in B-Flat Major, Op. 60: II. Adagio (Remastered)

10:32

15

Symphony No. 4 in B-Flat Major, Op. 60: III. Allegro vivace (Remastered)

05:51

16

Symphony No. 4 in B-Flat Major, Op. 60: IV. Allegro ma non troppo (Remastered)

07:10

Symphony No. 5 in C Minor, Op. 67:

17

Symphony No. 5 in C Minor, Op. 67: I. Allegro con brio (Remastered)

08:06

18

Symphony No. 5 in C Minor, Op. 67: II. Andante con moto (Remastered)

11:22

19

Symphony No. 5 in C Minor, Op. 67: III. Allegro (Remastered)

08:53

20

Symphony No. 5 in C Minor, Op. 67: IV. Allegro - Presto (Remastered)

09:03

Symphony No. 6 in F Major, Op. 68 "Pastorale":

21

Symphony No. 6 in F Major, Op. 68 "Pastorale": I. Erwachen heiterer Empfindungen bei der Ankunft auf dem Lande: Allegro man non troppo (Remastered)

09:31

22

Symphony No. 6 in F Major, Op. 68 "Pastorale": II. Szene am Bach: Andante molto mosso (Remastered)

12:37

23

Symphony No. 6 in F Major, Op. 68 "Pastorale": III. Lustiges Zusammensein der Landleute: Allegro (Remastered)

05:44

24

Symphony No. 6 in F Major, Op. 68 "Pastorale": IV. Gewitter, Sturm: Allegro (Remastered)

03:42

25

Symphony No. 6 in F Major, Op. 68 "Pastorale": V. Hirtengesang. Frohe und dankbare Gefühle nach dem Sturm: Allegretto (Remastered)

09:51

Symphony No. 7 in A Major, Op. 92:

26

Symphony No. 7 in A Major, Op. 92: I. Poco sostenuto - Vivace (Remastered)

13:31

27

Symphony No. 7 in A Major, Op. 92: II. Allegretto (Remastered)

09:56

28

Symphony No. 7 in A Major, Op. 92: III. Presto (Remastered)

09:45

29

Symphony No. 7 in A Major, Op. 92: IV. Allegro con brio (Remastered)

09:13

Symphony No. 8 in F Major, Op. 93:

30

Symphony No. 8 in F Major, Op. 93: I. Allegro vivace e con brio (Remastered)

10:02

31

Symphony No. 8 in F Major, Op. 93: II. Allegretto scherzando (Remastered)

03:56

32

Symphony No. 8 in F Major, Op. 93: III. Tempo di menuetto (Remastered)

04:47

33

Symphony No. 8 in F Major, Op. 93: IV. Allegro vivace (Remastered)

07:51

Symphony No. 9 in D Minor, Op. 125:

34

Symphony No. 9 in D Minor, Op. 125: I. Allegro ma non troppo, un poco maestoso (Remastered)

16:52

35

Symphony No. 9 in D Minor, Op. 125: II. Molto vivace (Remastered)

13:48

36

Symphony No. 9 in D Minor, Op. 125: III. Adagio molto e cantabile (Remastered)

16:20

37

Symphony No. 9 in D Minor, Op. 125: IV. Presto (Remastered)

25:09

Total Runtime

06:08:58
Info for Beethoven: Complete Symphonies (Remastered)

"The Blomstedt Beethoven cycle with the Staatskapelle Dresden has been available in many different versions – for many years as a super-budget box when Brilliant Classics licensed the recordings. Elsewhere, I bemoaned that Brilliant chose the Kurt Masur/Leipzig recordings for their "Complete Beethoven" box, instead of them, but perhaps Brilliant's licence had already run out and the rights gone back to Berlin Classics/Edel – the successor to the GDR's "VEB Schallplatten" ("People Owned Company – Records"). It would make sense, because Berlin Classics has now issued these recordings themselves, in a neat slim cardboard box at just a little more than the price that Brilliant asked for theirs. It has higher production value thanks to a fine little booklet with good liner-notes and a short biography of Herbert Blomstedt in English and German, but no text for the last movement of the Ninth.
This Beethoven cycle is the epitome of everything that is good about "Kapellmeisterdom". Significantly broader than Karajan's (Blomstedt also ignores the exposition repeats), they are 'old-Europe' readings, steeped in the long tradition of the wonderful sounding Dresden Staatskapelle. Even if it sounds nonsensical, I find these very well recorded readings – made between 1975 and 1980 in Dresden's St. Luke's church – 'spectacularly solid' and even. There simply isn't a weak spot in the lot – and while no single symphony might make anyone's first choice, as a whole this is one of the 'standard' cycles to compete with the very best, more famous ones. By the way, I am trying to avoid the word "interpretation", because it might insinuate the injection of overt personality on the part of Blomstedt, which is wholly absent in a way comparable to Günter Wand. ...
Helena Döse, soprano
Marga Schiml, mezzo-soprano
Peter Schreier, tenor
Theo Adam, bass-baritone
Staatskapelle Dresden
Herbert Blomstedt, conductor
Digitally remastered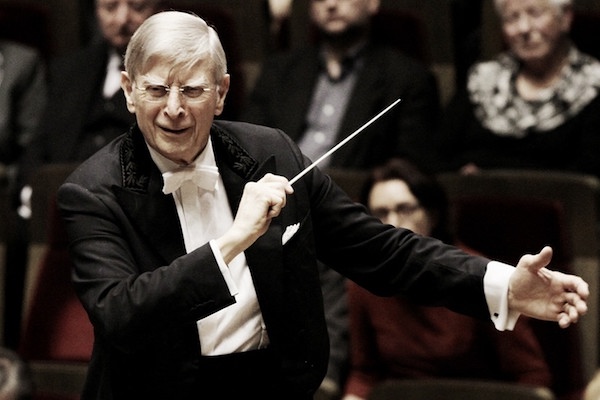 Herbert Blomstedt
Born in the USA to Swedish parents, Herbert Blomstedt received his musical education at the Royal Academy of Music in Stock­ holm, the University of Uppsala, the Juilliard School in New York as well as in Darmstadt and Basel. He also worked with Igor Markevitch in Salzburg and Leonard Bernstein in Tanglewood.
Herbert Blomstedt made his debut as conductor with the Stockholm Philharmonic Orchestra in 1954 and later became Chief Conductor of the Oslo Philharmonic and the Swedish and Danish Radio Orchestras. For ten years each he was at the helm of the Staatskapelle Dresden and the San Francisco Symphony Orchestra. Subsequently, he was engaged as Music Director by the NDR Symphony Orchestra in Hamburg and, from 1998 until 2005, served as Music Director of the Gewandhausorchester.
As Honorary Conductor of this orchestra, he returns to Leipzig regularly. Five more orchestras awarded him the title of Honorary Conductor: NHK Symphony Orchestra in Japan, the Danish National Symphony and the Swedish Radio Symphony as well as the Bamberg Symphony Orchestra and the Staatskapelle Dresden.
In addition to his commitments with these orchestras, Herbert Blomstedt continues guest conducting the world's pre_ eminent orchestras including the Berlin Philharmonic Orchestra, Bavarian Radio Symphony Orchestra, Royal Concertgebouw Orchestra, Orchestre de Paris, Vienna Philharmonic Orchestra, and all leading North American orchestras.
Many of the recordings of his extensive discography received prestigious awards and enjoy reference standard. The box set of the complete Bruckner symphonies with the Gewandhausorchester won the International Classical Music Award. Herbert Blomstedt holds several Honorary Doctorates and is an elected member of the Royal Swedish Music Academy. In 2003 he was awarded the German Federal Cross of Merit and received the prestigious Danish Léonie Sonning Music Prize for his lifetime achievement.

This album contains no booklet.