---
Album info
Album including Album cover Booklet (PDF)
Olivier Messiaen (1908 - 1992): 8 Préludes:

1

Messiaen: 8 Préludes: I. La Colombe

02:17

2

Messiaen: 8 Préludes: II. Chant d'extase dans un paysage triste

06:10

3

Messiaen: 8 Préludes: III. Le nombre léger

01:50

4

Messiaen: 8 Préludes: IV. Instants défunts

04:32

5

Messiaen: 8 Préludes: V. Les sons impalpables du rêve

03:37

6

Messiaen: 8 Préludes: VI. Cloches d'angoisse et larmes d'adieu

08:08

7

Messiaen: 8 Préludes: VII. Plaine calme

03:03

8

Messiaen: 8 Préludes: VIII. Un reflet dans le vent

05:16

9

Messiaen: Pièce pour Piano et Quatuor à cordes

03:28

Kaija Saariaho (b. 1952):

10

Saariaho: Prelude for Piano Solo

05:53

11

Saariaho: Ballade for Piano Solo

05:59

Je sens un deuxième cœur:

12

Saariaho: Je sens un deuxième cœur: I. Je dévoile ma peau

03:36

13

Saariaho: Je sens un deuxième cœur: II. Ouvre-moi, vite

01:58

14

Saariaho: Je sens un deuxième cœur: III. Dans le rêve, elle l'attendait

04:03

15

Saariaho: Je sens un deuxième cœur: IV. Il faut que j'entre

02:16

16

Saariaho: Je sens un deuxième cœur: V. Je sens un deuxième cœur qui bat tout près du mien

04:47

Total Runtime

01:06:53
Info for The Edge of Light: Messiaen, Saariaho

Grammy® Award-winner Gloria Cheng brings an exquisite array of touch to this programme which couples the first mature works of Olivier Messiaen with the darkly radiant music of Kaija Saariaho. The Calder Quartet joins Ms. Cheng for Saariaho's 2003 trio 'Je sens un deuxième coeur' and Messiaen's 'Pièce pour piano et quatuor à cordes'. Saariaho attended this first recording of her 'Ballade' and 'Prelude'.
"This album portrays the connections I perceived between, as Peter Sellars describes in his liner notes, 'these most feminine works in Messiaen's entire catalogue,' and the deeply expressive, passionate music of Kaija Saariaho. I am thrilled to have the Calder Quartet, with whom I've joyfully collaborated for many years, join me in this endeavor." (Gloria Cheng)
"One of our most gratifying Messiaen pianists...she phrased with warmth and made the piano resound in a way that made Messiaen irresistible." (Los Angeles Times)
"Gloria Cheng is a celebrity: an invaluable new-music advocate and a preferred collaborator of composers like Pierre Boulez and Esa-Pekka Salonen." (New York Times)
"one of the heroes of the new-music world, an energetic and imaginative artist whose tastes range widely across the contemporary landscape." (San Francisco Chronicle)
"[Cheng's] long association with Messiaen's music bears fruit in a fluid approach to the early Preludes...With Cheng's fine touch paramount in first recordings of Saariaho's Prelude and Ballade, this disc is unlikely to gather dust." (BBC Music)
"A third composer hovers, ghost-like, in pianist Cheng's beguiling recital with the Calder Quartet. Listen to Messaien's glassy chords and Saariaho's cool rhapsodies and you can almost hear him...Debussy is the daddy. Exquisitely shaped playing and bold musicianship in a compelling, haunting disc." (The Independent)
Gloria Cheng, piano
Members of the Calder Quartet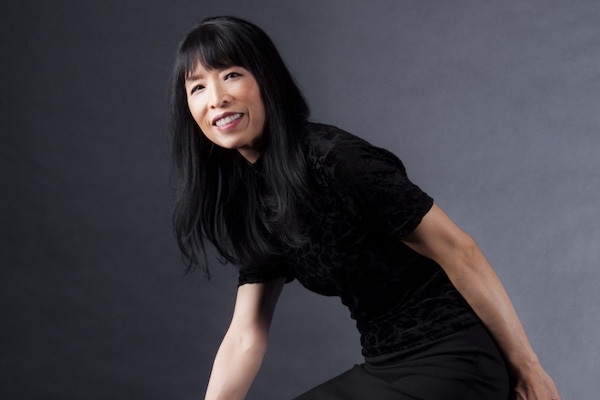 Gloria Cheng
Described as "an invaluable new-music advocate and a preferred collaborator of composers like Pierre Boulez and Esa-Pekka Salonen" [The New York Times], Grammy and Emmy Award-winning pianist GLORIA CHENG has long been devoted to creative collaboration with composers of our time.
As a recitalist, she has performed at the Ojai Music Festival (where she began her association with Pierre Boulez in 1984), Chicago Humanities Festival, William Kapell Festival, Tanglewood Festival of Contemporary Music, and annually on the Los Angeles-based Piano Spheres series. She has premiered countless works that include John Williams' Prelude and Scherzo for Piano and Orchestra, Esa-Pekka Salonen's Dichotomie (of which she is the dedicatee), John Adams' Hallelujah Junction for two pianos (written for her and Grant Gershon), and Steven Stucky's Piano Sonata. Partnering with composers in duo-recitals, she premiered Thomas Adès's 2-piano Concert Paraphrase on Powder Her Face and Terry Riley's Cheng Tiger Growl Roar.
She has appeared as a soloist with the Los Angeles Philharmonic under the direction of Zubin Mehta, and at the personal invitation of Boulez, performing Olivier Messiaen's Oiseaux exotiques with him on the orchestra's historic final concerts in the Dorothy Chandler Pavilion. Other concerto appearances have brought her to the Louisville and Shanghai Orchestras; Indianapolis, Pasadena, Long Beach, and Pacific Symphonies. In June, 2021, she performed the world* and European** premieres of John Williams' Prelude* and Scherzo** for Piano and Orchestra in Barcelona's Palau de la Musica with the Orquesta Sinfónica del Vallès under Marc Timón.
In her home base of Los Angeles, she has been a principal artist with the Piano Spheres series, Jacaranda Music, Monday Evening Concerts, and on the L.A. Philharmonic's Green Umbrella series in Elliott Carter's Double Concerto for Piano and Harpsichord conducted by Oliver Knussen, and John Cage's Concerto for Prepared Piano with Jeffrey Milarsky.
Winner of the Best Instrumental Soloist Performance (without orchestra) GRAMMY for her 2008 recording, Piano Music of Salonen, Stucky, and Lutosławski, she was nominated a second time in 2013 for The Edge of Light: Messiaen/Saariaho. Her film project, MONTAGE: Great Film Composers and the Piano — documenting six composers: Bruce Broughton, Don Davis, Alexandre Desplat, Michael Giacchino, Randy Newman, and John Williams as she recorded the works they'd written for her — won numerous festival awards and aired on PBS SoCal, subsequently capturing the 2018 Los Angeles Area Emmy Award for Independent Programming.
She has produced Music at Black Mountain College for the Armand Hammer Museum's related exhibit; BEYOND MUSIC: Composition and Performance in the Age of Augmented Reality at UCLA, an international gathering of composers and media artists featuring Kaija Saariaho and Jean-Baptiste Barrière; and Inside the (G)Earbox, a daylong UCLA symposium marking the 70th birthday of composer John Adams.
Garlands for Steven Stucky is her 2018 star-studded CD tribute to the late composer by 32 of his friends and former students. Proceeds support the Los Angeles Philharmonic's Steven Stucky Composer Fellowship Fund, which engages young composers in multi-year educational programs with the orchestra.
A native of New Jersey, her formative studies were under the tutelage of Isabelle Sant'Ambrogio. Prior to embarking on her musical career, she earned a Bachelor's degree in Economics from Stanford University. Her decision to pursue the piano led to a Woolley Scholarship for study in Paris and degrees in performance from UCLA and University of Southern California, where her teachers included Aube Tzerko and John Perry.
She is currently on the faculty of the UCLA Herb Alpert School of Music where she has created classes and programs that unite performers, composers, and scholars. She is often invited to speak as an advocate for contemporary music and in 2012 served as Regents Lecturer at the University of California, Berkeley.

Booklet for The Edge of Light: Messiaen, Saariaho