---
Album info
Album including Album cover
1

Under a Spell

07:18

2

Clockwork

02:33

3

Flare 2

08:50

4

A Star Light

03:50

5

Serpentine

06:21

6

Sleep Will Find You

02:51

7

Sketch 6

06:30

8

Darkness Will Find You

04:57

9

Lucid

06:14

Total Runtime

49:24
Info for Under a Spell

Beautifully haunting music that lingers in between the lands of ambient and synth-wave electronic.: The man whose illustrious career began in the late 70s with synth-pop visionaries Japan and more recently as a member of influential art-rock band Porcupine Tree follows up 2017's Planets + Persona with new album Under A Spell.
2017's Planets + Persona was adventurous and bold, showcasing Barbieri's endlessly inventive song writing and mastery of electronic music. Under A Spell picks up where that left off, journeying further into the expansive terrain he had sonically mapped out. When the COVID-19 pandemic hit, everything changed. "I wrote and recorded it in my studio at home, with all this strangeness going on outside," says Barbieri of Under A Spell. "It became something completely different: this weird, self-contained dream-state album."
On Under A Spell, Barbieri was intent on capturing the atmospheres and moods that his disconnected brain was conjuring rather than slaving over arrangements and melodies. Songs such as 'Flare', 'Serpentine', 'Sleep Will Find You' and its companion piece-of-sorts 'Darkness Will Find You' are sharply defined despite their dream-inspired genesis.
The album's title perfectly encapsulates the haunting, evocative world Barbieri has created. Songs such as the skittering, billowing 'Clockwork' and 'Sketch 6's dub-inspired soundscape hang suspended in that strange half-world between sleep and waking – a subconscious reflection of the surreal state the planet has found itself in over recent months.
There are voices but no vocals, collaborators include Marillion frontman Steve Hogarth and Swedish singer Lisen Rylander Love (who co-wrote 'A Star Light').
As ex-founder of Japan, the new-wave pioneers and one of the most ground-breaking bands of their era, Richard Barbieri helped spark the electronic music revolution that followed, his synthesiser sound not only defined the band but influenced the likes of The Human League, Duran Duran, Gary Numan and Talk Talk. Following Japan's split, Barbieri joined Steven Wilson to form the legendary progressive outfit Porcupine Tree, that saw him play on nine of the band's albums, including 1999's Stupid Dream, 2002's In Absentia and 2007's acclaimed Fear Of A Blank Planet. Following PT's hiatus Barbieri has pursued a solo career releasing albums that include 2005's Things Buried, 2008's Stranger Inside and 2017's Planets + Persona, as well as his recent EP series, Variant.1-5.
Barbieri's willingness to constantly redefine his own musical boundaries are never more evident than on the brilliant, hypnotic Under A Spell – the latest milestone on this utterly unique journey.
Richard Barbieri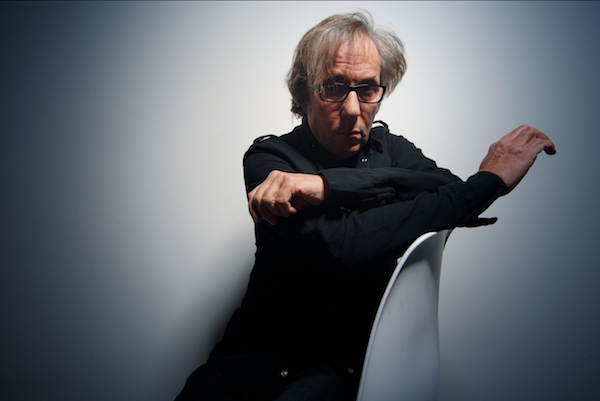 Richard Barbieri
first rose to prominence as a member of Japan, who formed in 1976. Over the course of five albums, Japan developed into one of the most vibrant and innovative of bands of the early 1980s, with their groundbreaking Tin Drum album staying in the UK charts for over a year. Barbieri's painstaking approach to synthesiser programming, working in close cohort with David Sylvian, and set to the subtly-shifting rhythmic patterns of Steve Jansen and Mick Karn conspired to produce an utterly unique sound. Despite achieving huge international commercial success, the band never lost sight of desire to keep pushing and exploring their sonic template. The band split in 1983 after a successful world tour, whilst at the peak of their popularity.
In 1983/4/5 Richard contributed to solo albums by David Sylvian and Mick Karn. Soon after, he started a long musical association with Steve Jansen, which produced six collaborative albums.
The band members reunited in 1989 under the name Rain Tree Crow to release just one album for Virgin – roundly considered their finest work, the album charted and brought critical acclaim, but again the group parted company shortly afterwards.
Barbieri formed the Medium label in 1993 with Karn and Jansen, with the objective being to enable the artists to create music and collaborate with fellow musicians on projects without record company interference and restriction. Thirteen diverse albums were released during a ten-year period; Jansen and Barbieri's collaboration with DJ Takemura on the album Changing Hands being one of the highlights. Also during this period Barbieri recorded the album Flame with Tim Bowness which was released on One Little Indian Records. In 1993 Barbieri's career took another dazzling turn when joined the rock band Porcupine Tree. 10 albums and many tours later, they were enjoying chart success around Europe and America with sales of over 200,000 for their album Fear of a Blank Planet which was nominated for a Grammy Award in the 5.1 Surround Sound category.
2009 saw the release of The Incident album which charted all over Europe and peaked at number 23 in the UK charts and 25 in the US Billboard charts. Again the album was nominated for a Grammy in the surround category. The band finished their Incident tour with sell out shows at Radio City Music Hall, NY and The Royal Albert Hall, London in 2010.
Aside from recording and touring, Richard has written articles on analogue synthesis for various publications and sound designs for music software and synthesiser manufacturers. He has guested with The Bays, an electronic improvisational group.
Highlights for the band included two Radio One sessions for the late John Peel and concerts at the Queen Elizabeth Hall, Brighton Dome and Sydney Harbour.
His first solo album Things Buried was re released on Snapper Music. A second solo album Stranger Inside followed in 2008. In February 2012 a long intended project was finally realised when Not the Weapon but the Hand was released; a collaboration with vocalist / lyricist Steve Hogarth.
His latest solo album Planets + Persona is his most sonically expansive work to date and will be released on Kscope. Barbieri's skill at harnessing the skills of a contrasting set of musicians is at a new peak, in a thoughtful and considered set rich in tone and texture.

This album contains no booklet.