---
Album info
Album including Album cover
1

Ich will meine Seele tauchen

08:51

2

Im Strom Der Gezeiten

09:33

3

The Night Comes Soon

06:18

4

Song for the Ancestors

07:11

5

Brahms Ballad

03:16

6

Juno Is Touching Down

08:01

7

Return/No Return

06:25

8

Rocka-Roas

04:58

9

Requiem of a Song

06:28

Total Runtime

01:01:01
Info for Extra Time

The classically trained pianist Jean-Paul Brodbeck has become a creative epicentre of the Swiss jazz scene and is also looked upon beyond the national borders as one of the most significant voices of contemporary jazz. As a member of diverse groups, Brodbeck has over the years developed his own style of piano playing, deeply rooted in jazz tradition, founded in lyrical Romantic elements, characterized by a sensitive spontaneity and enjoying a high recognition value. In 2007 he gained international recognition with his album Song of Tchaikovsky. Following a period of intense work with various international luminaries such as Johannes Enders, Wolfgang Muthspiel, Billy Hart and Andy Scherrer, and eight releases as band leader, Brodbeck, spurred by the desire to play in an intensely cooperative working band, formed in 2015 his Swiss Trio , consisting of himself, the young bass talent Lukas Traxel and rhythm virtuoso Claudio Strüby, who had already been accompanying Brodbeck for ten years, on the drums. Starting with songs from Brodbeck's pen, the virtuoso musicians celebrate artistic openness in an urgent ensemble performance that extends the art form of the piano trio in a fresh and contemporary fashion. As Florian Keller states in his liner notes: "The three friends distil their musical essences in active engagement with the fundaments of the jazz tradition and thereby go beyond pure traditionalism with the shimmering pop sensibility of the songs. With their modern, fine-tuned trio sound, they amalgamate centrifugal forces of canonical Romanticism and the Groove of 1970s music into a graceful sound that moves elegantly through varied musical sceneries. This trio is a musical organism, defying the gravitational force of the schematic when it roams weightlessly in the wide open spaces of the balladic, only then to sweep nimbly through hard-edged landscapes of Groove with the same serenity."
Jean-Paul Brodbeck, piano
Lukas Traxel, double bass
Claudio Strüby, drums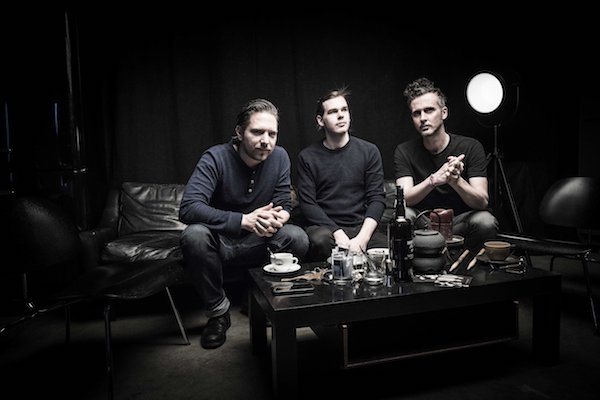 Jean-Paul Brodbeck
At the tender age of 15, Basel (Switzerland) born Jean-Paul Brodbeck was invited by no other than Lionel Hampton to jam onstage. After taking jazz classes with Hans Feigenwinter, he went on to study classical music with Peter Efler (piano) at the Conservatory of Music in Basel, from which he graduated with excellence in 1995 and earned his piano teacher's diploma.
Since then Brodbeck has proved his stylistic versatility in diverse formations. He was one of the principal founders of the experimental hip-hop group Chapter 12 and has been collaborating on and off with Andy Scherrer, who has considerably contributed to his musical development. From 2007 through 2010, Brodbeck was a member of the quartet headed by renowned Austrian guitar player Wolfgang Muthspiel. 2011 he gained a scholarship of the city of Zürich for a six month stay in New York. These days he works with Johannes Enders's quartet, featuring the drum legend Billy Hart. Brodbeck often performs in trio, works as a sideman in different formations, and teaches in the Jazz Department at the Conservatory of Music in Lucerne, Switzerland. As a Leader he released eight albums.
Brodbeck has performed with such artists as Lionel Hampton, Herbie Mann, Andy Scherrer, David Liebmann, Wolfgang Muthspiel, Nat Su, Nils Wogram, Matthieu Michel, Johannes Enders, Billy Hart, JoJo Mayer, Jochen Rückert, Ben Street, Richie Beirach, Howard Curtis, Feya Faku and Maria Schneider.
His festival appearances include Montreux Jazz-Festival (Miles Davis Hall), Avo-Session Basel, Off-Beat Festival Basel, Langnau Jazz-Nights, Winter- und Sommer Festival Bern, Schaffhauser Jazz-Festival, Generations Frauenfeld, Unerhört Festival Zürich, Jazz Fest Wien, Elb Jazz Festival Hamburg, Joy of Jazz Festival Johannesburg.

This album contains no booklet.