---
Album info
Album including Album cover
I`m sorry!
Dear HIGHRESAUDIO Visitor,
due to territorial constraints and also different releases dates in each country you currently can`t purchase this album. We are updating our release dates twice a week. So, please feel free to check from time-to-time, if the album is available for your country.
We suggest, that you bookmark the album and use our Short List function.
Thank you for your understanding and patience.
Yours sincerely, HIGHRESAUDIO
1

Heavy Shoes

03:10

2

40 Dead Men

03:08

3

Take This Body From Me

03:02

4

Hard Times

03:26

5

In The Night Time

03:08

6

Strange Light

03:01

7

Prosecution Blues

03:53

8

It's A Game

02:31

9

Save You From You

03:18

10

You Wanted Love

02:43

11

Election Blues

03:29

12

Dust In My Hands

03:46

Total Runtime

38:35
Info for Heavy Shoes

Their story alone would be enough for a drama series – cancer, suicide, betrayal, divorce, loss, self-identity crisis, survival, and ancestral skeletons. Write about what you know, they say.
There's a richness running through the songs with dark, multi-layered narratives that course through every twist and turn. Dirty fuzzed-up rock and roll meet blues, garage, desert rock and a Southern Gothic sensibility. Sombre storytelling is etched into their songs with unflinching honesty. For Chris Tapp and Brian Mullins, authenticity is their hallmark.
Recorded largely at Sam Phillips Recording Studio, Memphis - with the remaining at their studio in Indiana - this Memphis vibe has seeped into the record. How could it not – the music, the history, the people, the Mississippi river. Mixed by Mark Needham (The Killers) and mastered by Andy Vandette (Beastie Boys/Smashing Pumpkins), Heavy Shoes is their heaviest record yet.
"Through actively listening and seeking to feel this album in its entirety, one will come to realize the great spontaneity, wit, drive, passion and energy the duet of Tapp and Mullins have, and the magical bond that is their friendship. This record is quite a tremendous achievement of great songwriting and musicianship, an endearing look into the world of classic blues and should not be missed this summer." (Shawn Haney, musicexistence.com)
The Cold Stares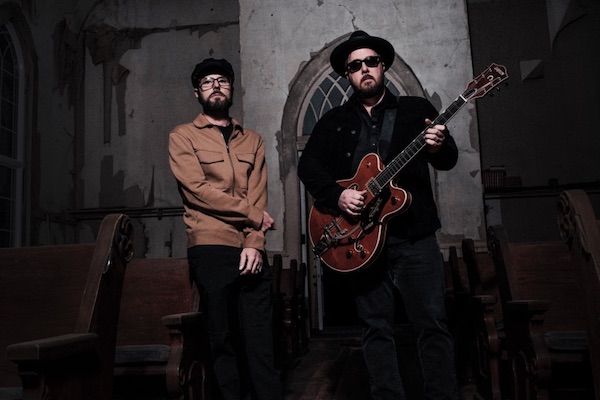 The Cold Stares
Authenticity. It's word frequently used in describing THE COLD STARES, and often missing from modern music discussions. "We're not just a blues band, or just a rock band, or anything other than who we are," frontman Chris Tapp says. There is a power and a realness that is arrived at by just doing what you do best. THE COLD STARES do that.
Forged in 2008 and named in honor of The Black Crowes song "Stare It Cold," Tapp and Brian Mullins united with the sole intent to jam. No preconceived notions, they just did what came naturally. The result is a sonically and emotionally weighted, story-based brand of rock sung directly from the soul.
Tapp's unique guitar rig and Mullins' giant bass drum provide a visual and sonic landscape for the two to travel on different paths than other acts. You may find yourself looking for another member behind the curtains, but it's just the two of them. As Huffington Post writer Radley Balko wrote in describing the first time he saw the group at a hometown gig at 3rd And Lindsley: "This will go on for an hour. Between songs, people will whisper. They're asking one another if anyone knows who the hell this is. And it's here that you and everyone in the room will have the same realization just about everyone else has the first time they see and hear THE COLD STARES live: These guys are better than the band you came to see."
And their success has come from hard work and perseverance. From keeping everything in-house: Booking, promotion, recording, and merchandise design, Tapp and Mullins have handled it at all themselves. Fans have seen THE COLD STARES in venues like Pianos in New York City and the Viper Room in Hollywood, and at festivals like The Ride, Copperhead, Handy Bluesfest, with acts like Rival Sons, Big Head Todd, and Spoon among many others.
And now this June, THE COLD STARES will release their long-awaited new full-length, Head Bent, via Small Stone Recordings. Following up their two successful EPs recorded with Mark Needham (Fleetwood Mac, The Killers, Elton John, Stevie Nicks) and 2014's A Cold Wet Night And A Howling Wind mashup album, the eleven-track Head Bent was produced and mixed by the band with Greg Pearce and mastered by Chris Goosman (Acid King, La Chinga, Solace, Lo Pan, Freedom Hawk et al). Fans of The Black Crowes, Dirty Streets, Rival Sons, and Royal Blood pay heed.
"I think everything we've been through so far has led us to this album. These songs are such a part of us and who we are that it's impossible to separate the two. Whether it's fighting to find your way back to your love in the civil war epic 'Ball And Twine,' burying the gravedigger in the southern gothic tale of 'John,' or twisting the throttle back and riding through the desert in 'Head Bent,' each one of these songs are a visual to narratives and stories that have been in my head for years," says Tapp. "I hope our fans are able to escape for a while from reality in these songs the way that we do."

This album contains no booklet.