---
Album info
Album including Album cover Booklet (PDF)
Felix Mendelssohn (1809 - 1847):

1

Mendelssohn: Lieder ohne Worte, Op. 30: No. 3 in E Major, Adagio non troppo, MWV U 104 (Arr. H. Villa-Lobos for Choir)

02:35

Johann Sebastian Bach (1685 - 1750): Bach: Prelude & Fugue in E-Flat Minor, BWV 853 (Arr. H. Villa-Lobos for Choir):

2

Bach: Prelude & Fugue in E-Flat Minor, BWV 853 (Arr. H. Villa-Lobos for Choir): I. Prelude

04:26

3

Bach: Prelude & Fugue in E-Flat Minor, BWV 853 (Arr. H. Villa-Lobos for Choir): II. Fugue

06:21

Robert Schumann (1810 - 1856):

4

Schumann: Kinderszenen, Op. 15: No. 7, Träumerei (Arr. H. Villa-Lobos for Choir)

02:55

Johann Sebastian Bach:

5

Bach: Prelude & Fugue in C Major, BWV 846: II. Fugue (Arr. H. Villa-Lobos for Choir)

02:11

Franz Schubert (1797 - 1828):

6

Schubert: Schwanengesang, D. 957: No. 4, Ständchen (Arr. H. Villa-Lobos for Choir) [Sung in Portuguese]

04:18

Johann Sebastian Bach:

7

Bach: Prelude & Fugue in B-Flat Major, BWV 866: II. Fugue (Arr. H. Villa-Lobos for Choir)

01:52

Frédéric Chopin (1810 - 1849):

8

Chopin: Waltzes, Op. 64, B. 164: No. 2 in C-Sharp Minor (Arr. H. Villa-Lobos for Choir)

04:37

Johann Sebastian Bach:

9

Bach: Prelude & Fugue in B-Flat Minor, BWV 867: I. Prelude (Arr. H. Villa-Lobos for Choir)

04:06

Sergei Rachmaninoff (1873 - 1943):

10

Rachmaninoff: Morceaux de fantaisie, Op. 3: No. 2 in C-Sharp Minor, Prélude "The Bells of Moscow" (Arr. H. Villa-Lobos for Choir)

03:58

Johann Sebastian Bach:

11

Bach: Prelude & Fugue in F-Sharp Minor, BWV 883: I. Prelude (Arr. H. Villa-Lobos for Choir)

04:01

Jules Massenet (1842 - 1912):

12

Massenet: Elégie (Arr. H. Villa-Lobos for Choir) [Sung in Portuguese]

02:45

Johann Sebastian Bach:

13

Bach: Prelude & Fugue in D Major, BWV 874: II. Fugue (Arr. H. Villa-Lobos for Choir)

02:59

Ludwig van Beethoven (1770 - 1827):

14

Beethoven: Piano Sonata No. 8 in C Minor, Op. 13 "Pathétique": II. Adagio cantabile (Arr. H. Villa-Lobos for Choir)

01:41

Heitor Villa-Lobos (1887 - 1959):

15

Villa-Lobos: Bachianas Brasileiras No. 9, W449 (Version for Choir)

08:35

Total Runtime

57:20
Info for Villa-Lobos: Choral Transcriptions

Choral music holds a central position in Villa-Lobos's catalogue of works, but among these famous pieces is a series of little-known transcriptions for a cappella choir taken from the standard classical repertoire. They were intended for a teachers' chorus and for use in schools, and through astonishing alchemy they achieve a true 'orchestration' of largely piano originals, adding a fresh new repertoire for vocal ensembles. This album also includes the first ever recording of Villa-Lobos's complete set of a cappella transcriptions from Bach's The Well-Tempered Clavier.
"Among the vast number of compositions created by Heitor Villa-Lobos there is a sizeable quantity of choral music including arrangements he made for school use.
They were for an unaccompanied groups, mostly four part mixed male and female choirs, and were created from works by famous composers, often originally for the keyboard. The objective being to have voices taking the different strands that formed the original work, so that you have an 'orchestra' of voices. That would teach young people how to vocalize and to employ part-singing. It was a project so close to the heart of the Brazilian composer, that he set aside major compositional projects in order to meet this task that formed part of a four year period from 1932 to 1936. The whole idea then grew to have the works as a useful part of developing mature choral groups. Some of the original pieces he used were well-known and retained their attraction, while there are others, such as Bach's Fugues, where the fast-moving originals would prove a challenge. Some tracks have words, including Schubert's Standchen and Massenet's Elegie, but it is a disc largely of sounds. It ends with a rare performance of the vocal version of Villa-Lobos Ninth Bachianas Brasileiras, already well-known in its string orchestra garb. Performed by the Sao Paulo Symphony Choir, a relatively recent major adjunct to music in the city, I hope teachers will buy and listen to the disc and use the whole concept in their schools." (David's Review Corner)
São Paulo Symphony Choir
Valentina Peleggi, conductor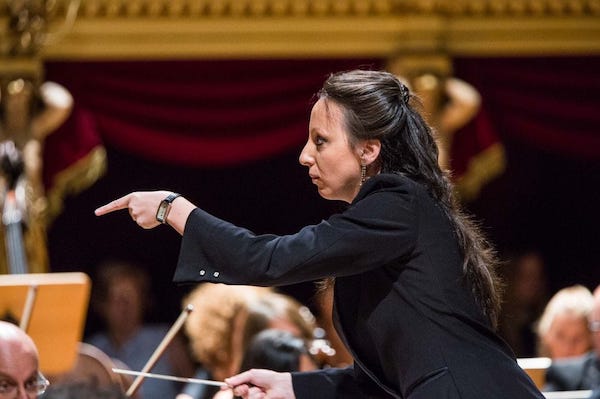 Valentina Peleggi
Twice named a Gordon Foundation winner and described by the BBC Music Magazine as "2018 Rising star", Italian conductor Valentina Peleggi is Music Director of the Richmond Symphony Orchestra (USA), Guest Music Director at the Theatro de Opera Sao Pedro (Sao Paulo-Brazil) and Mackerras Fellow at the English National Opera.
In the 19/20 season Ms Peleggi's symphonic invitations included the Royal Philharmonic Orchestra, Bournemouth Symphony and the BBC Scottish Symphony, in which she was due to premiere a new orchestration of Alma Mahler songs by Roxana Panufnik (specially commissioned by the BBC for Ms Peleggi). Further afield she was invited to the Orchestra della Toscana in her home town of Florence, Residentie Orkest Den Haag, the Gulbenkian Orchestra and the National Symphony in Dublin. Also in 2020 her return with the BBC Singers and her first CD released on the Naxos label, featuring a cappella works by Villa Lobos in a new critical edition, guest edited by Ms Peleggi and performed by the Sao Paulo Symphony Chorus. For the English National Opera she conducted Carmen, Boheme, Orpheus in the Underworld and Dido and Aeneas. She returns as a guest in 2021, when she will also debut at Garsington Opera.
Last season's highlights included a return to the Baltimore Symphony and a concert for International Women's Day with the BBC National Orchestra of Wales, featuring works by the African American composer Florence Price, and the rediscovered French 19th century composer Augusta Holmes. Past guest appearances have also included the Orchestra del Teatro Verdi in Trieste, Omaha Symphony, Orquesta Sinfonica de Valdivia (Chile) and Orquestra Filharmonica de Goias (Brazil); she has also worked with the BBC Concert Orchestra and Tonhalle Orchester Zurich. She has collaborated with soloists such as Baiba Skride, Jan Liesecki, Alexander Melnikov, Louis Schwizgebel, Boris Belkin, Simone Lamsma and Yuri Bashmet.
Ms Peleggi previously served as Resident Conductor of the São Paulo Symphony Orchestra and Principal Conductor and Artistic Advisor of the São Paulo Symphony Chorus. During her years with the Sao Paulo Symphony Ms Peleggi conducted many subscription concerts, created innovative community projects and continues to return as a guest. She won the APCA Prize in 2016 as Conductor of the Year from the Sao Paulo Society of Critics of the Arts and was voted "Young Talent of 2017" by readers of Brazil's specialist music magazine Revista Concerto. She currently holds the position of Guest Music Director of the Theatro Sao Pedro, responsible for Italian opera.
The first Italian woman to enter the conducting programme at the Royal Academy of Music of London, she graduated with distinction and was awarded the DipRAM for an outstanding final concert as well as numerous prizes along the way (Bruno Walter Conducting Prize, Fred Southall Memorial Prize, Gordon Foundation Award, Ernest Read Conducting Prize). She was recently honoured with the title of Associate. She assisted Sir John Eliot Gardiner, Semyon Bychkov, Christian Thielemann and furthered her studies with David Zinman and Daniele Gatti at the Zurich Tonhalle and at the Royal Concertgebouw. She holds a Master in Conducting from the Conservatorio Santa Cecilia in Rome with honours, and in 2013 was awarded the Accademia Chigiana's highest award, going on to assist Bruno Campanella and Gianluigi Gelmetti at Teatro Regio di Torino, Opera Bastille Paris, Lyric Opera of Chicago, Teatro Regio di Parma and Teatro San Carlo. She also assisted on a live worldwide broadcast and DVD production of Rossini's Cenerentola with the Orchestra Nazionale della RAI. From 2005 to 2015 she was the Principal Conductor and Music Director of the University Choir in Florence, and remains their Honorary Conductor, receiving in 2011 a special award from the Government in recognition of her work there. She won the 2014 Conducting Prize at the Festival International de Inverno Campos do Jordão, received a Bruno Walter Foundation Scholarship at the Cabrillo Festival of Contemporary Music in California, and the Taki Concordia Conducting Fellowship 2015-2017 under Marin Alsop.
Ms Peleggi is passionate about the arts and holds a master in Comparative Literature.

Booklet for Villa-Lobos: Choral Transcriptions