---
Album info
Album including Album cover
1

Genesis

06:50

2

Open Eye

03:30

3

Running With The Tribe

04:02

4

Fire In Detroit

04:59

5

Ursa Major

03:33

6

Metropolitan Blues

05:18

7

Black Census

04:07

Total Runtime

32:19
Info for Phil Ranelin and Wendell Harrison JID016

To be an independent artist means to not only be free to share your most ambitious artistic impulses, but to retain ownership of them, working tirelessly to market and produce a body of work that stands apart from corporate decision-making and interference. For Phil Ranelin and Wendell Harrison, it was this guiding principle that led them to found the Detroit-based Jazz label Tribe Records in the early 1970s. Focusing on self-reliance and communal support, Tribe provided a platform for local jazz artists such as Ranelin and Harrison to record and release albums, and had community members taking full control of the promotion and distribution. The label and its magazine set an important early precedent for community-driven arts organizations, and still stands as a testament to their potential and efficacy. Today, the legacy of Tribe lives on in labels like Jazz Is Dead, making these recordings at Linear Lab Studios in Highland Park all the more significant. In their latest dispatch, Adrian Younge and Ali Shaheed Muhammad craft a poignant batch of new material that celebrates the lasting impact of Tribe, and the perpetual greatness of Phil Ranelin and Wendell Harrison.
Emerging from misty trumpets and tremoring keys is album opener "Genesis", which takes its time introducing each element before breaking out into a fiery funk. On "Open Eye" kaleidoscopic percussion takes over, leading into a cool, Samba-inflicted guitar that flutters in between a formidable saxophone solo, courtesy of Harrison. From the moment the cymbals and bass take off on "Running With Tribe", the exhilaration remains high, before tempering into a slithering strut, the string section lingering in the background, both glistening and nervous.
Coming in at the album's mid-point, "Fire In Detroit" blossoms from a gentle swing into a kinetic push and pull, showcasing the broad range of Younge and Muhammad's arrangements. Like its celestial namesake, "Ursa Major" illuminates and leads listeners through a sonic roadmap of the album's repertoire, contrasting softer meditative moments with jagged, fuzzed-out guitars and urgent drums. Entering with bass and quickly building into a trenchant groove, "Metropolitan Blues" features an exceptional trombone solo by Ranelin that feels as fresh as the maestro's work on classic albums like "The Time Is Now". Building around a call-and-response between the horns, keys, and percussion, album closer "Black Census" is a supercharged funk burner that peppers in woodwinds alongside hi-hats for an eclectic blend. You can hear the sheer joy of the musicians throughout the recording, so it more than makes sense to hear Harrison laugh at the end of the take.
As each Jazz Is Dead record focuses on bringing a different legend from the past to the forefront and highlighting their deep contributions to Jazz and popular music, the label's most recent collaboration with Ranelin and Harrison is more than that: it is a symbolic passing of a generational torch, celebrating both groups' continued dedication to remaining independent, and continuing to produce compelling and unique Jazz music.
Phil Ranelin, trombone
Wendell Harrison, tenor saxophone
Adrian Younge, Fender Rhodes, Hammond organ, Mellotron, electric sitar, clavinet, synthesizers, guitar, marimba, flute, alto and Sopranino saxophone
Wendell Harrison, bass clarinet
Ali Shaheed Muhammad, electric bass, congas
Greg Paul, drums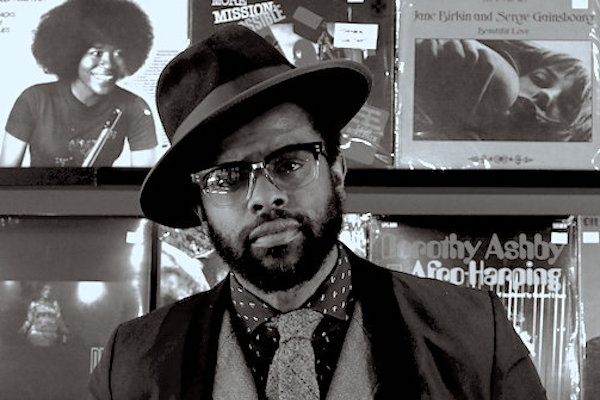 Adrian Younge
is a self-taught multi-instrumentalist, composer, and orchestrator who has produced for entertainment greats such as Snoop Dogg, Kendrick Lamar and Wu Tang Clan.
In 2007, Younge relinquished his position as a professor of law to find himself at the center of the Black Dynamite phenomenon. He served as the film's editor and composer. Hailed as a modern blaxploitation masterpiece, the soundtrack was listed in the top 10 best soundtracks of the year by the LA Times.
In 2011, Younge created the album, Something About April, showcasing a dark mix of psychedelic soul and cinematic instrumentals. In 2013, the project was sampled twice by Timbaland for Jay- Z's Magna Carta… Holy Grail, solidifying Younge as a new sound in hip hop. Younge's work has also been sampled by various artists including No I.D., DJ Premier, Schoolboy Q, and more.
Younge owns and operates Linear Labs, a recording studio and label. Linear Labs reflects his dedication to the art of analog recording, utilizing analog tape and live instrumentation exclusively. Under the label, he's produced projects for artists such as Ghostface Killah, Souls of Mischief, and The Delfonics.
In 2017, Younge and Ali Shaheed Muhammad (A Tribe Called Quest) formed the band, The Midnight Hour. In addition to musical releases and touring, they've teamed to score a myriad of television and film projects: Marvel's Luke Cage (Netflix), Raising Kanan (Starz), The Equalizer (CBS), Reasonable Doubt (Hulu), Run This Town (2019), Washington Black (2023), Boogie (2021), and Bitchin', The Sound and Fury of Rick James (2021). Younge has also scored Black Dynamite (2009), Black Dynamite animated series (2012), California King (2023), The Big Payback (2023), Queens (ABC), All Rise (OWN), and Human Footprint (PBS).
In 2019, Younge, Muhammad, Andrew Lojero and Adam Block created Jazz Is Dead (JID): a multimedia company specializing in the production of live concerts, studio albums, television and film. JID concerts have earned an ever-growing fanbase through national and international tours. Under the label, Younge and Muhammad have produced albums with their musical heroes including luminaires such as Roy Ayers, Lonnie Liston Smith, Gary Bartz, Jean Carne, Marcos Valle and Tony Allen.
In February 2021, Younge released the seminal album, The American Negro, his most important work to date. This project, in tandem with his Amazon original podcast, Invisible Blackness and short film TAN, provides an unapologetic critique on the evolution of racism in America. The podcast features conversations with guests such as Chuck D, Roy Choi, Dr. Melina Abdullah, Wayne Brady and Mahershala Ali. For Younge, the message is more important than the music.

This album contains no booklet.