---
Album info
Album including Album cover Booklet (PDF)
Johann Gottlieb Janitsch (1708 - 1763): Trio Sonata in G Minor:

1

Trio Sonata in G Minor: I. Adagio

02:45

2

Trio Sonata in G Minor: II. Allegretto

04:25

3

Trio Sonata in G Minor: III. Allegro assai

03:36

Johann Gottlieb Graun (1702 - 1771): Sonata in C Minor, GWV AvV:20:

4

Sonata in C Minor, GWV AvV:20: I. Adagio e mesto

04:41

5

Sonata in C Minor, GWV AvV:20: II. Allegro non troppo

07:36

6

Sonata in C Minor, GWV AvV:20: III. Allegro scherzando

04:55

Johann Gottlieb Graun: Sonata in B-Flat Major, GWV AvV:46:

7

Sonata in B-Flat Major, GWV AvV:46: I. Grazioso

03:45

8

Sonata in B-Flat Major, GWV AvV:46: II. Allegro

06:44

9

Sonata in B-Flat Major, GWV AvV:46: III. Allegro

05:38

Carl Heinrich Graun (1703 - 1759): Sonata in C Major, BWV BII:53:

10

Sonata in C Major, BWV BII:53: I. Largo

03:18

11

Sonata in C Major, BWV BII:53: II. Poco allegro

03:58

12

Sonata in C Major, BWV BII:53: III. Allegretto

03:32

Franz Benda (1709 - 1786): Sonata in C Minor, L3.137:

13

Sonata in C Minor, L3.137: I. Adagio

03:14

14

Sonata in C Minor, L3.137: II. Allegro

04:12

15

Sonata in C Minor, L3.137: III. Allegro moderato

03:43

Johann Gottlieb Graun: Trio Sonata in A Major, GWV AvV:42:

16

Trio Sonata in A Major, GWV AvV:42: I. Adagio con tenerezza

05:03

17

Trio Sonata in A Major, GWV AvV:42: II. Allegretto cantabile

04:40

18

Trio Sonata in A Major, GWV AvV:42: III. Allegro

03:54

Total Runtime

01:19:39
Info for J.G. Graun: Chamber Music

A quartet of four renowned period-instrument musicians with a new and unique collection of trio sonatas from the late Baroque: music fit for a (very discerning) king.
The four composers represented here all worked at the Potsdam court of Frederick the Great, who was himself a flautist and composer of professional ability. The G minor Trio Sonata by Johann Gottlieb Janitsch (1708-c. 1763) and the A major Trio Sonata by Johann Gottlieb Graun (1703-1771) were scored by their composers for two melody instruments and basso continuo (here, cello and harpsichord). Despite the participation of four players, at the time these were described as 'trios'. Likewise designated 'trios' were the two sonatas by Graun that include an obbligato or written-out keyboard part, which incorporates not only the bass (as usual) but a melody part as well.
All these compositions follow Berlin practice of the time in comprising three movements, of which the first is slow, the second quick, and the last also quick but somewhat lighter and dance-like. Both sonatas are extraordinary even within this exceptional repertory, incorporating lengthy virtuoso passages that resemble the solo episodes of a concerto. The C-minor viola sonata reaches rare heights of expressivity, particularly in its highly chromatic opening movement. The violin sonata in B-flat stands out for the fantasia-like solo passages in both quick movements.
A cello Sonata by the brother of Graun, Carl Heinrich (1703-1759), demonstrates that the younger Graun's chamber music tends to be more lyrical, less outwardly virtuosic, than his brother's. The king's favorite instrumentalist was the violinist Franz Benda (1709-1786), a pupil of J.G. Graun. He earned the rare privilege of leading Frederick's famous private concerts, in which the king played flute alongside a handful of his best musicians.
Winner of the Juilliard School's Historical Performance concerto competition, the violinist Augusta McKay Lodge is joined here by her sister Georgina and two accomplished colleagues who have also performed with the finest early-music groups on both sides of the Atlantic such as Les Arts Florissants, the Orchestra of the Age of Enlightenment and Tafelmusik. Their stylish performances glow with sympathy, casting the listener back to Frederick's candlelit salon in the company of the finest classical musicians of the day.
Virtuoso chamber music from the 18th century by four composers: Johann Gottlieb Graun, Johann Gottlieb Janitsch, Carl Heinrich Graun and Franz Benda. They all worked for the Prussian king Frederick The Great, who was himself a flautist and composer of professional ability. Although this music probably was not performed for the king himself, it is preserved in manuscripts associated with one of the musical "academies" that sprang up during and after his reign (1740–86) in the Prussian capital city of Berlin. There the roots of the modern concert tradition could be seen in semi-public gatherings that took place in the homes not only of certain professional musicians but of the city's elite.
This new recording presents a selection of Sonatas for viola and/or violin and Basso Continuo, written on the boundary between the Baroque and Classical styles. They include some of the earliest chamber music to treat the viola as an equal partner of its sister instrument the violin, demanding considerable virtuosity from the players of both, while expressing a wide range of emotions, both passionate and tender.
Played by violinist Augusta McKay Lodge ("the real thing, a true virtuoso" and "an exceptional violinist" Seen and Heard International), enjoying a flourishing career as an international prize-winning baroque and modern violinist based in New York and Paris, and violist Georgina McKay Lodge, who appeared on viola with European ensembles Les Arts Florissants, Holland Baroque, Camerata Øresund, Orquestra Barroca Casa da Música and the Orchestra of the Age of Enlightenment.
Augusta McKay Lodge, violin
Georgina McKay Lodge, viola
Eva Lymenstull, cello
David Schulenberg, harpsichord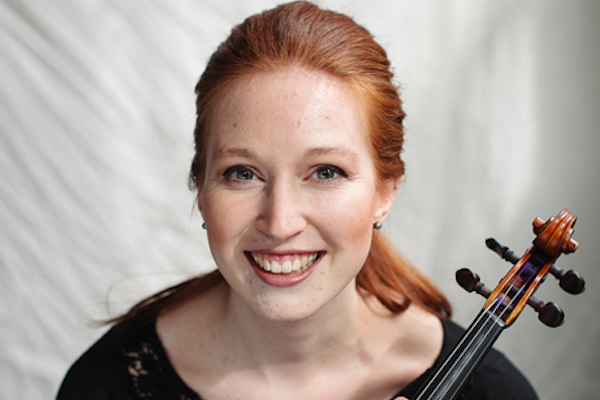 Augusta McKay Lodge
"the real thing, a true virtuoso" and "an exceptional violinist" (Seen and Heard International), enjoys a flourishing career as an international prize-winning baroque and modern violinist based in New York and Paris. She has had solo appearances in Carnegie Hall, Lincoln Center's Alice Tully, Kennedy Center, Concertgebouw, The Metropolitan Museum of Art, The Kosciuszko Foundation, the French Consulate in NYC, and more, and performed concertos with Juilliard415 and Indianapolis Baroque Orchestra. Recently, she gave a solo performance of Handel's Violin Sonatas alongside William Christie. As a creative director, McKay Lodge founded her own ensemble Voyage Sonique.
McKay Lodge has claimed grand prizes in Concert Artists International, Juilliard's Historical Performance Concerto Competition, the Indianapolis Baroque Concerto Competition, and placed as semifinalist in Le Concours Corneille (France), International Musica Antiqua Competition, and finalist in the 2016 International Indianapolis Baroque Concerto Competition. Her ensemble Voyage Sonique placed second in the international Lyceum Club de Suisse Concours de Musique.
McKay Lodge's debut solo album of unaccompanied baroque violin works – Beyond Bach and Vivaldi – is released on the Naxos label. It was named one of the top 20 albums of 2018 by WQXR, and was under consideration for the 61st Grammy Awards. The album has received rave reviews from Diapason D'or, The Strad, Early Music America, and many more. Early Music America wrote, "Lodge's special skill, in addition to her intonational and tonal felicities, is … an inexpressible sense of pace and pause that focuses the listener's attention on each piece's most poignant moments." She currently has two more albums in progress, one of which she shares with her sister Georgina McKay Lodge.
Well-versed in the role of concertmaster, McKay Lodge has served regularly as concertmaster for The American Classical Orchestra, Berwick Academy (as guest artist), Teatro Nuovo (also regularly associate concertmaster), Juilliard415, and others. She has performed in concertmaster and solo capacities under the baton of Nicholas McGegan, William Christie, Masaaki Suzuki, Ton Koopman, and Kristian Bezuidenhout, John Butt, Tom Crawford, and others.
McKay Lodge is named an English Concert American Fellow, a Juilliard-Mercury Fellow, and a Kovner Fellow. She is a member of Les Arts Florissants, Le Poème Harmonique, Les Talens Lyrique, and Opéra Fuoco and has performed regularly in leading historical orchestras such as The American Classical Orchestra, Mercury: an Orchestra Redefined, Voices of Music, Oregon Bach Festival, Apollo's Fire: The Cleveland Baroque Orchestra.
Upcoming highlights in a fully booked season include a concerto appearance of Vivaldi's Four Seasons with the Indianapolis Baroque Orchestra, Edinburgh Festival with The English Concert, Bach's Brandenburg No. 4 (solo) with The American Classical Orchestra, a concerto with the Washington Bach Consort, and a tour with Les Arts Florissants. Check her calendar for updates.
Georgina McKay Lodge
has performed on baroque viola and violin with European early music ensembles Les Arts Florissants, Holland Baroque, Camerata Øresund, Copenhagen Soloists, Orquestra Barroca Casa da Música, Orchestra of the Age of Enlightenment Experience; and in the USA with Teatro Nuovo opera orchestra, The Sebastians, Voyage Sonique, Grand Harmonie, The Berry Collective, at Boston Early Music Festival, at Oregon Bach Festival, and alongside musicians of Tafelmusik, Concerto Copenhagen, the Cleveland Orchestra, and the Juilliard School, Harvard University, and Universität Mozarteum Salzburg historical performance programs. Ms. McKay Lodge won the Best Bach award two years in a row at the Ohio Viola Society Competition.
Ms. McKay Lodge studied modern viola performance with Michelle LaCourse, Carol Rodland, and Peter Slowik, and received baroque viola and violin instruction from Jane Starkman, Cynthia Roberts, Walter Reiter, and Peter Spissky. She has played under directors Lars Ulrik Mortensen, Kurt Masur, Michael Tilson Thomas, James Gaffigan, James Feddeck, Jayce Ogren, Neil Varon, David Hoose, Scott Allen Jarrett, Edward Elwyn Jones, Laurence Cummings, Robert Howarth, Tom Seligman, Alexander Weimann, Will Crutchfield, Paul Agnew, and Paul O'Dette. She has been a part of summer festivals Bowdoin International Music Festival, Heifetz International Music Institute, California Summer Music, Credo Chamber Music, Milan Vitek's International Masterclass in the Czech Republic, Elizabeth Wallfisch's Masterclass in Italy, Oberlin Baroque Performance Institute, Berwick Academy, Dartington Baroque Orchestra, Casa da Mateus in Portugal, and Tafelmusik Baroque Summer Institute and Winter Institute.
A native of Oberlin, Ohio, she studied at the Oberlin Conservatory pre-college program before receiving her Bachelor of Music from the Eastman School of Music and her Master of Music from Boston University. She currently lives in Copenhagen, Denmark.
David Schulenberg
is one of America's foremost authorities on the music of the Bach family and an internationally respected performer on the harpsichord and other early keyboard instruments. A native of New York City, he is Professor of Music and Chair of the Music Department at Wagner College on Staten Island in New York City. His books include the textbook and anthology Music of the Baroque, published in 2001 by Oxford University Press, as well as The Keyboard Music of J.S. Bach and The Instrumental Music of C.P.E. Bach. He has also published numerous articles and reviews and has served on the faculties of the University of Notre Dame, Columbia University, and elsewhere. In January 2002 he presented lectures and concerts in and around Tokyo as a Fellow of the Japan Society for the Promotion of Science. He has also held research fellowships from the American Council of Learned Societies, the National Endowment for the Humanities, and the Andrew Mellon Foundation, and has served on the Council of the American Musicological Society and the editorial board of the Society's Journal. Performances include solo recitals for the American Bach Project, the Berkeley Music Sources series, and the International Bach Harpsichord Festival in Montreal, as well as concerts and lecture-demonstrations at the Library of Congress, Boston Early Music Festival, and the Great Performers at Lincoln Center series.

Booklet for J.G. Graun: Chamber Music