---
Album info
Album including Album cover Booklet (PDF)
Tarik O'Regan (b. 1978): The Phoenix, Act I:

1

The Phoenix, Act I: Overture (Live)

03:23

2

The Phoenix, Act I: E tu questa, la chiami un' ouvertura? (Live)

03:51

3

The Phoenix, Act I: Signore e signori (Live)

02:04

4

The Phoenix, Act I: Omnipotens sempiterne Deus (Live)

05:14

5

The Phoenix, Act I: Bravi! Bravi! (Live)

01:13

6

The Phoenix, Act I: Amici dell' Arte! (Live)

00:41

7

The Phoenix, Act I: Everybody's in Disguise (Live)

00:41

8

The Phoenix, Act I: Angela, carissima! (Live)

01:19

9

The Phoenix, Act I: Everybody's So Devout (Live)

00:47

10

The Phoenix, Act I: I Dreamed of a Life of the Mind (Live)

03:53

11

The Phoenix, Act I: Casanova, the Very Man! (Live)

01:23

12

The Phoenix, Act I: We Live as We Can (Live)

01:59

13

The Phoenix, Act I: Everyone's Conspiring (Live)

00:46

14

The Phoenix, Act I: Serenissima? Not for Much Longer (Live)

00:21

15

The Phoenix, Act I: This Year, in Philadelphia (Live)

03:10

16

The Phoenix, Act I: Te, Laurentio da Ponte (Live)

01:10

17

The Phoenix, Act I: Mutazione! (Venice) [Live]

01:15

18

The Phoenix, Act I: The Phoenix Burns to Be Reborn (Live)

01:12

19

The Phoenix, Act I: Here, at the Heart of the Holy Roman Empire (Live)

01:58

20

The Phoenix, Act I: Is It True, What They Say? (Live)

01:09

21

The Phoenix, Act I: Di gemme e di stelle (Live)

00:27

22

The Phoenix, Act I: I Feed My Composers Exquisite Language (Live)

01:31

23

The Phoenix, Act I: Da Ponte, mio caro (Live)

01:05

24

The Phoenix, Act I: Give Me Your Hand, Dear Abbé (Live)

01:46

25

The Phoenix, Act I: Beaumarchais? (Live)

00:29

26

The Phoenix, Act I: We're Slaves in Service (Live)

02:05

27

The Phoenix, Act I: Bravo! (Live)

00:43

28

The Phoenix, Act I: How Am I Doing? (Live)

03:52

29

The Phoenix, Act I: My Dearest Friends (Live)

03:04

30

The Phoenix, Act I: What's This? (Live)

01:47

31

The Phoenix, Act I: Happy the Men Who Can Think What They Want (Live)

01:47

32

The Phoenix, Act I: Man, That Is Born of a Woman (Live)

05:26

33

The Phoenix, Act I: Mutazione! (London) [Live]

03:04

34

The Phoenix, Act I: Signore e signori, the Story Moves On (Live)

01:02

35

The Phoenix, Act I: Time Flows By (Live)

07:20

36

The Phoenix, Act I: What Is It, My Love? (Live)

00:52

37

The Phoenix, Act I: Twelve Years Have Passed (Live)

03:04

38

The Phoenix, Act I: I'm Fifty-Five and I Am Old (Live)

03:34

The Phoenix, Act II:

39

The Phoenix, Act II: Introduction (Live)

01:33

40

The Phoenix, Act II: Today, in Philadelphia (Live)

02:56

41

The Phoenix, Act II: Morning (Live)

02:19

42

The Phoenix, Act II: How Did We Do Today? (Live)

01:15

43

The Phoenix, Act II: That's Just How It Was (Live)

00:36

44

The Phoenix, Act II: Che mai faremo? (Live)

02:37

45

The Phoenix, Act II: Li fai sembrare cosi felici insieme (Live)

00:34

46

The Phoenix, Act II: Signor Riley! (Live)

00:23

47

The Phoenix, Act II: Pardon Me, Sir (Live)

01:50

48

The Phoenix, Act II: I Speak Only of the Best! (Live)

01:19

49

The Phoenix, Act II: Quale cappello e nero? (Live)

01:58

50

The Phoenix, Act II: Non duro molto (Live)

00:48

51

The Phoenix, Act II: Susquehanna (Live)

04:03

52

The Phoenix, Act II: Enzo! (Live)

01:43

53

The Phoenix, Act II: Amade (Live)

03:14

54

The Phoenix, Act II: Devo andar via di qui! (Live)

01:19

55

The Phoenix, Act II: You Fed Me Dante (Live)

03:02

56

The Phoenix, Act II: Susquehanna (Reprise) [Live]

04:00

57

The Phoenix, Act II: La Vita di Benvenuto Cellini (Live)

01:46

58

The Phoenix, Act II: The Phoenix Burns to Be Reborn (Live)

01:10

59

The Phoenix, Act II: But, Darling, the Money (Live)

02:17

60

The Phoenix, Act II: I Declare, So Help Me God (Live)

03:10

61

The Phoenix, Act II: And Then We Held the Stars and Stripes (Live)

04:40

62

The Phoenix, Act II: Man, That Is Born of a Woman (Live)

03:37

63

The Phoenix, Act II: Addio fedeli amici (Live)

04:49

64

The Phoenix, Act II: Amici, amici (Live)

01:56

65

The Phoenix, Act II: Ma com' e andata? (Live)

05:03

Total Runtime

02:24:24
Info for O'Regan: The Phoenix (Live)

PENTATONE continues its American Opera Series with Houston Grand Opera's world premiere recording of Tarik O'Regan's The Phoenix (2019), an opera on the life of Lorenzo da Ponte, Mozart's favorite librettist. Da Ponte (1749-1838) was an adventurer, who not only travelled the world, but in a way also through time, living across what seem to be impossible moments of history that never should have aligned in somebody's life. Together with librettist John Caird, O'Regan has designed The Phoenix as an opera within an opera, exploring Da Ponte's life in the US, and as such providing a fascinating perspective on America as a nation of immigrants. The young and elder Da Ponte are created by Luca Pisaroni and Thomas Hampson, respectively. Music director Patrick Summers conducts the Houston Grand Opera.
Thomas Hampson, baritone (Lorenzo Da ¨Ponte, Sr.)
Luca Pisaroni, bass-baritone (Lorenzo Da Ponte, Jr.)
Rihab Chaieb, mezzo-soprano (Maria Malibran / Wolfgang Amadeus Mozart)
Joseph Kaiser, tenor (Patrick Kelly / Giacomo Casanova / Emperor Joseph II)
Lauren Snouffer, soprano (Giulietta)
Elizabeth Sutphen, soprano (Faustina)
Houston Grand Opera Orchestra and Chorus
John Caird, direction
Patrick Summers, conductor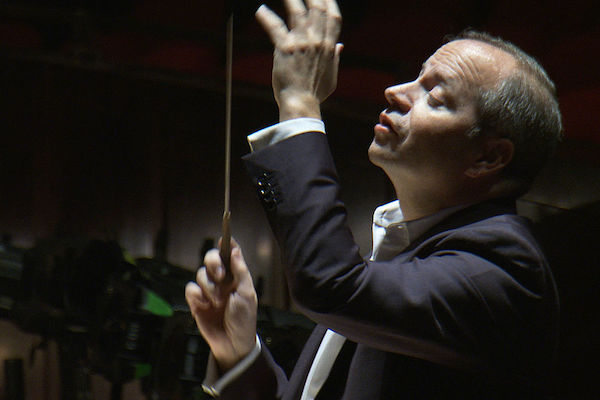 Houston Grand Opera (HGO)
The Houston Grand Opera Orchestra is one of the premiere opera orchestras in North America. Founded in 1955, it has grown from a small regional orchestra to forty-nine members. The opera company has been performing in its home theater, the Wortham Center, since 1987, and performs six mainstage operas per year, along with other smaller productions both in the Wortham Theater and throughout city of Houston. The orchestra has been praised for its performances of standard operas as well as its many premieres of new operas throughout the years. In the past, the orchestra was conducted by John DeMain and is now led by music director Patrick Summers.
Patrick Summers
is the artistic and music director of Houston Grand Opera and principal guest conductor of San Francisco Opera. In the 2015–16 season, Mr. Summers leads two world premieres: Jake Heggie and Terrence McNally's Great Scott at Dallas Opera, and Carlisle Floyd's Prince of Players at Houston Grand Opera, where he also conducts Verdi's Tosca and the La Fura del Baus production of Wagner's Siegfried. With the San Francisco Opera he conducts Sondheim's Sweeney Todd. Recent guest engagements have included Donizetti's Anna Bolena at Lyric Opera of Chicago, The Enchanted Island at Metropolitan Opera, André Previn's A Streetcar Named Desire at Los Angeles Opera, and Mozart's The Magic Flute at the Bregenz Festival in Austria. Mr. Summers has facilitated and performed more than a dozen world premieres, and he is a leading proponent for contemporary American opera and music, collaborating with many of today's most successful and performed composers, among them Jake Heggie, Carlisle Floyd, Christopher Theofanidis, and Philip Glass. Mr. Summers has conducted a wide range of repertoire from Baroque to bel canto to German Romantic, and has appeared with companies including Deutsche Oper Berlin, Welsh National Opera, Rome Opera, Norwegian Opera, and Opera Australia, among others.

Booklet for O'Regan: The Phoenix (Live)