---
Album info
Album including Album cover
Gabriella Smith (b. 1991): Maré:

1

Smith: Maré

08:40

Nathan Schram: HNB:

2

Schram: HNB

05:32

Andrew Norman (b. 1979): Music in Circles:

3

Norman: Music in Circles

10:11

Caroline Shaw (b. 1982): Draft of a High-Rise:

4

Shaw: Draft of a High-Rise: Inked Frame

04:00

5

Shaw: Draft of a High-Rise: A Scribbled Veneer

03:37

6

Shaw: Draft of a High-Rise: Their Stenciled Breath

04:20

Kelly Watson Woelffer: the (un)raveling:

7

Woelffer: the (un)raveling

07:23

Total Runtime

43:43
Info for MUSIC in CIRCLES

Prepare to embark on a journey of sonic wonder with hear now berlin's debut album, MUSIC in CIRCLES. Featuring works by some of the most exciting composers of our time, this album is a celebration of music's boundless potential for human expression and emotion.
At the heart of the album lies Andrew Norman's Music in Circles, a mesmerizing work that takes us on a journey through a hall of mirrors. With its symmetrical structure and recurring refracted scale motif, the piece invites us to contemplate the infinite and the eternal.
Gabriella Smith's Maré is a masterful exercise in organic evolution, as shimmering textures give way to ominous growls and ecstatic washes of sound. Caroline Shaw's Draft of a High-Rise is a work of stunning virtuosity and complexity, a musical kaleidoscope of sweeping melodies, warm harmonies, and jittery passages.Nathan Schram's HNB is a true highlight of the album, a funky and full-throttle ride through feel-good soundscapes that demands the utmost from its virtuosic performers. And hear now berlin's flutist and founder, Kelly Watson Woelffer, contributes her own powerful work, the (un)raveling, a reflection on the challenges of motherhood and creativity during the pandemic.
Throughout the album, the musicians of hear now berlin deliver performances of exquisite precision and emotional depth, capturing a wide range of human experience, from fragility to risk, from simplicity to complexity.
Kelly Watson Woelffer, flute, alto flute
Jens Thoben, clarinet, bass clarinet
Paul Hübner, trumpet, flugelhorn
Meike-Lu Schneider, violin
Alexina Hawkins, viola
Edward King, cello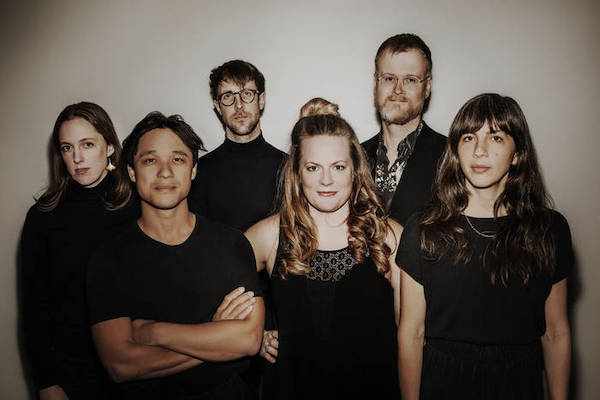 hear now berlin.
founded in Berlin in 2018 by American flutist Kelly Watson Woelffer, is a contemporary sextet with an extraordinary line-up that offers space in its programs to innovative, musically diverse influenced compositions and represents current compositional positions that defy quick categorization. With their profile, they expand and enrich the constantly changing scene for New Music in Berlin and underline its multicultural character with their diversity. ​
The focus of the ensemble is on music that dissolves boundaries; fusing contemporary classical, avant-garde, jazz, pop, and free improvisation practices into a "post-genre" sound art. ​
The six musicians from Australia, Germany, New Zealand and the USA are not only at home in classical-romantic orchestral and chamber music, but also bring experience in composition, jazz, electronic music and improvisation. As hear now berlin. they perform works by young, contemporary composers who celebrate a wide variety of influences and personal preferences with relish. New music is combined with jazz, minimal music, pop or club music in a diverse, rhythmically pulsating, highly virtuosic and colorful way. ​
Additionally, hear now berlin. also creates original works from within the ensemble, bringing an intimate element that showcases the vast array of skills from these individual musicians. The musicians not only work with young composers such as Nathan Schram, Andrew Norman, Caroline Shaw and Gabriella Smith, but also initiate innovative collaborations with jazz and pop artists like Becca Stevens in search of a fresh sound image of contemporary music today.
A founding principle of the ensemble is to dedicate their programs to featuring new works for like-minded composers and collaborate with them in the presentation of their premieres.

This album contains no booklet.