---
Album info
Album including Album cover Booklet (PDF)
Kalevi Aho (b. 1949): Double Concerto for Cor anglais, Harp & Orchestra:

1

Aho: Double Concerto for Cor anglais, Harp & Orchestra: I.  —

13:45

2

Aho: Double Concerto for Cor anglais, Harp & Orchestra: II. Cadenza

02:11

3

Aho: Double Concerto for Cor anglais, Harp & Orchestra: III. Allegro

06:35

4

Aho: Double Concerto for Cor anglais, Harp & Orchestra: IV. Adagio

05:21

Triple Concerto for Violin, Cello, Piano & Chamber Orchestra:

5

Aho: Triple Concerto for Violin, Cello, Piano & Chamber Orchestra: I. Lullaby

05:07

6

Aho: Triple Concerto for Violin, Cello, Piano & Chamber Orchestra: II. Presto

06:26

7

Aho: Triple Concerto for Violin, Cello, Piano & Chamber Orchestra: III. Tranquillo, misterioso

09:43

8

Aho: Triple Concerto for Violin, Cello, Piano & Chamber Orchestra: IV. Andante - Allegro molto

09:04

Total Runtime

58:12
Info for Kalevi Aho: Double & Triple Concertos

Concertos for cor anglais are few and far between, and harp concertos aren't very common either. In combining the two, Kalevi Aho has come up with a true rarity – possibly the only double concerto in existence for these two instruments. Composed in 2014, the work was commissioned by the Antwerp Symphony Orchestra for two of its solo players: Anneleen Lenaerts and Dimitri Mestdag, who also perform it here. The work is characteristically eclectic, making the most of the sonic possibilities of the solo instruments, but also of the orchestral palette.
The Antwerp Symphony Orchestra is no newcomer to Aho's music, having previously recorded his concertos for trombone and trumpet. On the present disc, it also provides support for the Storioni Trio, in the Triple Concerto for violin, cello, piano and chamber orchestra, a joint commission by the trio and the orchestra. In 2017, as Aho started work on the concerto, his granddaughter was born. Having written a lullaby for her, he decided to use that as the core melodic material of the piece. The lullaby is heard several times in the first movement, which is quite tonal and very dreamlike. It also features in the movements that follow, while the harmonic language becomes more complex. Aho himself describes the work as having 'a general atmosphere full of joy and positive (sometimes quite virtuosic) energy.'
Dimitri Mestdag, cor anglais
Anneleen Lenaerts, harp
Storioni Trio
Antwerp Symphony Orchestra
Olari Elts, conductor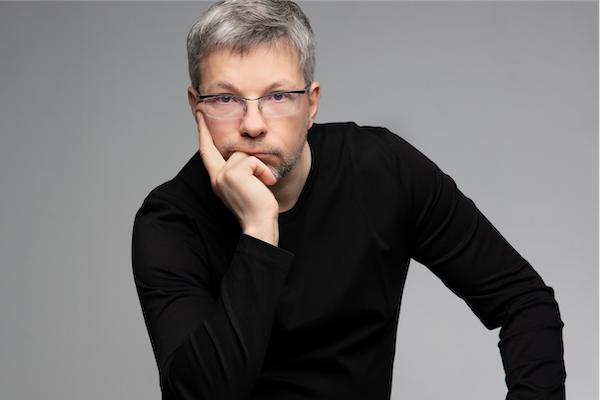 Dimitri Mestdag
was born in Kortrijk and studied at the music academy of Harelbeke and the arts school of Ghent under the lead of Yf Bourry. He obtained master degrees in oboe, English horn and chamber music at the conservatory of Brussels with Paul Dombrecht and Alex Van Beveren. After master classes with Thomas Indermühle, David Walter, Alain Denis and Ingo Goritzki he completed his training at the conservatory of Rotterdam with Emanuel Abbühl.
Dimitri was prize winner of Belfius Classics in 1991 and in 1996 the very first laureate on English horn of the Tenuto competition.
As of September 1996 he has been Principal English Horn of the Antwerp Symphony Orchestra. He has inspired many composers to write for his favourite instrument, among others Frits Celis, Erik Desimpelaere, Kalevi Aho, Robert Groslot and Geoffrey Gordon.
He is artistic director of Arbanassi Summer Music, a unique chamber music festival in Bulgaria, which he grounded with his wife Julita Fasseva.
Since 2009 he is playing with his fellow oboe friends in the Astria Oboe Trio.
They recorded three cd's and toured France, Bulgaria, Estonia and China.
Dimitri leads a successful English horn class at the conservatory of Brussels and is regularly invited to give masterclasses in Belgium and abroad.
Anneleen Lenaerts
Belgian harpist Anneleen Lenaerts is one of the leading soloists of her instrument. In December 2010 she was appointed Principal Harpist of the Vienna Philharmonic.
As a soloist Anneleen has performed with the Symphony Orchestra of Bavarian Radio, the Mozarteum Orchestra, Bruckner Orchestra Linz, the Philadelphia Chamber Orchestra, the Polish National Radio Orchestra, the Brussels Philharmonic, and the National Orchestra of Belgium amongst others.
Anneleen Lenaerts has made her solo debut at venues such as the Wigmore Hall in London, Carnegie Hall New York, Berliner Philharmonie, Salle Gaveau in Paris, Großes Festspielhaus in Salzburg, Bozar in Brussels and in festivals such as Rheingau Musik Festival, Dresden Musikfestspiele, Lockenhaus festival, Moritzburg Festival and Aspen Music Festival. Solo appearances have been recorded by various stations including BBC 3, Radio France Musique and Deutschlandfunk.
From an early age Anneleen started winning an impressive amount of prizes at international harp competitions: 23 prizes between 1997 and 2009. The "Grand Prix International Lily Laskine, where she won the first prize in 2005 and the ARD International Music Competition in Munich, where she was both a prizewinner and winner of the Audience Prize, are particularly outstanding. After the success of recording 3 harp concertos (by Glière, Rodrigo and Jongen) with the Brussels Philharmonic for Warner Classics and a CD with works by Schumann & Schubert with clarinetist Dionysis Grammenos, Anneleen signed an exclusive recording artist contract with Warner Classics . 2019 saw the release of a new recording with works by Nino Rota with the Brussels Philharmonic, Adrien Perruchon and Emmanuel Pahud and won an Opus Klassik, after being nominated in 4 different categories. Her previous solo album on Aliud Records comprises twelve transcriptions of some of the most popular piano pieces by Chopin and Liszt. In the same year she also received the "Flemish Community Honours" by the Government of Flanders for her outstanding contributions to society. Anneleen Lenaerts started playing harp with Lieve Robbroeckx. She continued her studies at the Conservatories of Brussels and Paris in 2008 and gained her Harp Master degree with highest distinction. She completed through the "Cours de perfectionnement" at the Ecole Normale de Musique de Paris with Isabelle Perrin. Besides harp Anneleen studied harmony, counterpoint and fugue at the Brussels Conservatory. Anneleen teaches at the University of Maastricht (NL) and is a Faculty Member of the Aspen Music Festival (USA)
Storioni Trio
is widely regarded as one of the world's foremost piano trios.
It was formed in 1995 and takes its name from the violin played by Wouter Vossen which was made by Laurentius Storioni in 1794.
In their first years together, the three musicians worked intensively with the Vermeer Quartet, violinist Isaac Stern, cellist Mstislav Rostropovich and Menahem Pressler, the pianist of the renowned Beaux Arts Trio. Winning the Kersjes Prize in 2000 helped get them off to a flying start.
This season, they are celebrating the trio's 25th anniversary. 'We're still as enthusiastic as we were 25 years ago,' says Wouter Vossen. 'We're constantly driven forward by our enthusiasm for the next step, which is usually rooted in a musical angle. It's really energising.'
Over the last quarter of a century, the Storioni Trio have found their own sound and colour. Their concerts are as incisive as their rehearsals are intensive. These are musicians whose aim is to go further than just the music; they want to tell a story. The belief that music can bridge divides inspires them to open up this living music so it can be enjoyed by as wide an audience as possible.
The social aspect of how music is experienced is seen as essential by the Storioni Trio. Together with their audience, they enjoy the interaction that takes place not only in the concert hall but also outside it. The trio often play in unique spaces and at extraordinary locations so they can take their audience with them on a voyage of discovery.
The Storioni Trio's repertoire is wide, ranging from classical to contemporary works, from Haydn to Aho. Beethoven occupies a special place in the musicians' hearts: 'He continually challenges us to rediscover what his music is about and where our personal boundaries lie.' The ensemble has performed the cycle of all Beethoven's piano trios several times, using both period and modern instruments.
Olari Elts
Elts' passion for distinctive programming rich with invention has earned him much praise on the international music scene. He began his tenure as Music Director and Chief Conductor of the Estonian National Symphony Orchestra in 2020. Since 2018, he is also Artistic Advisor of the Kymi Sinfonietta. Olari Elts has appeared as a guest conductor with such orchestras as Gewandhausorchester Leipzig, Finnish Radio Symphony, Danish National Symphony, Rotterdam Philharmonic, Netherlands Radio Philharmonic, Netherlands Philharmonic, BBC Symphony, City of Birmingham Symphony Orchestra, RTÉ Dublin Orchestra, Orchestre Philharmonique de Radio France, Orchestre National de France, Orchestre National de Lyon, Orchestre Philharmonique du Luxembourg, Budapest Festival Orchestra, National Arts Centre Orchestra Ottawa, Yomiuri Nippon Symphony, Seoul Philharmonic Orchestra, and Melbourne Symphony Orchestra. Soloists with whom he collaborates include Jean-Efflam Bavouzet, Gautier and Renaud Capuçon, Brett Dean, Isabelle Faust, Alban Gerhardt, Martin Grubinger, Martin Helmchen, Stephen Hough, Lucas & Arthur Jussen, Kari Kriikku, Simone Lamsma, Karita Mattila, Alexander Melnikov, Maxim Rysanov, Baiba Skride, Lara St. John, Simon Trpčeski, and Antoine Tamestit.
In the 2021/22 season, Elts will lead the Estonian National Symphony Orchestra on tour to Poland, as well as guest conduct orchestras with which he has regularly collaborated such as Helsinki Philharmonic Orchestra, Staatskapelle Weimar, Slovenian Philharmonic and Sinfonietta Rīga. He also looks forward to his debut with Oslo Philharmonic, Prague Radio Symphony, Polish Baltic Philharmonic in Gdansk and further afield with Orchestre Symphonique de Quebec in Canada and National Symphony Orchestra in Taiwan. Other highlights include conducting a new ballet production based on the life of Sibelius, in celebration of the Finnish National Ballet's 100th year anniversary.
As a champion of contemporary Baltic composers such as Erkki-Sven Tüür and Heino Eller, Elts has released recordings of Heino Eller's Symphonic Poems as well as Eller's violin concerto with Baiba Skride and the Estonian National Symphony Orchestra. Also widely celebrated by critics are his Ondine recordings of Erkki-Sven Tüür works with Tapiola Sinfonietta including the viola concerto with Lawrence Power, and Tüür's Symphony No. 5 for electric guitar, orchestra, big band and the accordion concerto Prophecy with the Helsinki Philharmonic. His 2016 recording of Brahms' arrangements (Glanert, Berio) with Helsinki Philharmonic Orchestra also won high praise. Elts' discography also includes the Borgström and Shostakovich violin concertos with Eldbjørg Hemsing and the Wiener Symphoniker under the BIS label, and Poul Ruders Symphony No.5 with the Danish National Symphony Orchestra by Bridge Records. His upcoming release will feature music by Kalevi Aho, recorded with the Kymi Sinfonietta under the BIS label, and another disc of the same composer recorded with the Antwerp Symphony.
Elts also made his mark in the opera field, having conducted titles such as Eugene Onegin, Mozart's Don Giovanni and Idomeneo, Berlioz's La Damnation du Faust, etc. Crossing genres, Elts toured to the Konzerthaus Berlin with the theatre-concert production which combines Mendelssohn and Shakespeare's "Midsummer Night's Dream" with the Tallinn-based theatre company NO99. For Bernstein's 100th anniversary, Elts conducted the film "On the Waterfront" with live orchestral accompaniment of the soundtrack. Elts was Principal Guest Conductor of the Estonian National Symphony Orchestra from 2007-2020 and held the same position at Helsinki Philharmonic Orchestra from 2011-2014. He was also Artistic Advisor of the Orchestre de Bretagne from 2006-2011, Principal Guest Conductor of the Scottish Chamber Orchestra from 2007-2010 and Chief Conductor of the Latvian National Symphony Orchestra from 2001-2006. Born in Tallinn in 1971, Elts is founder of his contemporary music ensemble, NYYD Ensemble.

Booklet for Kalevi Aho: Double & Triple Concertos