---
Album info
Album including Album cover Booklet (PDF)
Georg Friedrich Händel (1685 - 1759): Radamisto, HWV 12:

1

Ferite, uccidete, oh numi del ciel

03:47

Antonio Vivaldi (1678 - 1741): Farnace, RV 711:

2

Gelido in ogni vena

11:14

Wolfgang Amadeus Mozart (1756 - 1791): Le nozze di Figaro, K. 492:

3

Voi, che sapete che cosa è amor

03:01

Gioachino Rossini (1792 - 1868): Tancredi:

4

Oh patria! dolce, e ingrata patria!

08:51

Vincenzo Bellini (1801 - 1835): I Capuleti e i Montecchi:

5

Tu sola, o mia Giulietta

04:28

Giacomo Meyerbeer (1791 - 1864): Les Huguenots:

6

Non, non, non, vous n'avez jamais

05:13

Gaetano Donizetti (1797 - 1848): Maria di Rohan:

7

Son leggiero, è ver, d'amore

02:27

Christoph Willibald Gluck (1714 - 1787): Orphée et Eurydice, Wq. 41:

8

Qu'entends-je? Qu'a-t-il dit? (Ed. H. Berlioz)

06:55

Jacques Offenbach (1819 - 1880): Les contes d'Hoffmann:

9

Vois sous l'archet frémissant

03:49

Pietro Mascagni (1863 - 1945): L'amico Fritz:

10

O pallida, che un giorno mi guardasti

02:15

Giacomo Puccini (1858 - 1924):

11

Manon Lescaut, SC 64: Sulla vetta tu del monte

01:54

Jules Massenet (1842 - 1912): Chérubin:

12

Entr'acte

02:34

Richard Strauss (1864 - 1949): Der Rosenkavalier, Op. 59, TrV 227, Act I:

13

Wie du warst! Wie du bist!

06:08

Maurice Ravel (1875 - 1937): L'enfant et les sortilèges, M. 71:

14

Toi, le coeur de la rose

01:46

Henry Mancini (1924 - 1994):

15

Crazy World (From "Victor/Victoria")

02:20

Total Runtime

01:06:42
Info for En travesti

Anna Bonitatibus is one of the most successful mezzo-sopranos of our time. On her new album entitled "en travesti", together with the Munich Radio Orchestra conducted by Corrado Rovaris, she presents the most famous and important arias written over the past three hundred years for women acting in male roles on the opera stage: so-called "trouser roles". The fifteen arias begin with Handel and Vivaldi, then go on to include works by Gluck and Mozart, the Italians Rossini, Bellini and Donizetti, the French opera composers Meyerbeer, Offenbach and Massenet, the Verists Mascagni and Puccini, as well as Ravel and Richard Strauss; and the programme concludes with a song from the film musical "Victor/Victoria". The "trouser role", i.e. the woman performing in male dress, has always been a popular phenomenon in spoken as well as musical theatre. The notion that it served only to gradually replace parts written for castrati – whose tradition ended in the first half of the 19th century for humanitarian and aesthetic reasons - is a commonly accepted one but is not, in fact, correct. Even during the heyday of castrati, men were repeatedly portrayed by women en travesti, and these parts were performed by famous female singers. On her album, Anna Bonitatibus exclusively sings arias that were originally written for women. She thus provides a whole new insight into the 'trouser role' and gives us impressions of how these fascinating and astonishingly varied numbers from three centuries of musical and operatic history must have sounded. There are famous and lesser-known opera titles here, popular musical numbers and also genuine rediscoveries - from Baroque opera to Italian bel canto, all the way to songs from contemporary musicals. It's an impressive concept, and lots of fun. The studio recordings by the Bayerischer Rundfunk were made in the summer of 2016, and have now been released on BR-KLASSIK.
Anna Bonitatibus, mezzo-soprano
Münchner Rundfunkorchester
Corrado Rovaris, conductor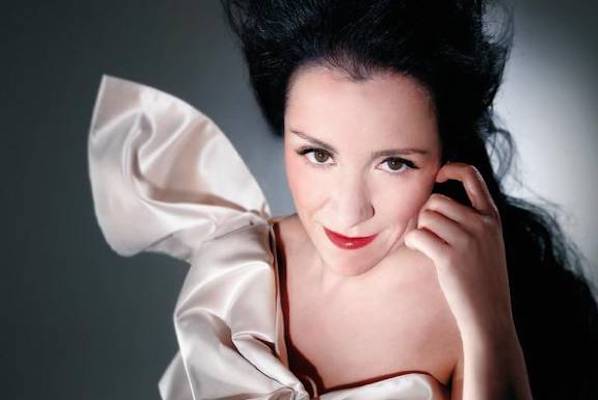 Anna Bonitatibus
Winner of The International Opera Awards (2015), for Semiramide – La Signora regale, and Best Female Voice Finalist IOA (2016), the Anti-Diva, as she likes to describe herself, Anna Bonitatibus is renowned for the noble passion with which she interprets titles between the most famous of 'teatro musicale', as well as the tireless commitment with which she promotes the divulgation of a rarer repertoire. She includes in her performed titles, over fifty operas, from Claudio Monteverdi's masterpieces to titles back to proscenium by Francesco Cavalli (Didone, Ercole amante, Calisto), crossing Händel's operatic production (Agrippina, Deidamia, Giulio Cesare, Orlando, Tamerlano, Tolomeo, Il Trionfo del Tempo e del Disinganno) and composers from the Neapolitan school, from Pergolesi to Cimarosa, until her beloved Gioachino Rossini: La Cenerentola, Il Barbiere di Siviglia, L'Italiana in Algeri, Le Comte Ory, Il Viaggio à Reims and Tancredi and furthermore Cantate, Masses and the rare and precious Péchés de Vieillesse by the 'pesarese'. As the embodiment of Cherubino from the Dapontian Le Nozze di Figaro, she has become one of the most acclaimed performers of Mozart. Then follows Don Giovanni, Così fan tutte, Mitridate Re di Ponto, La Clemenza di Tito, as well as sacred and profane repertoire by the Salzburgian composer.
Messa di Requiem by Giuseppe Verdi and Ginevra di Scozia by Simon Mayr appear among the recent debuts of the Italian Mezzosoprano who also feels a special affinity for the French repertoire: L'Enfant et les sortilèges by Ravel, Roméo et Juliette by Berlioz and Gounod as well as Les contes d'Hoffmann by Offenbach, Werther and Don Quichotte by Massenet. Recently Anna Bonitatibus participated in the Convegno Internazionale Rossini 2017, as interpreter of a special concert 'Rossini e gli altri. La Gran scena' produced by Fondazione Rossini di Pesaro.
From her first steps at Teatro alla Scala, to Bayerische Staatsoper in Munich, to Théâtre des Champs-Elysées in Paris, to Teatro Real in Madrid, La Monnaie in Bruxelles, Staatsoper in Vienna, to Royal Opera House in London and to the most renowned international concert halls (from Russia to United States), Anna Bonitatibus has collaborated with the most acclaimed conductors and directors: Sir Charles Mackerras, Riccardo Muti, Sir Antonio Pappano, René Jacobs, William Christie, Ivor Bolton, Myung Whun Chung, Alan Curtis, Roberto Abbado and Luca Ronconi, Jerome Savary, Pier Luigi Pizzi, Dario Fo, David Alden, Sir Jonathan Miller, Kasper Holten, Emilio Sagi, Sven-Eric Bechtolf. Among the recent recordings in CD: L'Infedeltà costante dedicated to Haydn; Un Rendez-vous, a portrait of Gioachino Rossini's chamber music repertoire; Semiramide - La Signora regale, a musical itinerary from Porpora to García consecrated to the first Queen of Mesopotamia; La Tempesta, chamber Cantatas by the composer Marianna Martines, released for DHM/RCA/SONY and in DVD Il Barbiere di Siviglia for Hardy-RaiTrade, La Didone and Ercole amante by Cavalli (OpusArte) and Così fan tutte by Mozart (Arthaus). In streaming, Anna Bonitatibus recently appeared in La Clemenza di Tito (La Monnaie, Bruxelles) and L'Italiana in Algeri (Wiener Staatsoper, Vienna).
To be released in the following days, the new recording, 'en travesti', a recital that covers the parabola of 'breeches roles' composed for female voices, for BR Klassik; moreover, highlights between performances of the current season includes the Rossinian recital Un Rendez-vous and the debut in the role of Cecilio in Lucio Silla by Mozart at La Monnaie, Bruxelles, La clemenza di Tito in Warsaw, a return to Bayerische Staatsoper with La Calisto by Cavalli, Ottone by Händel in Moscow and the recitals dedicated to 'Lirica italiana da camera' at the Wigmore Hall in London.
And it is exactly the 'Lirica italiana da camera' (Arias, Melodies, Nocturnes, Ballads, Elegies, Short Poems Cantatas) protagonist of the recent project by Anna Bonitatibus: Consonarte – Vox in Musica, a publishing enterprise founded by the artist, that seeks to renew appreciation of a vast – often disregarded, even forgotten – musical patrimony that constitutes a splendid legacy of Italian musical history, and one not to be overlooked.

Booklet for En travesti