---
Album info
Album including Album cover Booklet (PDF)
I`m sorry!
Dear HIGHRESAUDIO Visitor,
due to territorial constraints and also different releases dates in each country you currently can`t purchase this album. We are updating our release dates twice a week. So, please feel free to check from time-to-time, if the album is available for your country.
We suggest, that you bookmark the album and use our Short List function.
Thank you for your understanding and patience.
Yours sincerely, HIGHRESAUDIO
Anonymous:

1

Ave donna santissima (Laude)

02:08

2

La Danza Cleves (Bassedanse)

01:20

3

Salve, salve virgo pia (Laude)

01:41

4

Petit Vriens (Ballo)

01:04

Luis de Narváez (1490 - 1547):

5

Guardame las vacas I

01:32

Alonso Mudarra (1510 - 1580):

6

Guardame las vacas

02:13

Luis de Narváez:

7

Guardame las vacas II

02:28

Diego Ortiz (1510 - 1570):

8

Recercada Segunda

01:14

9

Recercada Settima

01:40

10

Recercada Tercera

01:37

Adrian Le Roy (1520 - 1598):

11

Branle de Poictou

01:44

12

Branle Simple

01:37

13

Branle Pimontoise

01:40

14

Cinquesième Branle

01:10

Bartolomé de Selma y Salaverde (1580 - 1640):

15

Canzon Terza

06:02

Nicola Matteis (1650 - 1714):

16

Aria Allegra

01:11

17

Aria Amorosa

04:26

18

Ground after the Scotch Humour

02:23

Arcangelo Corelli (1653 - 1713): Violin Sonata in E Minor, Op. 5 No. 8:

19

Violin Sonata in E Minor, Op. 5 No. 8: I. Preludio Largo (Arr. for Salterio & Theorbo)

02:42

20

Violin Sonata in E Minor, Op. 5 No. 8: II. Allemande (Arr. for Salterio & Theorbo)

02:00

21

Violin Sonata in E Minor, Op. 5 No. 8: III. Sarabande (Arr. for Salterio & Theorbo)

02:07

22

Violin Sonata in E Minor, Op. 5 No. 8: IV. Gigue (Arr. for Salterio & Theorbo)

02:18

Bernardo Pasquini (1637 - 1710): Sonata for 2 Keyboards in D Minor:

23

Sonata for 2 Keyboards in D Minor: I. Allegro (Arr. for Dulcimer & Theorbo)

01:56

24

Sonata for 2 Keyboards in D Minor: II. Andante (Arr. for Dulcimer & Theorbo)

01:22

25

Sonata for 2 Keyboards in D Minor: III. Allegro (Arr. for Dulcimer & Theorbo)

01:53

Anonymous:

26

Folias de Espana

06:06

Total Runtime

57:34
Info for Suoni amorosi

Salterio und Laute breiten in der »Aria Amorosa« von Nicola Matteis ihr feinstes und emotionalstes Klangspektrum voller Zärtlichkeit und heiterer Gelassenheit aus. Die Liebe zu ihren Instrumenten und deren differenzierten Klangwelten trägt das Spiel von Birgit Stolzenburg und Hans Brüderl und ist bestimmend für die Auswahl und Interpretation der Musikstücke vom Spätmittelalter bis zum Hochbarock. Mit insgesamt acht verschiedenen Instrumenten lassen sie die Klangwelt von Lauten, Gitarren, Psalter und Hackbrett wiedererstehen.
Zwei Saiteninstrumente, eines gezupft, eines geschlagen, gehörten über Jahrhunderte zur Klangwelt der Musik an Fürstenhöfen und im Kirchenraum. Sie fehlen nicht bei den Reigentänzen der Renaissance, dem höfischen Zeremoniell der Barockzeit und den Lobgesängen zur Verehrung Gottes. Eines ist bis heute bekannt und im Musikleben präsent, das andere erobert sich erst seit Kurzem seinen Platz in der Musik vom Spätmittelalter bis zur Frühklassik zurück.
Das Hackbrett ist das einzige mit Hämmerchen geschlagene Saiteninstrument. Seine Entwicklung mündet in die Tasteninstrumente, dem Hammerklavier Mozarts und Beethovens bis hin zum modernen Flügel. Die Bezeichnungen reichen von »Dulce Melos« (Burgund um 1440) über Salterio (Brescia 1696) bis Hackbrett (Zürich 1447) und Cymbal. Es gibt zwei Entwicklungsstränge, einen aus dem gezupften Psalterium und einen aus dem Monochord des Mittelalters. Aus Dulce Melos wird Dulcimer (engl.), aus Psalterium Salterio (ital.).
Um 1700 macht die Erfindung eines großen Hackbretts mit spektakulärem Tonumfang bis zu den tiefsten Basstönen an den Fürstenhöfen Deutschlands Furore. Der Erfinder ist Pantaleon Hebestreit. Sein »pantalonisches Cymbal« verschwindet erst mit dem Siegeszug des im Gegensatz zum Cembalo dynamisch spielbaren Hammerklaviers. Mit dem Kontrabasshackbrett wird die Faszination des Hebestreitschen Pantalons wieder erlebbar.
Die Laute ist das wichtigste Zupfinstrument bis zum Ende des Generalbasszeitalters. Sie war ursprünglich mit nur 5–6 Doppelsaiten bespannt, hat sich aber im Laufe der Zeit zu einem voluminösen Instrument mit bis zu 14 Chören entwickelt. Als Theorbe war sie in der barocken Aufführungspraxis ein unverzichtbares Begleitinstrument. Die Gitarre nahm ihren Anfang mit der spanischen Vihuela und der Renaissancegitarre und entwickelte sich rasch zum beliebten Instrument für Liedbegleitung, aber auch zum hochwertigen Soloinstrument an zahlreichen Königshöfen.
Birgit Stolzenburg, Dulce Melos (Mittelalterhackbrett), Salterio (Barockhackbrett), Hackbrett, Kontrabasshackbrett
Hans Brüderl, Vihuela, Renaissancegitarre, Renaissancelaute, Theorbe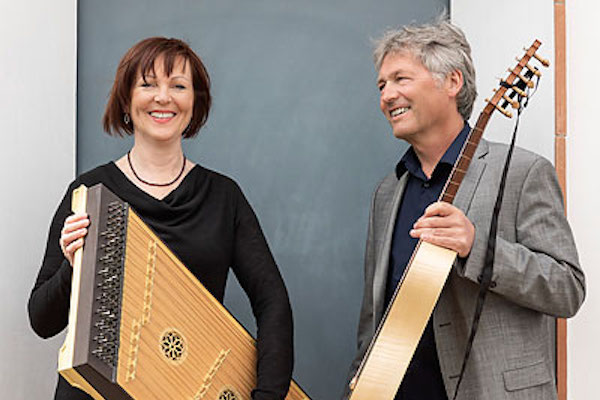 Duo GIOCO DI SALTERIO
Das Salterio, Namensgeber des Duos, ist die barocke Form des Hackbretts, war im 18. Jahrhundert vor allem in Italien und Spanien verbreitet und ist ein Überbleibsel des großen Instrumentenreichtums der Renaissance. Partner des Salterios waren damals unter anderem verschiedene Lauteninstrumente. Birgit Stolzenburg und Hans Brüderl bringen zusammen neun Saiteninstrumente mit hinreißender Musik vom Mittelalter bis zum Barock auf die Bühne, es erklingen Dulce Melos (Mittelalterhackbrett), Salterio (Barockhackbrett), Hackbrett und Kontrabasshackbrett, Renaissancegitarre, Vihuela, Renaissancelaute, Barockgitarre und Theorbe.
Birgit Stolzenburg
studierte Hackbrett, Blockflöte und Gitarre am Richard-Strauss-Konservatorium München, wo sie seit 1990 als Dozentin für Hackbrett tätig war. Die intensive Beschäftigung mit den vielfältigen künstlerischen Aspekten des Hackbretts macht sie zu einer Pionierin in der Weiterentwicklung auf historischem sowie auf zeitgenössischem Gebiet. Sie trat beim Rheinhessischen Musikfestival und bei musica viva auf, spielte in Orchesterwerken am Gärtnerplatztheater München und den Opernhäusern Halle und Kiel und machte Aufnahmen für den Bayerischen und den Österreichischen Rundfunk sowie den Rundfunk Toronto. Konzerte und Tourneen führten sie durch Europa, Albanien, Zentralasien, Serbien, Kanada, Japan und China. 1990 initiierte Birgit Stolzenburg in Zusammenarbeit mit dem Instrumentenbauer Reinhard Hoppe den Nachbau eines italienischen Salterios (Barockhackbrett) des 18. Jahrhunderts und ist seither in der Wiederbelebung historischer Hackbrettmusik wegweisend tätig. Birgit Stolzenburg ist Professorin für Hackbrett an der Hochschule für Musik und Theater München.
Hans Brüderl
Als Lautenist ist Hans Brüderl Mitglied verschiedener Ensembles für Alte Musik, wobei ihm das Continuospiel ein breites Aufgabenfeld mit verschiedensten Möglichkeiten bietet. Ensembles, mit denen er regelmäßig auftritt, sind die Salzburger Hofmusik, das Marini Consort Innsbruck und das Duo Mille Corde. Überdies spielte Hans Brüderl bei Opern- und Konzertprojekten und wirkte unter anderem bei Rundfunk- und CD-Aufnahmen des Münchner Rundfunkorchesters, des Mozarteumorchesters Salzburg, des Münchner Bachorchesters, des Tiroler Landesorchesters, der Hofkapelle München, der Hofkapelle Stuttgart, der Capella Triumphans, der Capella Leopoldina mit. Sein Repertoire reicht vom Lautenlied über Werke für größere Besetzungen bis zur Barockoper. Bisherige Auftritte führten ihn beispielsweise zu den Salzburger Festspielen, dem Barockfest Münster, dem Flandern Festival, den Tiroler Barocktagen, den Wiener Musikwochen und dem Bachfest Salzburg. Hans Brüderl ist Professor für Gitarre und Alte Musik an der Universität Mozarteum in Salzburg.

Booklet for Suoni amorosi