---
Album info
Album including Album cover Booklet (PDF)
Antonio Vivaldi (1678 - 1741): Concerto in C Major, RV 443:

1

Vivaldi: Concerto in C Major, RV 443: I. [Allegro]

03:37

2

Vivaldi: Concerto in C Major, RV 443: II. Largo

04:53

3

Vivaldi: Concerto in C Major, RV 443: III. Allegro molto

02:41

Concerto in C Minor, RV 441:

4

Vivaldi: Concerto in C Minor, RV 441: I. Allegro non molto

04:52

5

Vivaldi: Concerto in C Minor, RV 441: II. Largo

02:53

6

Vivaldi: Concerto in C Minor, RV 441: III. [Allegro]

03:26

Andromeda liberata (Serenata Veneziana) RV Anh. 117:

7

Vivaldi: Andromeda liberata (Serenata Veneziana) RV Anh. 117: Aria XIII. Sovente il sole

08:31

Concerto in D Major, Op. 10, No. 3, RV 428 'Il Gardellino':

8

Vivaldi: Concerto in D Major, Op. 10, No. 3, RV 428 'Il Gardellino': I. Allegro

03:32

9

Vivaldi: Concerto in D Major, Op. 10, No. 3, RV 428 'Il Gardellino': II. [Largo] Cantabile

02:48

10

Vivaldi: Concerto in D Major, Op. 10, No. 3, RV 428 'Il Gardellino': III. Allegro

02:43

Concerto in G Minor, Op. 10, RV 439, "La Notte":

11

Vivaldi: Concerto in G Minor, Op. 10, RV 439, "La Notte": I. Largo

01:30

12

Vivaldi: Concerto in G Minor, Op. 10, RV 439, "La Notte": II. Fantasmi (Presto)

01:47

13

Vivaldi: Concerto in G Minor, Op. 10, RV 439, "La Notte": III. Largo

00:58

14

Vivaldi: Concerto in G Minor, Op. 10, RV 439, "La Notte": IV. Presto

01:47

15

Vivaldi: Concerto in G Minor, Op. 10, RV 439, "La Notte": V. Il Sono (Largo)

01:54

Giustino, RV 717, Act I:

16

Vivaldi: Giustino, RV 717, Act I: Scene VIII. Vedró con mio diletto (Arr. for Alto Recorder and String Ensemble by Isaac Makhdoomi)

04:32

Concerto in A Minor, RV 445:

17

Vivaldi: Concerto in A Minor, RV 445: I. Allegro

04:11

18

Vivaldi: Concerto in A Minor, RV 445: II. Larghetto

02:19

19

Vivaldi: Concerto in A Minor, RV 445: III. Allegro

03:16

Le Quattro Stagioni, Concerto in F Minor, RV 297 "L'inverno":

20

Vivaldi: Le Quattro Stagioni, Concerto in F Minor, RV 297 "L'inverno": II. Largo (Arr. for Soprano Recorder and String Ensemble by Isaac Makhdoomi)

04:15

Total Runtime

01:06:25
Info for Vivaldi: Concerti per Flauto e Arie

The recorder player Isaac Makhdoomi enchants his audience with his great virtuosity and stylistic versatility. Together with the Piccante Baroque Orchestra, which consists of early music specialists from the Basel music scene, he takes us on a fiery virtuoso sound journey to the Venice of the "Prete rosso" Antonio Vivaldi. Like hardly any other composer of his time, Vivaldi helped the recorder and its variants to musical heights with his compositions. Stupendously virtuoso runs alternate here with beautiful cantilenas.
"Emotion and intuition guide Isaac Makhdoomi as he fills Vivaldi's effective compositions with life, resulting in a tastefully lush album. It sparkles, it has soul, it is baroque 'at its best'." (rbb Kultur)
"All participants go to work with so much verve and unleashed energy that when listening I have the feeling as if I were plunging into the sun together with the musicians*. The ensemble alone constantly overtakes itself in the playing of this already highly demanding fast music. The instruments crash and burst in places, and their players act as if there were no tomorrow. This sounds more like an accident now, but far from it. The performers always maintain full control, not only over the technique, but also over the interpretation. And they thus show Vivaldi's music from a perspective that is new to me, very unpolished and unbridled." (orchestergraben.com)
Isaac Makhdoomi, recorder
Arnaud Gluck, countertenor
Ensemble Piccante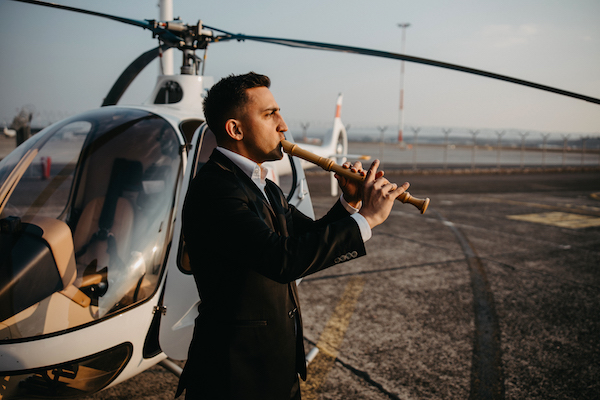 Isaac Makhdoomi
comes from an Indian-Swiss family and grew up in the Basel area. As a child of two worlds, he enjoyed, both culturally and musically, a diverse and experiential childhood that gave him an open ear for a wide variety of influences. As a classically trained musician and experimental improviser, he manages to implement these diverse suggestions with passion and success.
From 2005 to 2012 he studied recorder in the master classes of Kees Boeke and Maurice Steger at the Zurich University of the Arts.
Isaac Makhdoomi enjoys playing as a soloist or in chamber music ensembles. His repertoire consists mainly of pieces from the early to late Baroque period, but he is also very familiar with older Renaissance literature and contemporary pieces. As an improvising recorder player, it is a great concern for him to be able to present his instrument in its colorful variety of sounds and great flexibility. Since 2013 he has been doing this with jazz pianist Andreas Svarc, among others, with whom he plays his own compositions under the name "Sangit Saathi", which can be stylistically classified in the area of crossover. In 2016, he released his first album of original compositions together with him under the title Changing Moments.
In 2015, the CD recording of Bach's Brandenburg Concertos with the Brandenburg State Orchestra conducted by Howard Griffiths was released. Isaac Makhdoomi was privileged to serve as principal recorder for this recording.
In 2021, Isaac Makhdoomi released a beautiful CD on the Prospero Classical label featuring the complete sonatas of the largely unknown Domenico Maria Dreyer. This album was co-produced with SRF 2 Kultur and was enthusiastically acclaimed by the specialist press.
In 2022 Makhdoomi was nominated for an Opus Klassik in the category "Artist of the Year".
In spring, the new CD Antonio Vivaldi: Concerti per Flauto e Arie will be released by Prospero Clasical. Makhdoomi was accompanied by his ensemble Piccante, which he founded in 2018.
Having completed a Master of Arts in Music Pedagogy in addition to a Master Performance, Isaac Makhdoomi has been teaching recorder with great dedication and commitment at a music school in the Baden area of the Canton of Aargau since 2013. He is also a composer for recorder and has published his own works with Heinrichshofen and Edition Tre Fontane.

Booklet for Vivaldi: Concerti per Flauto e Arie