---
Album info
Album including Album cover
I`m sorry!
Dear HIGHRESAUDIO Visitor,
due to territorial constraints and also different releases dates in each country you currently can`t purchase this album. We are updating our release dates twice a week. So, please feel free to check from time-to-time, if the album is available for your country.
We suggest, that you bookmark the album and use our Short List function.
Thank you for your understanding and patience.
Yours sincerely, HIGHRESAUDIO
Leonard Bernstein (1918-1990): West Side Story:

1

Somewhere

02:53

Heitor Villa-Lobos (1887-1959): Bachianas brasileiras No. 5, W. 389:

2

1. Aria (Cantilena)

06:56

Ricky Ian Gordon (1956- ):

3

Stars

05:57

Leonard Bernstein: Songfest:

4

3. A Julia de Burgos

03:45

Heitor Villa-Lobos: Floresta do Amazonas, W551:

5

3. Canção de Amor

04:22

Leonard Bernstein:

6

Take Care of This House (From "1600 Pennsylvania Avenue")

02:54

Candide / Act I:

7

Glitter and Be Gay

06:32

Ricky Ian Gordon:

8

Will There Really Be a Morning?

05:02

Heitor Villa-Lobos: Floresta do Amazonas, W551:

9

4. Melodia Sentimental

03:47

Christopher Theofanidis (1967- ): The Cows of Apollo:

10

Maria's Aria

06:16

Stephen Foster (1826-1864):

11

Jeannie with the Light Brown Hair

03:21

Osvaldo Golijov (1960- ):

12

Lúa Descolorida

06:18

Igor Stravinsky (1882-1971): The Rake's Progress / Act 1 / Scene 3:

13

No Word from Tom

08:39

Total Runtime

01:06:42
Info for There's a Place for Us

Nadine Sierra, 2018 winner of the Metropolitan Opera's prestigious Beverly Sills Artist Award, has made her first album for Deutsche Grammophon and Decca Gold, having signed an exclusive contract with the labels last year. Recorded with the Royal Philharmonic Orchestra under the baton of Robert Spano, There's a Place for Us is scheduled for international release on 24 August 2018, in time to mark the 100th anniversary of Leonard Bernstein's birth the following day. The album presents the soprano's stunning vocal abilities in an eclectic choice of American classical music – as well as works by Bernstein, the repertoire ranges from Stephen Foster and Douglas Moore to Stravinsky and Villa-Lobos, and on again to Ricky Ian Gordon, Osvaldo Golijov and Christopher Theofanidis, with texts in Spanish and Portuguese as well as English. After singing the role of Norina (Don Pasquale) at the Paris Opéra in June and July, Nadine Sierra will perform music from the album at this summer's major US festivals, including an appearance at Tanglewood's star-studded Bernstein Centennial Celebration.
America's founding colonists were sustained by the belief that they were building "a city on the hill", a place that would serve as a model to all mankind. Countless migrants have journeyed there since to share the American dream. Nadine Sierra's story stands for the stories of millions whose families have made a fresh start in the United States. The critically acclaimed lyric soprano and Fort Lauderdale native, who celebrated her 30th birthday in May, understands the essential contribution made by migrants to the nation's growth. Her mother is Portuguese, while her father's family hails from Puerto Rico and Italy. There's a Place for Us, Sierra's Deutsche Grammophon and Decca Gold debut album, pays tribute to the diverse backgrounds and creative energy of America's classical composers. It also presents a timely reminder of unity and equality, of integration and optimism, at a time when anti-immigrant rhetoric is increasing, and fault-lines are widening between divided communities in the US and beyond.
Nadine Sierra, recently named as winner of the Metropolitan Opera's thirteenth annual Beverly Sills Award, believes that opera and classical music hold the power to draw people together and promote universal values. The point is underlined by this new recording, which mines rich seams of American opera, song and musical theatre. The album's programme cultivates a sense that there's a place for all, not in some future Utopia but right here, right now. Her choice of Bernstein's "Somewhere" from West Side Story speaks directly to the immigrant experience while reinforcing hopes that peace will prevail over conflict. Sierra wants the message to be heard by those who fuel fear and stoke hatred of the other. The populist narrative of them-and-us, she notes, must be challenged. "I feel like this really needs to change, and I don't think I'm the only one."
There's a Place for Us embraces America's multicultural, multi-ethnic mix, with its eclectic choice of arias and songs. "I wanted to send an alternative message of positivity, unification, acceptance of all people no matter what race, no matter what sexuality, no matter what religion, no matter what anything," comments Nadine Sierra. "I feel deep down that we can make a change in the right direction and that the right direction is about uniting people."
There's room in Sierra's musical melting-pot for works by Leonard Bernstein, the son of Ukrainian-Jewish immigrants, and Stephen Foster, whose openhearted songs drew from his Scots-Irish heritage. The tracklist also includes compositions by Argentine composer Osvaldo Golijov, Loyola Professor of Music at the College of the Holy Cross in Worcester, Massachusetts, and Christopher Theofanidis, American-born son of a Greek pianist and composer who travelled to New York on a Fulbright Scholarship in the early 1950s. Igor Stravinsky, who lived in Los Angeles for almost three decades, and Heitor Villa-Lobos, a frequent visitor to the United States, are part of the mix too. Sierra embraces the virtuosic demands of Anne Trulove's aria from Stravinsky's opera The Rake's Progress, together with the lyrical flow of Villa-Lobos's fifth Bachianas Brasileiras, a distinctly Brazilian take on the musical language of Johann Sebastian Bach, and the sensuality of Canção do Amor, which began life as music for the 1959 Hollywood film Green Mansions. Homegrown works by Douglas Moore and Ricky Ian Gordon complete the soprano's survey of American music.
Nadine Sierra discovered opera as a child and became hooked after her mother borrowed a video of La bohème from the local library. That first encounter with Puccini's music proved life-changing. She found she could touch listeners through song, a gift enhanced when she joined the chorus of Palm Beach Opera in her early teens. Her voice moved a mass audience soon after when she delivered a spellbinding performance of Puccini's "O mio babbino caro" on National Public Radio's From the Top talent contest. She made her solo debut with Palm Beach Opera at the age of 16 and progressed from high school to a place at Mannes College of Music in New York City and further studies with Marilyn Horne. Her apprenticeship continued under the care of prestigious artist development programmes at the Metropolitan Opera and San Francisco Opera.
Sierra's career skyrocketed after she won the Veronica Dunne, Montserrat Caballé and Neue Stimme international singing competitions in 2013. Recent credits include Mozart's Susanna at the Met and her role debut as Nannetta in a new production of Verdi's Falstaff at the Staatsoper Berlin conducted by Daniel Barenboim. Despite critical acclaim and audience ovations, the singer remains refreshingly grounded. Conforming to the snobbish stereotype of the operatic diva is not for her; rather, she aims to present opera as an artform open to all. "I never want to lose this feeling of being humble," she confesses. "I am not the genius behind any work of music I perform. Someone else created it; somebody else composed it. I'm just a vocal vessel for that piece – and that's it!"
Dr. Clemens Trautmann, President Deutsche Grammophon, has welcomed Nadine Sierra to the yellow label. "She sings in a way that reaches out to audiences old and new," he said. "We have followed Nadine's spectacular success on both sides of the Atlantic in recent seasons and been enchanted by her performances."
Graham Parker, President of Universal Music Classics, USA, Universal Music Group, praised the soprano's expressive power and vitality, adding, "I am thrilled that Nadine, one of the most remarkable performers of her generation, will record for Decca Gold and join our roster of the finest American classical artists."
"I feel deep down that we can make a change in the right direction and that the right direction is about uniting people." (Nadine Sierra)
Nadine Sierra, soprano
Royal Philharmonic Orchestra
Robert Spano, conductor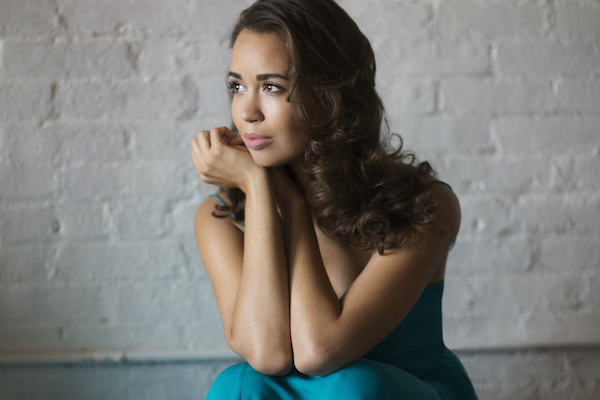 Nadine Sierra
Nadine Sierra stands tall among today's finest young opera singers. The American soprano, who has won acclaim from critics and audiences alike for performances with many of the world's leading opera companies, has now been named winner of the 2018 Beverly Sills Artist Award for young singers at the Metropolitan Opera. The $50,000 award, the largest of its kind in the United States, is given to extraordinarily gifted artists between the ages of 25 and 40 who have already appeared in featured solo roles at the Met. Sierra first performed there in 2015, as Gilda in Rigoletto, a debut hailed as "beguiling" by the New York Classical Review: "She sings with remarkable ease, no matter where she is in her range or what effect she is trying to achieve."
Her rising-star status was confirmed when she was named the 2017 winner of the prestigious Richard Tucker Music Award – one of the opera world's foremost prizes for emerging vocal talent – and underlined soon afterwards when she signed an exclusive contract to record for Deutsche Grammophon and Decca Gold. Her debut album, There's a Place for Us, is scheduled for release in August 2018 and includes songs and arias by Leonard Bernstein, Stephen Foster, Douglas Moore, Igor Stravinsky and Heitor Villa-Lobos, as well as works by Ricky Ian Gordon, Osvaldo Golijov and Christopher Theofanidis.
After having appeared in the Richard Tucker Gala at Carnegie Hall in December 2017, she returned to the Met at the end of the month for the start of an acclaimed run as Susanna in Le nozze di Figaro. Other recent and forthcoming highlights include Bernstein's Symphony No.3 Kaddish conducted by Sir Antonio Pappano with the Accademia di Santa Cecilia in Rome, her role debut as Nannetta in Verdi's Falstaff conducted by Daniel Barenboim at the Berlin Staatsoper, and Norina in Donizetti's Don Pasquale for the Paris Opéra. This summer she will perform repertoire from There's a Place for Us at the major US festivals, including an appearance at the Tanglewood All-Star Gala on 25 August 2018 (Bernstein's birthday), which is set to be screened by PBS and other international broadcasters.
Nadine Sierra, born in Fort Lauderdale, Florida in 1988, was six when her mother borrowed a video of La bohème from the local library. Young Nadine loved it so much that the family still has the tape! Her passion for opera was fuelled by stories of her Portuguese maternal grandmother, a gifted singer whose father discouraged her from becoming a professional performer. "Ever since I was a child, I have had this love affair with opera that keeps growing as I get older," she notes.
Early training as a swimmer supplied Nadine with her formidable breath control as a singer. She joined the chorus of Palm Beach Opera at the age of 14, and won hearts across the United States the following year when she performed Puccini's "O mio babbino caro" on National Public Radio's From the Top talent show. The 16-year-old soprano made her solo debut with Palm Beach Opera as the Sandman in Humperdinck's Hänsel und Gretel. After graduating from high school, she enrolled at the Mannes College of Music in New York City and also studied at Music Academy of the West, in 2007 becoming the youngest singer ever to win the Marilyn Horne Foundation Award. Two years later, on Horne's advice, she entered the Metropolitan Opera National Council Auditions and won – the youngest soprano ever to do so.
The story of Sierra's career so far charts her remarkable rise from promising newcomer to diva in demand. She joined San Francisco Opera's renowned Adler Program in 2011, gaining invaluable professional experience in a succession of roles for the company. Global recognition followed in 2013 when, within the space of ten months, she won the Veronica Dunne, Montserrat Caballé and Neue Stimmen international singing competitions. Her concert credits include performances with the Cleveland Orchestra, the Chicago Symphony Orchestra and the San Francisco Symphony Orchestra. She joined the Orchestre national de Paris and Valery Gergiev in July 2017 for a televised open-air concert in Paris, celebrating Bastille Day with arias and duets by Puccini and Delibes on the Champ de Mars.
Verdi's Gilda supplied the ideal vehicle for Sierra's debuts at Seattle Opera, Florida Grand Opera, the Teatro San Carlo in Naples and the Metropolitan Opera. Sierra made headline news with her La Scala debut, performing Gilda to the veteran baritone Leo Nucci's Rigoletto. On opening night in January 2016, prompted by the audience, the pair broke with a house tradition dating from Toscanini's time as music director to encore the duet "Sì, vendetta". Gilda, notes Sierra, is a young heroine of opera. "And that's what I want to be in my life – a heroine for young girls and women aspiring to be strong and powerful."
She is achieving that goal not only through her performances, but through her involvement in social media, a world that feels like a haven to her. "I love that I can be one thing on stage and totally another thing, more uniquely me, through my social media outlets," she says. "I think it gives me a more direct communication with people who are interested in opera and classical music. I want these artforms to inspire others as they first inspired me when I was a child. If I can create that inspiration for someone watching me through social media, then I feel I've done my job." (6/2018)

This album contains no booklet.