---
Album info
Album including Album cover Booklet (PDF)
1

Luiza

03:47

2

Mio fratello che guardi il mondo

03:43

3

Never dreamed you'd leave in summer

03:35

4

No me maltrates la vida

04:13

5

Amapola

02:52

6

Si todos fossem iguais a voce

05:46

7

Luka

04:44

8

Attenti al lupo

03:15

9

A pique

03:22

10

Geppetto

05:35

11

Edge of desire

04:52

12

O frigideiro

03:39

Total Runtime

49:23
Info for Andar live

This album is part of the recordings I made on the occasion of the concerts of the 1st edition of the fonè Music Festival Piaggio 2019. The concerts organized by Giulio Cesare Ricci were held at the Piaggio Auditorium located inside the famous Museum in Pontedera, the place where Piaggio was born and where it still continues to produce today.
Inside the Museum every year the public from all over the world can admire the Piaggio production made over the years, all the models of the Vespe and Ape, all the Aprilia, Gilera and Moto Guzzi motorcycles that have won national and international awards over time. For each recording Giulio Cesare Ricci brought all his equipment both analog (Ampex ATR 102 Electronic Tube Ampex Model 351-1965, 2 tracks, 1/2 inch, 30ips modified by David Manley) and digital (Pyramix Recorder, dCS A/D and D/A converters).
As for the microphones he used his original collection of Neumann U47, U48, M49 in addition to the mike pre-amplifier and Signoricci cables.
Also for this recording he used a "field effect" recording technique, natural sound, without the use of equalizers, no sound expansion and compression systems..... all this to bring the listener to live again in his home hifi system, the live effect as if he were present at the concert.
Enzo Pietropaoli and Eleonora Bianchini are already present in the fonè catalog with two very singular albums that see them together in this original vocal - double bass formation.
On the occasion of the fonè Music Festival Piaggio 2019, these two artists were joined by the great accordionist Luciano Biondini.
The musical result they achieved was magical, much appreciated by the large audience present at this live.
The natural sound fonè has fully enhanced all the sounds of the voice and two instruments.
The artists alternated pieces from the international repertoire such as Luka by Suzanne Vega, Never dreamed you'd leave in summer by Stevie Wonder and Si Todos fossem iguais by Antonio Carlos Jobim and Vinicius de Moraes with songs by great Italian composers of the caliber of Bruno Lauzi and Ivano Fossati ..... in trio formation.
However, each artist wanted to leave a solo musical memory: Eleonora Bianchini sang Amapola by Juan Luis Guerra, while Luciano Biondini played Geppetto by Fiorenzo Carpi and Enzo Pietropaoli a piece by Lucio Dalla - Attenti al lupo.
Each listener, closing his eyes, will be able to relive the emotion of the live as if he were present at the performance of these three great artists.
Eleonora Bianchini, vocals
Luciano Biondini, accordion
Enzo Pietropaoli, bass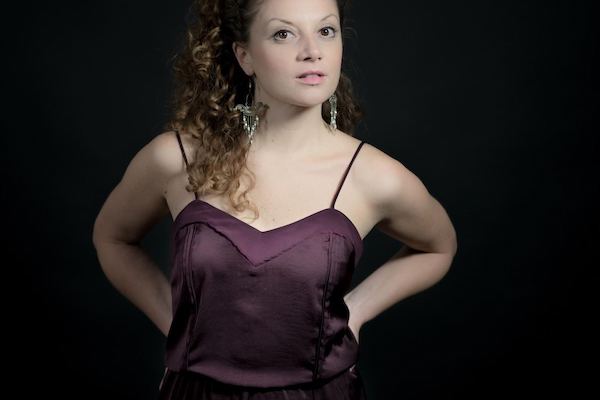 Eleonora Bianchini
singer and composer originally from Perugia, she manages to create a warm and fascinating atmosphere through the sound of her voice; in May 2016 she's been elected by the readers of JAZZIT, an Italian Jazz Newspaper, as on of the "Best Italian Female Voice" ranking on 4th position. At the age of nine, Eleonora began studying piano. Shortly thereafter, she began to incorporate the singing into her unique form of musical expression by attending the Music Conservatory in Perugia Italy by studing classical voice.
After that, Miss. Bianchini attended the Berklee Clinics during the Umbria Jazz Festival in the summer of 2002, and she've been awarded of a scholarship for the prestigious Berklee College of Music. On the same occasion, she was chosen by Italian musician Giovanni Tommaso as the singer for the Berklee student quintet who performed for Umbria Winter Jazz Festival 2002.
Since then, Eleonora attended the Berklee College in Boston and she performed in many events and concerts organized by the school. She collaborated with artists such as Oscar Stagnaro, Mark Walker, Jamey Haddad, John Pierce, Jon Hazilla, Ruswell Hoffmann, Bernardo Hernandez, Egui Casrtillo, Mattew Nicholl, Alon Yavnai, Leo Blanco, Dan Moretti, and has also recorded for Danilo Perez's Panama Suite Big Band project.
On November 2007 she collaborated in a duet with the legendary Brazilian singer Rosa Passos for the tribute concert to her music at the Berklee Performance Center, and on the next year, Eleonora performed with the famous singer from Peru Eva Ayllon at the prestigious Carnegie Hall, Lincoln Center and Queens Park in New York as well as Latinoamericando Festival in Milan (Italy) and Fiestaroma in Rome.
In April 2008 she made his first album as singer songwriter, "Como Un Aguila En Lo Alto", a project in which she manages to blend his cultural roots with the rhythms and colors of the Latin American culture.
From 2009 to 2011 Eleonora was based in New York City, where she becamed part of the international musical scene by performing at Zinc Bar, Tutuma Social Club, Jules Bistro, Dix Hills Performing Art Center, and many more collaborating with musicians such as Portinho, Klaus Muller, Felipe Salles, Hector Martiñon, Juancho Herrera, Aquiles Baez, Leo Traversa and many more.
From 2012 to 2013 Eleonora lived in Quito, Ecuador, teaching music at the "Universidad San Fransisco de Quito", IMC (Institudo de Musica Contemporanea) and on 2012 she released her second cd intitled "Esperare" started in New York and finished in Quito.
Now Eleonora lives in Rome where she collaborates with one of the main jazz bass player in the country, Enzo Pietropaoli, their duo is called DOS; on 2014 and 2016 they recorded two albums "Dos" and "In Sight" collaborating with the label Fone Jazz Records.
In 2016 Eleonora begins working on her third album as a singer, she spends a period in India as a teacher of jazz voice at the "Swarnabhoomi Academy of Music" near Chennai; inspired by this experience she continues to compose new songs and she encloses them in the new album called "Surya" that she will realise in March 2018.
The album is recorded in trio with the musicians Marco Siniscalco and Alessandro Marzi and is produced in collaboration with the label Filibusta Records.
Enzo Pietropaoli
(born in 1955) is an Italian jazz bassist. Born in Genoa, lives in Rome since 1961, he debuted with the Trio Di Roma in 1975 (with Danilo Rea and Roberto Gatto).
Pietropaoli has performed or recorded with, among others, Chet Baker, Lester Bowie, Woody Shaw, Kenny Wheeler, Franco Ambrosetti, Bob Berg, Johnny Griffin, Michael Brecker, Lee Konitz, Archie Shepp, Phil Woods, Curtis Fuller, Toots Thielemans, Richard Galliano, Gianni Coscia, John Taylor, Rita Marcotulli, Cedar Walton, John Abercrombie, John Scofield, Joe Pass, Pat Metheny, Ginger Baker, Han Bennink, Billy Cobham, Kenny Clarke, Maria Pia De Vito, Norma Wynstone, Gianmaria Testa.
In 1987 with the group Lingomania; in 1988 and 1989 with Enrico Pieranunzi Space Jazz Trio; and in 1999, 2001 and 2003 with Doctor 3 group (with pianist Danilo Rea and drummer Fabrizio Sferra) he won the award for Best Italian Group following a poll by Musica Jazz magazine.
In 1998 the CD The Tales of Doctor 3 and in 1999 the CD Shades of Chet, recorded as a project of trumpeters Enrico Rava and Paolo Fresu with drummer Roberto Gatto and renowned pianist Stefano Bollani, received the "Arrigo Polillo Prize" as the "Best Italian Record of the Year". In 1999 with Doctor 3, he won the award for "Best Italian Group" following a poll by Musica Jazz magazine.
Pietropaoli has toured internationally in Italy, Germany, France, Spain, Switzerland, Austria, Luxemburg, U.K., Denmark, the Netherlands, Belgium, Russia, Serbia, Canada, U.S.A, Brasil, Senegal, Israel, China, Ethiopia, Kenya, Morocco, Tunisia, Syria, and has made more than 70 recordings.
Since 1999 he appears on Leonard Feather and Ira Gitler's Biographical Encyclopedia of Jazz.

Booklet for Andar live