---
Album info
Album including Album cover
I`m sorry!
Dear HIGHRESAUDIO Visitor,
due to territorial constraints and also different releases dates in each country you currently can`t purchase this album. We are updating our release dates twice a week. So, please feel free to check from time-to-time, if the album is available for your country.
We suggest, that you bookmark the album and use our Short List function.
Thank you for your understanding and patience.
Yours sincerely, HIGHRESAUDIO
1

Gypsy Woman

02:32

2

So Fine

03:09

3

Fuego

06:29

4

Campesino

03:45

5

Chickie's Trombone

02:37

6

Too Much Lovin'

02:36

7

Sugar Guaguancó

03:56

8

Figaro

03:57

9

Ordinary Guy

03:23

Total Runtime

32:24
Info for Gypsy Woman (Remastered)

Singer, songwriter, pianist, and bandleader Joe Bataan took boogaloo to its peak in 1967. He combined soul, mambo, and traditional Latin tunes to become a mainstay for New York's famous Fania label.
This recording is the King of Latin Soul's 1967 debut album featuring his classic swinging and vibrant sounds, led by the musical direction of Fania Records co-founder Johnny Pacheco. The title track is a nod to the 1961 The Impressions' hit of the same name. Other highlights include the boogaloo jam "So Fine" and Bataan's signature soulful tune "Ordinary Guy."
Over time, the music evolved from infectious rhythm-fueled riffs built on catchy pop phrases like Bang Bang and I Like It Like That to deeply personal statements and observations about romance and inner-city life. In this regard, the music developed much like rock and soul, beginning as singles-driven and winding up as album concepts.
A member of an East Harlem street gang, Joe Bataan was incarcerated for a brief time for auto theft. In prison, music became a passion. Upon his release in 1965, Bataan began exploring music and singing as a career. His first album, Gypsy Woman, was recorded in 1966 and released in 1967. Bataan advanced the boogaloo by adding the feel of R&B vocal harmony groups and givng songs a personal spin with lyrics that were more autobiographical. Though the album's title track was a cover of Curtis Mayfield's ballad hit for the Impressions in 1961, Bataan added a dramatically new flavor and punch that was less romantic and more urgent.
Joe Bataan
Digitally remastered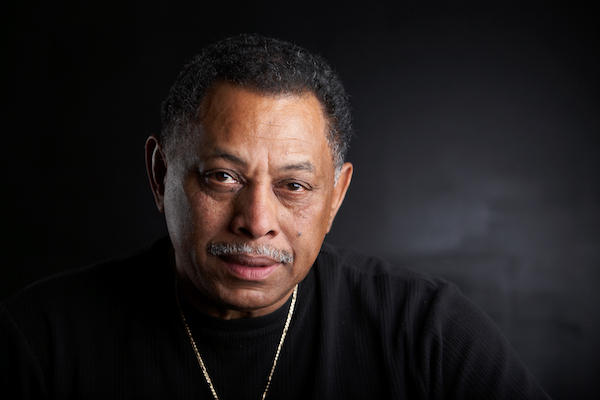 Joe Bataan
His musical experience started in the street corner singing do-wops in the 1950's. During his teenage years, Bataan associated himself with street gangs. At the age of 15 he spent five years at Coxsackie State Prison for riding in a stolen vehicle. It is unknown if he was the driver of the stolen vehicle. In prison he learned music and six months after his release, he began to record music. Bataan visualized an incredible vision that perhaps several recording artist may have said it is impossible to do. His visual modality was to combine Latin music with Rhythm and Blues. As a result of this merger, Joe Bataan became known as the first recording artist to create authentically Latin Soul music. Although Latin Soul existed in the past before Joe Bataan 's merger, however these recording artists were actually Boogaloo singers. They sang English lyrics in a soulful doowop style along with Boogaloo music. Hector Rivera is one example with his Boogaloo hits in 1966 " I wanna a chance for romance " " At The Party" and " Drown my heart " Mr. Bataan didn't coin the phrase " Latin Soul " The phrase was used in the early 60's and perhaps late 1950's with La Lupe and Tito Puente. Mr. Bataan actually created the music as it should have sounded. By merging Latin music with R&B tunes in the late 60's, "Latin Soul" was officially born by the creator Joe Bataan.
Wikipedia Music Encyclopedia defines Latin Soul as " a blend of mambo and pop tinged with R&B and Latin Jazz, emphasizing short, ultra-catchy tunes and infectious rhythms." I would like to add to this definition " authentically created by Joe Bataan" Self taught on the piano, he organized his first band in 1965 and scored his first recording success in 1967 with " Gypsy Woman " on Fania Records. " Gypsy Woman " crossed over to R&B radio along with " Subway Joe " The title track of Gypsy Woman was first aired by radio DJ Dick "Ricardo" Sugar, became an instant hit in New York's Latin community. Ironically, Mr. Bataan had initially written the song " Gypsy Woman" with Spanish lyrics for the band's co-lead vocalist Joe Pagan to perform. It didn't seem to work, so he started singing the song himself in English at gigs and received an enthusiastic reaction. The late George Goldner, boss of the Cotique label (a rival of Fania at the time), disapproved of Bataan's rendition and advised him against recording it. Clearly, Joe's refusal to take this advice proved to be the sounder judgment.
Another smashing hit from the Fania label was the Latin Soul ballad " Ordinary Guy " Addressing an ex-lover, Mr. Bataan plaintively sings: " I don't have thousands to spend, Or a seaside cottage for the weekend, I'm just an ordinary guy, you left behind." You were guaranteed at least four hits or more on a Bataan's album. Even songs that did not hit the billboard charts were phenomenal. Several songs were mainly about his life experience.
When you are at the top of your game, achieve great success there is always room for criticisms and Mr. Bataan did face several. Perhaps it was envy and jealousy of Bataan's success, these critics felt Mr. Bataan's music was not truly salsa because of the English lyrics. Who said it was salsa? It was Latin Soul. The criticisms may have been prompted when people learned Mr. Bataan was not Puerto Rican descent. Despite the criticisms, Bataan achieved his dreams and fulfilled that awesome vision of merging Latin music with Rhythm and Blues. He rightfully deserves the title " THE LATIN SOUL KING AND KING OF LATIN FUNK" He wrote it, he sang it, he lived it and he was the creator. Joe Bataan not only was a singer, a musician and a song writer but he was also a producer. He produced a couple of LPs in the early 70's from an extraordinary record label called Ghetto Records. One of the famous 1972 Latin Soul song that sprung forth from this label was " Tender Love (and Sweet caresses)" by Paul Ortiz Y La Orquesta Son that was remade in 1992 by Latin Pop artist Tino Nieves. Ghetto Records was indeed an extraordinary record label. The salsa from this label was not the ordinary salsa people were accustom to. It was sort of like Latin Salsa Blues, with a rock stylish electric and soul rhythm vocals. That's the best I can describe it. La Fantastica and Joe Acosta Orchestra were two recording artist from this label that will give you that extraordinary sound that was never heard during that time. Incredibly, the record label was producing awesome Latin Soul, Northern Soul and phenomenal Salsa artists, however this record label was short-lived.
By the mid 70's Latin Soul music began to fade away. Another genre of music was making the scene and it was called Disco. Bataan's next big hit in 1979 was " Rap-O Clap-O " on Salsoul records, which he co-found. It was the first Rap Disco hit with a smooth disco rhythm. While it didn't chart domestically, " Rap-O" went top 10 throughout Europe. " Rap-O, Clap-O" was accredited as the first Rap song in Europe. No recording artist has more impeccable street credentials than Joe Bataan, the originator of the New York Latin Soul style that paralleled Latin Boogaloo and anticipated Disco.
JOE BATAAN DISAPPEARS FOR OVER 20 YEARS. WAS HE DEAD AND BURIED ? Right about the mid 1980's Joe Bataan became a ghost. For over 20 years Mr. Bataan disappeared. Was he living the good life and spending his money that he diligently worked for? Was he dead and we missed the news the day it was aired? Where did Joe Go? Doesn't that sound like a great title for his next song " Where Did Joe Go?" I think that would be cool Boogaloo tune. During his disappearance from the music industry, Mr. Bataan became a counselor for juveniles. He visited many correction facilities including Spaford counseling youngsters and sharing his past experience with crime, his conviction at the age of 15 and how he turned all that around for the better. Mr. Bataan never stopped working. Although he refrained from working in the music industry, not producing or recording any music for over 20 years, his job was counseling youngsters. For 20 years people asked Mr. Bataan to return but he refused and continued his counseling work for the kids.
JOE BATAAN RETURNS TO THE STAGE AND RECORDS A NEW ALBUM Mr. New York Joe Bataan returned to the stage in 1995 after a 20-year halt from the music industry. At Hostos Community College in the Bronx he performed for a benefit. He also made several appearances at Columbia. In Columbia, he was given a weird request to sing one of his Latin Soul hits " Riot" Riot is like a national anthem in Columbia. I guess folks wanted to confirm they had the real Bataan and not a fake look alike. Mr. Bataan was amazed that many showed up and remembered his music.
On April 2005, Joe Bataan released a brand new album titled " Call My Name " on Vampisoul records. Vampisoul records usually deals with reissues of Latin Soul music but this time, they give us with a brand new LP by Mr. New York Joe Bataan. The album includes 8 new songs that sound very fresh. Mr. Bataan maintained his trademark, vintage sound with the use of instruments such as clavinette, Hammond organ, groovy bass, funky drums, Latin percussion and Bataan's voice which, as always, exudes his soul.
It is wonderful to have our King of Latin Soul back on the scene again. He was missed dearly and his true fans cannot wait for his next album and concert.

This album contains no booklet.