---
Album info
Label: Glossa
Genre: Classical
Subgenre: Chamber Music
Artist: Leila Schayegh & La Centifolia
Composer: Henry Purcell (1659-1695), Antonio Bertali (1605-1669), Tarquinio Merula (1590-1665), Johann Heinrich Schmelzer (1623-1680), Samuel Capricornus (1628-1665), Nicola Matteis (1650-1714), Giovanni Battista Vitali (1632-1692), Arcangelo Corelli (1653-1713), Tomaso Vitalino (1663-1745), Johann Pachelbel (1653-1706)
Album including Album cover Booklet (PDF)
Henry Purcell (1659 - 1695): Three Parts upon a Ground, Z. 731:

1

Purcell: Three Parts upon a Ground, Z. 731

04:48

Antonio Bertali (1605 - 1669): Ciaccona for 2 Violins & Continuo:

2

Bertali: Ciaccona for 2 Violins & Continuo

03:54

Tarquinio Merula (1595 - 1665): Ciaccona for 2 Treble Instruments & Continuo, Op. 12 No. 20:

3

Merula: Ciaccona for 2 Treble Instruments & Continuo, Op. 12 No. 20

02:48

Johann Heinrich Schmelzer (1623 - 1680): Ciaccona for Violin & Continuo:

4

Schmelzer: Ciaccona for Violin & Continuo

05:10

Samuel Capricornus (1628 - 1665): Ciaccona for Violin, Violia de gamba & Continuo:

5

Capricornus: Ciaccona for Violin, Violia de gamba & Continuo

03:37

Antonio Bertali: Ciaccona in C major for Violin & Continuo:

6

Bertali: Ciaccona in C major for Violin & Continuo

08:24

Henry Purcell: Trio Sonata in C Major, Z. 795:

7

Purcell: Trio Sonata in C Major, Z. 795

07:38

Nicola Matteis (1650 - 1714): Ayres for the Violin, Book 1:

8

Matteis: Ayres for the Violin, Book 1: Ricercata in C Major

02:43

9

Matteis: Ayres for the Violin, Book 1: Diverse bizzarrie sopra la vecchia sarabanda ò pur ciaccona

04:32

Henry Purcell: The Gordion Knot Untied, Z. 597:

10

Purcell: The Gordion Knot Untied, Z. 597: VI. Chacone

01:58

Giovanni Battista Vitali (1632 - 1692): Ciacocona in C Major, Op. 7:

11

Vitali: Ciacocona in C Major, Op. 7

03:05

Nicola Matteis Jr. (1650 - 1713): 2 Fantasias for Violin:

12

Jr.: 2 Fantasias for Violin: No. 2 in A Minor "Alia Fantasia"

04:43

Anonymous: Chaconne for Violin & Continuo:

13

Anonymous: Chaconne for Violin & Continuo

08:20

Arcangelo Corelli (1653 - 1713): Trio Sonata in G Major, Op. 2 No. 12:

14

Corelli: Trio Sonata in G Major, Op. 2 No. 12

03:11

Tomaso Antonio Vitalino (1663 - 1745): Senza titolo for Violin & Continuo:

15

Vitalino: Senza titolo for Violin & Continuo

09:22

Johann Pachelbel (1653 - 1706): Canon and Gigue in D Major, P. 37:

16

Pachelbel: Canon and Gigue in D Major, P. 37: I. Canon

03:26

17

Pachelbel: Canon and Gigue in D Major, P. 37: II. Gigue

01:28

Total Runtime

01:19:07
Info for Ciaccona!

On this new recording from Glossa, Leila Shayegh and La Centifolia present a selection of chaconnas, some famous, some unknown. Find works here by Bertali, Purcell, Schmelzer, Matteis, Corelli or anonymous composers from the famous collection from the "Schrank no. 2" in Dresden. The climax and conclusion is the famous "Canon" (with "Gigue", which is usually neglected) by Johann Pachelbel, played with a liveliness and transparency that is rarely heard in this frequently played piece!
The origin of the ciaccona isn't conclusively clear, but seems to point in the direction of South America, where it was said to have been wild, fast, cheerful and often sung. If this theory is correct, it was brought to Spain by the conquistadors at the latest in the 16th century, from where it spread east and northwards, through the whole of Europe. Nowadays, the repeated bass formula has circled the globe and can be found not only in the classical world, but has long since become a foundation of popular music.
"At the heart of Ciaccona! and the ensemble La Centifolia lies the joy of playing, friendly competition and trial and error. There is nothing better than making music with friends who inspire each other and share a deep, mutual understanding. So, the idea grew, to combine these two beautiful elements and dedicate our first ensemble recording to the Ciaccona. I have had my musical wish list in my head for years, pieces I absolutely wanted to play and record one day. The great Ciacona by Bertali, Purcell's Sonata Op. 12 No. 6 and the Fantazia for three violins, the Matteis Ciaccona as well as the one by Vitalino. What could be more obvious than to complete the list with pieces that either can't be missing due to their fame, or should not be missing because of the lure of the unknown they add. The result is a recording that reflects my credo: enjoy the beauty that lies in change." Leila Schayegh
La Centifolia Leila Schayegh, direction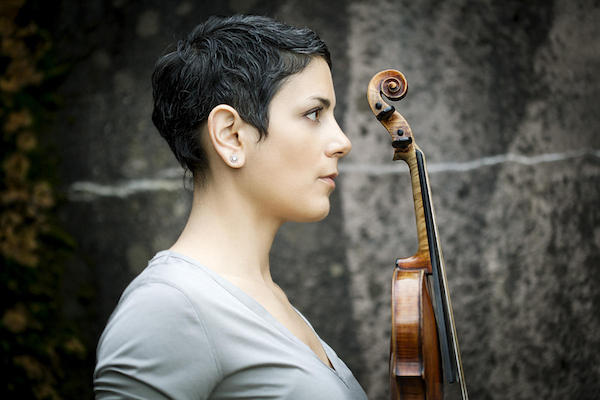 Leila Schayegh
belongs to the most visible violinists in the current baroque music scene.
Her vivacious interpretation has placed her at the center of old music. She performes all over the world as a soloist or in chamber music groups and is regularly invited by modern orchestras for concerts and masterclasses.
Leila Schayegh has developed a close collaboration with Jörg Halubek, cembalist, organist and director. Their 2016 recording of Bach's six obligato sonatas was awarded numerous prizes (Diapason de l'année, Grammophone Award, Schallenplattpreis). Her collaboration with director and cembalist Vaclav Luks led to the recordings of Benda's violin sonatas (Diapason d'Or 2011) and Mysliveček's violin concertos in 2018. She's been playing since 2008 with Gli Angéli Genève (directed by Stephan MacLeod), in particular for the almost complete series of Bach's cantatas. She's recently expended her repertoire towards the classical and romantic period, in particular with a recording of Brahms's violin sonatas in 2018 with Jan Schultsz for the label Glossa. In 2020 she recorded Bach's famous Sonatas and Partitas for the same label, and in 2022 the complete Leclair violin concertos with La Cetra Basel will be released.
Since 2010 she is professor of baroque violin at the Schola Cantorum Basiliensis, as successor of Chiara Banchini. She passes to a new generation of musician her experience as well as approach of music: an expressive interpretation based on thorough knowledge of the historical and musical context of the period where the works were composed.
Born in Winterthur (Switzerland), she finished in 1999 her studies in modern violin with Raphaël Oleg at the Basel Music Academy with Summa cum laude. After two years as a member of the Philharmonia Zurich, she joined the class of Chiara Banchini at the Schola Cantorum Basiliensis, where she obtained in 2005 a diploma Summa cum laude. She was awarded in 2003 the first prizes of the Alte Musiktreff in Berlin, the Förderpreiswettbewerb der Konzertgesellschaft in München as well as Premio Bonporti in Rovereto, Italy.

Booklet for Ciaccona!