---
Album info
Album including Album cover
1

Conceivable World

04:33

2

Relatives

04:50

3

Pontus Euxinus

04:58

4

Light

05:31

5

Metanoia

07:01

6

Memories

03:44

7

New Earth

05:55

8

To En

02:55

Total Runtime

39:27
Info for TO EN

Theo Kapilidis passionately fuses atmospheric indie jazz improvisations with the rich folklore of his native Greece and electronic music. Together with his former students at the ZHdK, Florian Egli and Maxime Paratte, he lets his compositions appear full of light, life and a penchant for the lightness of being. Like the great journey from the Black Sea via the Peloponnese and many other stations in the Mediterranean region, "To En" shows what such a journey into the depths of jazz can look like - without being superficial or cliched. The eight original compositions are extremely harmonious and symbiotic, carried by unusual time signatures. Here the actual concept of Kapilidis is realized; to make the metrical diversity of the south-eastern Balkan regions ring out in a swinging jazz context.
Neoplatonic Trio:
Theo Kapilidis, guitar
Florian Egli, alto saxophone, alto clarinet, efx
Maxim Paratte, drums
Recorded at Zurich, Switzerland
Recording engineer, mixing and mastering by Maxim Paratte
Produced by Theo Kapilidis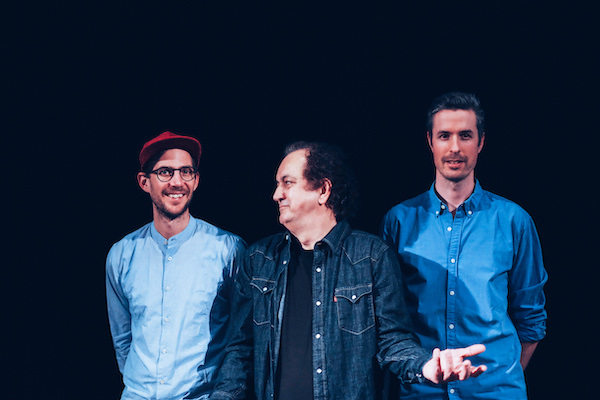 Theo Kapilidis
guitarist and composer Zurich (Switzerland), was born in Greece. He was fortunate to grow up in a very musical family. During his childhood he spent much time in a record store of his father , which he came into contact with jazz early on. At the age of twelve years, Theo was playing the piano and devoted himself mainly to the guitar. The five-year jazz studies at the Swiss Jazz School in Bern (CH ), he finished successful at age of 25 . After graduating gave Theo countless jazz concerts and participated in a variety of other projects. In 1985 he returned to his hometown , where he worked as a studio musician and has taught at the Synchronous Conservatory of Thessaloniki. First recordings were made simultaneously with the electric jazz trio. Since his return to Switzerland in 1991 Theo has worked with many famous jazz musicians. These include, among others,John Voirol, Heiri Känzig, Matthieu Michel, Christoph Stiefel, Nik Bärtsch, Kaspar Rast, Tomi Salesvuo, Daniel Schenker, Chris Wiesendanger, Björn Meyer, Reto Suhner.
He also played in various bands together with renowned artists such as Manny Boyd, Danny Hαyes, Keith Copeland, Johnny Vidacovich, Mark Soskin, Eddie Daniels.

This album contains no booklet.