---
Album info
Album including Album cover Booklet (PDF)
George Frideric Handel (1685 - 1759): Messiah, HWV 56, Pt. 1 (1742 Version):

1

Messiah, HWV 56, Pt. 1 (1742 Version): No. 1, Symphony

03:09

2

Messiah, HWV 56, Pt. 1 (1742 Version): No. 2, Comfort Ye My People

02:44

3

Messiah, HWV 56, Pt. 1 (1742 Version): No. 3, Ev'ry Valley Shall Be Exalted

03:19

4

Messiah, HWV 56, Pt. 1 (1742 Version): No. 4, And the Glory of the Lord

02:43

5

Messiah, HWV 56, Pt. 1 (1742 Version): No. 5, Thus Saith the Lord of Hosts

01:29

6

Messiah, HWV 56, Pt. 1 (1742 Version): No. 6, But Who May Abide the Day of His Coming

00:24

7

Messiah, HWV 56, Pt. 1 (1742 Version): No. 7, And He Shall Purify the Sons of Levi

02:17

8

Messiah, HWV 56, Pt. 1 (1742 Version): No. 8, Behold, a Virgin Shall Conceive

00:21

9

Messiah, HWV 56, Pt. 1 (1742 Version): No. 9a, O Thou That Tellest Good Tidings to Zion

03:39

10

Messiah, HWV 56, Pt. 1 (1742 Version): No. 9b, O Thou That Tellest Good Tidings to Zion

01:34

11

Messiah, HWV 56, Pt. 1 (1742 Version): No. 10, For Behold, Darkness Shall Cover the Earth

02:25

12

Messiah, HWV 56, Pt. 1 (1742 Version): No. 11, The People That Walked in the Darkness Have Seen a Great Light

04:08

13

Messiah, HWV 56, Pt. 1 (1742 Version): No. 12, For unto Us a Child Is Born

03:54

14

Messiah, HWV 56, Pt. 1 (1742 Version): No. 13, Pastoral Symphoy

02:49

15

Messiah, HWV 56, Pt. 1 (1742 Version): No. 14a, There Were Shepherds Abiding in the Fields

00:12

16

Messiah, HWV 56, Pt. 1 (1742 Version): No. 14b, And Lo, the Angel of the Lord

00:20

17

Messiah, HWV 56, Pt. 1 (1742 Version): No. 15, And the Angel Said unto Them

00:33

18

Messiah, HWV 56, Pt. 1 (1742 Version): No. 16, And Suddenly There Was with the Angel

00:17

19

Messiah, HWV 56, Pt. 1 (1742 Version): No. 17, Glory to God in the Highest

01:50

20

Messiah, HWV 56, Pt. 1 (1742 Version): No. 18, Rejoice Greatly, O Daughter of Zion

07:46

21

Messiah, HWV 56, Pt. 1 (1742 Version): No. 19, Then Shall the Eyes of the Blind Be Opened

00:29

22

Messiah, HWV 56, Pt. 1 (1742 Version): No. 20, He Shall Feed His Flock like a Shepherd

04:55

23

Messiah, HWV 56, Pt. 1 (1742 Version): No. 21, His Yoke Is Easy

02:20

Messiah, HWV 56, Pt. 2 (1742 Version):

24

Messiah, HWV 56, Pt. 2 (1742 Version): No. 22, Behold the Lamb of God

03:26

25

Messiah, HWV 56, Pt. 2 (1742 Version): No. 23, He Was Despised and Rejected of Men

10:49

26

Messiah, HWV 56, Pt. 2 (1742 Version): No. 24, Surely He Has Borne Our Griefs and Carried Our Sorrows

01:42

27

Messiah, HWV 56, Pt. 2 (1742 Version): No. 25, And with His Stripes We Are Healed

01:51

28

Messiah, HWV 56, Pt. 2 (1742 Version): No. 26, All We Like Sheep Have Gone Astray

03:25

29

Messiah, HWV 56, Pt. 2 (1742 Version): No. 27, All They That See Him Laugh Him to Scorn

00:42

30

Messiah, HWV 56, Pt. 2 (1742 Version): No. 28, He Trusted in God That He Would Deliver Him

02:13

31

Messiah, HWV 56, Pt. 2 (1742 Version): No. 29, Thy Rebuke Hath Broken His Heart

01:39

32

Messiah, HWV 56, Pt. 2 (1742 Version): No. 30, Behold and See if There Be Any Sorrow

01:30

33

Messiah, HWV 56, Pt. 2 (1742 Version): No. 31, He Was Cut Off

00:17

34

Messiah, HWV 56, Pt. 2 (1742 Version): No. 32, But Thou Didst Not Leave His Soul in Hell

02:22

35

Messiah, HWV 56, Pt. 2 (1742 Version): No. 33, Lift-Up Your Heads, O Ye Gates

02:57

36

Messiah, HWV 56, Pt. 2 (1742 Version): No. 34, Unto Which of the Angels

00:17

37

Messiah, HWV 56, Pt. 2 (1742 Version): No. 35, Let All the Angels of God Worship Him

01:25

38

Messiah, HWV 56, Pt. 2 (1742 Version): No. 36, Thou Art Gone-Up on High

03:16

39

Messiah, HWV 56, Pt. 2 (1742 Version): No. 37, The Lord Gave the Word

01:11

40

Messiah, HWV 56, Pt. 2 (1742 Version): No. 38, How Beautiful Are the Feet

03:36

41

Messiah, HWV 56, Pt. 2 (1742 Version): No. 39, Their Sound Is Gone Out

01:27

42

Messiah, HWV 56, Pt. 2 (1742 Version): No. 40, Why Do the Nations So Furiously Rage Together

01:39

43

Messiah, HWV 56, Pt. 2 (1742 Version): No. 41, Let Us Break Their Bonds Asunder

00:13

44

Messiah, HWV 56, Pt. 2 (1742 Version): No. 42, He That Dwelleth in Heaven

00:14

45

Messiah, HWV 56, Pt. 2 (1742 Version): No. 43, Thou Shalt Break Them with a Rod of Iron - No. 44, Hallelujah

03:42

Messiah, HWV 56, Pt. 3 (1742 Version):

46

Messiah, HWV 56, Pt. 3 (1742 Version): No. 45, I Know That My Reedemer Liveth

05:28

47

Messiah, HWV 56, Pt. 3 (1742 Version): No. 46, Since by Man Came Death

02:01

48

Messiah, HWV 56, Pt. 3 (1742 Version): No. 47, Behold, I Tell You a Mystery

00:37

49

Messiah, HWV 56, Pt. 3 (1742 Version): No. 48, The Trumpet Shall Sound

08:54

50

Messiah, HWV 56, Pt. 3 (1742 Version): No. 49, Then Shall Be Brought to Pass

00:16

51

Messiah, HWV 56, Pt. 3 (1742 Version): No. 50, O Death, Where Is Thy Sting

01:11

52

Messiah, HWV 56, Pt. 3 (1742 Version): No. 51, But Thanks Be to God

02:38

53

Messiah, HWV 56, Pt. 3 (1742 Version): No. 52, If God Be for Us, Who Can Be Against Us

05:24

54

Messiah, HWV 56, Pt. 3 (1742 Version): No. 53, Worthy Is the Lamb

03:13

55

Messiah, HWV 56, Pt. 3 (1742 Version): No. 54, Amen

03:45

Total Runtime

02:16:57
Info for Handel: Messiah, HWV 56 (1742 Version)

Handel's 'Messiah' is one of the most sung oratorios in the world and its great choruses and arias can be heard on countless classical collections. From its premiere to the present day, this great sacred work enjoys almost unbroken popularity and has always fascinated audiences and musicians alike. In the chapter "Resurrection of George Frideric Handel" of his book "Decisive Moments in History", Stefan Zweig provides a particularly colourful description of Handel's "Messiah". Starting from the fresh spirit of the work, he creates a lively story that lets the reader look over his shoulder as he composes the work. In it, he illustrates the timelessness and special position of this great composition in the context of music history.
In September 2019, the choir and orchestra of the Gaechinger Cantorey, under the direction of their principal conductor Hans-Christoph Rademann, got to the bottom of this singular work and, together with an excellent quintet of soloists, recorded this stirring and masterly interpretation.
Dorothee Mields, soprano
Benno Schachtner, alto
Benedikt Kristjánsson, tenor
Tobias Berndt, bass
Gaechinger Cantorey
Hans-Christoph Rademann, conductor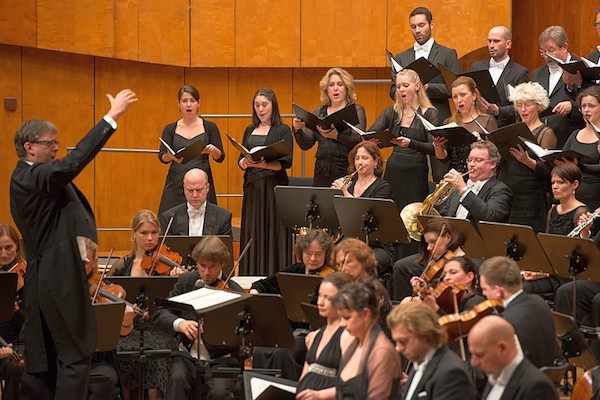 Gaechinger Cantorey
are the ensembles of the Internationale Bachakademie Stuttgart, bringing together outstanding European musicians under the direction of Akademie Director Hans-Christoph Rademann. Since the 2016/17 season, this name has marked out a new era for the internationally-famous ensembles of the Bachakademie. As Bach ambassadors they had performed for several decades as the Bach-Collegium Stuttgart and Gächinger Kantorei Stuttgart under Helmuth Rilling. Now a newly-founded baroque orchestra and newly-constituted choir combine to form a superbly blended period ensemble. The aim is the development of a new 'Stuttgart Bach style' which embodies the hallmark of a Bachakademie of the future.
By deciding to have its own baroque orchestra and a choir formed of singers with practical, performing criteria in mind, the Bachakademie has forged a new path. The fundamental sound and unique international selling point of this new approach is reflected in the Bachakademie's decision to commission a historical replica of a chamber organ by the legendary organ builder and contemporary of Bach, Gottfried Silbermann, recently discovered in 2013 in Seerhausen, Saxony. Its ideal baroque sound, true to the original, embodies the approach at the very heart of the newly-formed ensembles.
The first successful steps on the route to a new 'Stuttgart Bach style' were the ensemble's performances in 2017 at the Musikfest Stuttgart, Bach Week Ansbach, European Music Weeks Festival in Passau, Rheingau Musik Festival, Festspielhaus Baden-Baden and six concerts as part of a USA tour in Fort Lauderdale, Chapel Hill, Norfolk, Princeton, Los Angeles and Irvine. In 2018 the musicians of the Gaechinger Cantorey have already performed in the Dresden Kulturpalast, the Bach church in Arnstadt and the Théâtre des Champs-Élysées Paris. In May they tour South America with six concerts, and in June pay a visit to the Bachfest Leipzig to perform in a prominent 'Cantatas ring' (with conductors including Masaaki Suzuki, Ton Koopman and Sir John Eliot Gardiner).
The debut CD of the newly-constituted Gaechinger Cantorey 'Erhalt uns, Herr, bei Deinem Wort' with Reformation cantatas by J.S. Bach was released in May 2017 by Carus-Verlag in Stuttgart. The critics were enthusiastic: 'The Gaechinger Cantorey with its new forces and direction is right up at the top amongst the ranks of German baroque ensembles.' (kulturradio on rbb). Just a few months later in Septemer 2017, a DVD of the St Matthew Passion was released, and in October 2017 a new recording of Bach's Christmas Oratorio, both of which were also extremely well-received. For the future CD recordings of a programme of Bach cantatas, the fourth version of Bach's St John Passion and G.F. Handel's Utrecht Te Deum are planned.

Booklet for Handel: Messiah, HWV 56 (1742 Version)