---
Album info
Album including Album cover Booklet (PDF)
Robert Schumann (1810 - 1856): Papillons, op. 2:

1

Papillons, op. 2

14:41

Jesús Rueda (b. 1961): Sonata No. 5, "The Butterfly Effect":

2

Sonata No. 5, "The Butterfly Effect": I. Wings

05:34

3

Sonata No. 5, "The Butterfly Effect": II. Evanescent

03:31

4

Sonata No. 5, "The Butterfly Effect": III. Perpetuum Mobile

04:12

Felix Mendelssohn (1809 - 1847): Lieder ohne Worte, op. 30:

5

Lieder ohne Worte, op. 30: I. Andante espressivo

03:55

6

Lieder ohne Worte, op. 30: II. Allegro di molto

02:18

7

Lieder ohne Worte, op. 30: III. Adagio non troppo

02:13

8

Lieder ohne Worte, op. 30: IV. Agitato e con fuoco

02:44

9

Lieder ohne Worte, op. 30: V. Andante grazioso

02:07

10

Lieder ohne Worte, op. 30: VI. Venetianisches Gondellied

02:39

David del Puerto (b. 1964): Seis caprichos sin título:

11

Seis caprichos sin título: I. Adagio non troppo

02:50

12

Seis caprichos sin título: II. Nervoso

03:30

13

Seis caprichos sin título: III. Largo assai

01:50

14

Seis caprichos sin título: IV. Agitato

02:46

15

Seis caprichos sin título: V. Adagio sostenuto

04:00

16

Seis caprichos sin título: VI. Allegro vivace

02:24

Franz Schubert (1797 - 1828): Dues peces per a piano:

17

Adagio in G major, D. 178

05:38

Joan Magrané (b. 1988): Dues peces per a piano:

18

Dues peces per a piano: I. Sostenuto, cristallino

07:12

19

Dues peces per a piano: II. Molto adagio (con la complicità di Schubert)

03:30

Total Runtime

01:17:34
Info for The Butterfly Effect

On her Eudora debut, pianist Noelia Rodiles brings together three of her favourite Romantic composers (Schumann, Mendelssohn and Schubert) and three of the best-known Spanish composers of recent years (Jesús Rueda, David del Puerto and Joan Magrané). Noelia Rodiles commissioned them to write works freely inspired by Schumann's Papillons, Mendelssohn's Lieder ohne Worte, op.30 and Schubert's Adagio, D178 respectively. The result is a trio of pairs of mutually transformative compositions: not only do the contemporary pieces take their inspiration from the Romantic works, but the 19th-century works also acquire a new colour and focus when juxtaposed with their 21st-century counterparts.
Noelia Rodiles, piano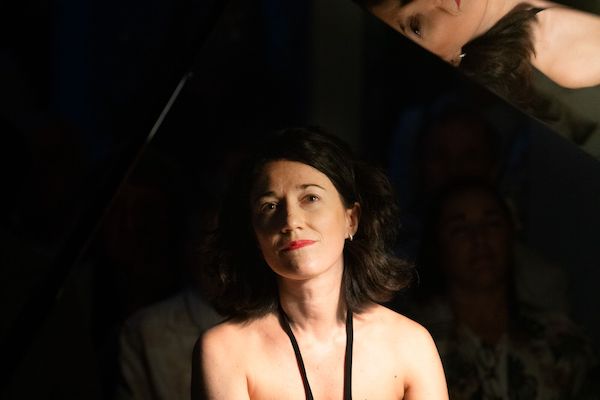 Noelia Rodiles
Noelia's ability to seek perfection through the nuances she teases out of the piano, the way in which she makes people experience the emotion of music simply and naturally both on and off stage are what best characterise her as a pianist.
Her musical career includes performances at the principal Spanish concert halls, from the Madrid Auditorio Nacional de Música, to the Teatro Real, Auditorio de Zaragoza, Auditori de Barcelona, Palau de la Música Catalana, Fundación Juan March, Auditorium de Palma or Teatros del Canal, and in series and festivals such as "Jóvenes Intérpretes" at the Fundación Scherzo, Schubertíada in Vilabertrán, Festival de Música y Danza in Granada, Festival Internacional de Arte Sacro in Madrid, Quincena Musical Donostiarra or the Otoño Musical Soriano. Likewise she has played in countries such as Germany, Italy, France, Poland, Tunisia, Bolivia or Jordan.
As a soloist, Noelia Rodiles has worked with orchestras such as the Nacional d'Andorra, The Soloists of London, the Heinrich Heine Orchestra of Düsseldof, the Orquesta Sinfónica del Principado de Asturias or the Orquesta Sinfónica de Extremadura, amongs others, with distinguished conductors like Víctor Pablo Pérez, Michael Thomas, Marzio Conti, Ramón Tébar or Pablo Mielgo.
Her quality as a pianist has been recognised in national and international piano competitions such as the "Rotary Club" in Palma de Mallorca and the "Ricard Viñes" in Lleida or the First Prize and three special prizes at the National Piano Compettion in Albacete (Spain).
After her first album (Solfa Recordings) with works by Ligeti and Schubert was released she was described as "one of the true rising stars of Spanish and international piano playing" with critics recognising her as a "versatile, talented pianist with truly admirable musicality and refinement" (Justo Romero, Scherzo).
Noelia studied at the music conservatories of Avilés, Madrid and Berlín with Ana Serrano, Ana Guijarro and Galina Iwanzowa. She completed her studies at the Escuela Superior de Música Reina Sofía of Madrid with Dimitri Bashkirov and Claudio Martínez Mehner.
Noelia took part of masterclasses of Daniel Barenboim, Joaquín Achúcarro, Salomon Mikowski, Joaquín Soriano, Galina Eguiazarova, Elisso Virsaladze and Josep M. Colom, among others.

Booklet for The Butterfly Effect