---
Album info
Album including Album cover
Linda Rum:

1

Rum: Innen

02:01

2

Rum: Freiheit

01:56

3

Rum: Blick

01:17

4

Rum: Frühling

00:48

5

Rum: Harmonie

02:19

6

Rum: Dobranoc

01:34

7

Rum: Mond

02:42

8

Rum: Vision

02:15

9

Rum: Schaukeln

00:45

10

Rum: Lächeln

03:02

11

Rum: Kenntnis

01:38

12

Rum: Hafen

00:57

13

Rum: Farbe

01:46

14

Rum: Außen

01:35

Total Runtime

24:35
Info for Friede

Peaceful piano sonatas: With her first album 'Friede', the Hamburg based musician goes back to where it all began for her - the piano. Rum began playing the piano at the age of six, developing a deep sense of calm and comfort tied to the instrument. With the fourteen beautiful vignettes on 'Friede', she creates an atmosphere of calmness and stability that she hopes to share with others in these turbulent times. These pieces are an invitation to breathe deeply, to find a sense of inner peace, and to provide companionship. The record is paired with gorgeous linotype drawing by UK visual artist Bethan Clarke, and tastefully mastered by Danish engineer Thomas Haahr.
Linda Rum, piano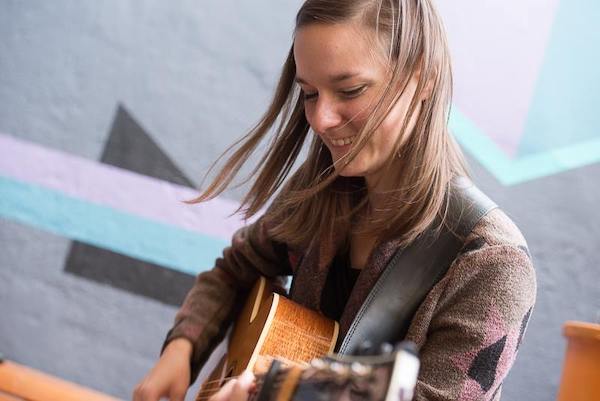 Linda Rum
A journey always means leaving something behind. Changing yourself and others. Every high is accompanied by a low. And yet, in Linda Rum's case, confidence and joie de vivre prevail. Experiencing stories, telling them and growing from them.
It all began on the piano - classically trained as a child. Then came the singing, the guitar and the songwriting. And anyone who has felt their way into the arrangements will not be surprised to learn that many years of classical church music have also influenced the studied organist.
But it did not stop there. Linda Rum's music is lively and therefore multifaceted. Coherent, but not monotonous. The dynamic of her work is already noticeable when she enters the stage. This petite, at first sight calm appearance with the all-conquering personality and charisma.
In her collective of fellow musicians, the voice remains the central element. The mixture of modern folk, pop and indie presents itself sometimes sprawling spherical, sometimes driving and beat focused, then again very gentle and authentically soulful, without ending in kitsch.

This album contains no booklet.