---
Album info
Album including Album cover
1

Chicken Stuff

01:55

2

Be My Love

01:59

3

You Don't Give a Damn

03:21

4

I Ain't Botherin' Nobody

02:23

5

Hey Sweet Lady

03:56

6

Geronimo Rock'n'roll

02:58

7

Buzz Back Home

02:49

8

Evil Woman

03:14

9

Big Fat Mama

02:56

10

Scratchin'

03:23

11

Lucy Mae Blues

03:19

12

Take Five

03:30

Total Runtime

35:43
Info for Backyard Stomp

Setting their stall out for the first time is The Backyard Casanovas with Backyard Stomp. A debut album conceived after a few practice sessions, followed by a couple of live performances, before being captured on film by Bopflix Films, not to mention a few rounds of a local homebrew to ensure morale was at its highest, to realise that there may just be something in this new project.
While new may not be highly accurate when piecing together the details concerning The Backyard Casanovas because they have been a part of the 50's rhythm and blues scene for some time. Having founded during 2018 in Bonn, Germany, the four-piece band can normally be seen and heard supporting Cat Lee King with additional title bestowed to them ...and his Cocks. Therefore, with normal duties on vacation for the time being, The Backyard Casanovas position themselves under the spotlight for their debut album Backyard Stomp.
Taking inspiration from delta-blues and leaning on heroes as Hound Dog Taylor or ramshackle rockabilly ramblings of Hasil Adkins for example, The Backyard Casanovas of Tommy J. Croole (Vocals/Lead Guitar), Sidney Ramone (Rhythm Guitar/Percussion), Lucky Luciano (Double Bass), and Rene Lieutenant (Drums) also know how to write a tune of their own with many songs being original compositions included on Backyard Stomp.
The Backyard Casanovas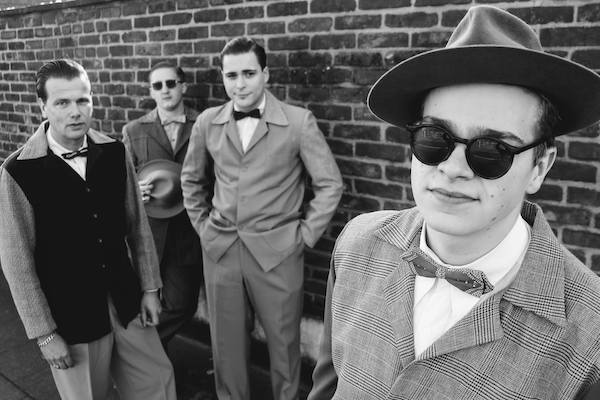 The Backyard Casanovas
Founded 2018 in Bonn-Germany, the Backyard Casanovas are no greenhorns to the 50s Rhythm'n'Blues scene. Known as "the Cocks" of "Cat Lee King and his Cocks", they noticed that whenever Tommy J. Croole hits the stage for the song "Smokestack Lightnin" the audience has a demand for more. So Tommy J. Croole, Sidney Ramone, Lucky Luciano and Rene Lieutenant decided to practice more songs and get on stage as the Backyard Casanovas. Their repertoire is a mix of their own songs and well- and less-known songs of their idols Hound Dog Taylor & Hasil Adkins.

This album contains no booklet.