---
Album info
Album including Album cover
I`m sorry!
Dear HIGHRESAUDIO Visitor,
due to territorial constraints and also different releases dates in each country you currently can`t purchase this album. We are updating our release dates twice a week. So, please feel free to check from time-to-time, if the album is available for your country.
We suggest, that you bookmark the album and use our Short List function.
Thank you for your understanding and patience.
Yours sincerely, HIGHRESAUDIO
1

NeverStop

04:34

2

Love Invention

04:19

3

Digging Deeper Now

04:16

4

In Electric Blue

03:19

5

The Beat Divine

05:09

6

Fever (This Is the Real Thing)

04:43

7

Hotel (Suite 23)

04:35

8

Subterfuge

03:13

9

Gatto Gelato

04:36

10

So Hard So Hot

04:27

11

SLoFLo

03:39

12

Fever

03:48

13

Digging Deeper

03:17

14

Impossible (Alison Goldfrapp's 'Touch The Sky' Edit)

03:11

15

Gatto Gelato (niina Remix)

03:45

16

Fever (Special Request Club Mix)

09:09

17

Digging Deeper (Extended Mix)

06:09

Total Runtime

01:16:09
Info for The Love Invention

The magnetic London-born singer, songwriter and producer's seven albums with Goldfrapp were fuelled by an unfailing modernity and a sixth sense for sounds that were more timeless than any trend.
With the release of her debut solo album The Love Invention - an electrifying dance-pop suite - her multi-faceted musicianship reaches a new peak.
The Love Invention marks Alison's reawakening as a dancefloor priestess, in an intoxicating showcase of the disco and house influences that have always been at the heart of her musical DNA. In Alison's quintessentially complex way, the album's moments of sincerity are paired with a devious sense of fun.
For almost quarter-of-a-century, the electro-pop duo Goldfrapp, across seven albums, have concocted wonderful cosmoses of pop, glam rock, cabaret, folk, dance, disco and trip-hop – you name it, they master it. The Love Invention finds singer and producer Alison Goldfrapp going it alone, on a superb solo debut.
Indeed, the greatest DJ of all time, Larry Levan could have spun this entire album with no skippers in his early-'80s Paradise Garage, and his berserk dancefloor of worshippers would not have missed a beat. Ridiculously, club banger follows club banger on a record chock-full with delirious four-to-the-floor pounding, oozing sensuality and euphoric release. Its hybrid of house and disco, elevated with the master touch of Richard X and James Greenwood, is a sonic delight.
Title track 'Love Invention' is pure Giorgio Moroder crafting Donna Summer, while 'NeverStop' is a sci-fi paradise of zapping lasers, multi-tracked vocals and filthy (in the best possible way) low end. Disco-funk number 'Digging Deeper Now' orders cocktails in the chill-out room, while the sultry acid-house of 'Fever' carries you away on its trance vibe.
Elsewhere, the Euro trash, Italo disco of 'Gatto Gelato', and its repeated refrain of "I like you", are deliriously good. For good measure, 'So Hard So Hot' is a thoroughbred summer anthem, which can be heard in the flesh at a field in Westmeath, with the mighty Alison Goldfrapp hitting Body & Soul this year.
Alison Goldfrapp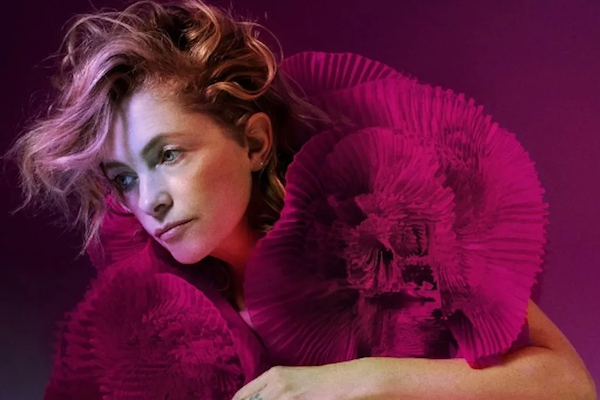 Alison Goldfrapp
Singer, composer, & keyboardist Alison Goldfrapp hails from Bath, England. She began exploring music as a part of her studies as a Fine Art Painting major at Middlesex University, mixing sound, visuals, and performances in her installation pieces.
While she was still in college, she appeared on her friend Tricky's 1995 debut "Maxinquaye", which led to appearances on albums from other cutting-edge electronic artists, including Orbital's "Snivilisation" and Add N To (X)'s "Avant Hard".
By the late '90s, Goldfrapp began honing her own compositions, and one of her friends passed some of her demos on to composer Will Gregory. Finding much in common in their musical tastes and approaches, the duo took Alison's surname as the name for their collaboration.
After signing to Mute in 1999, Goldfrapp delivered their debut album, "Felt Mountain", in autumn 2000. The album went on to near universal acclaim and spawned several singles, including "Utopia", which was released twice, once in late 2000, and a different version under the title "Utopia (Genetically Enriched)" in mid-2001.
After spending most of 2001 touring, Goldfrapp spent most of 2002 recording and returned with the album "Black Cherry" in spring 2003, again spawning several singles including "Strict Machine", "Train", "Twist", the eponimous "Black Cherry", and the massive hit "Strict Machine".
After a break, the album "Supernature" was released in autumn 2005, following the release of the single, "Ooh La La". Several other singles followed from the album, including the hits, "Number 1" & "Ride A White Horse", along with a somewhat lesser track, "Fly Me Away". Extensive touring accompanied the album in 2006.

This album contains no booklet.