---
Album info
Album including Album cover
I`m sorry!
Dear HIGHRESAUDIO Visitor,
due to territorial constraints and also different releases dates in each country you currently can`t purchase this album. We are updating our release dates twice a week. So, please feel free to check from time-to-time, if the album is available for your country.
We suggest, that you bookmark the album and use our Short List function.
Thank you for your understanding and patience.
Yours sincerely, HIGHRESAUDIO
1

Seamless

03:13

2

Shedding Skin

03:31

3

Lost In Static

03:04

4

Rewire (101)

01:50

5

Low Season

02:37

6

Passenger

03:07

7

King Of My Domain

03:28

8

In The Meantime

03:37

9

Staring At The Sun

02:44

10

Self-Rendered: Lost

02:54

11

Drag The Line

04:07

Total Runtime

34:12
Info for 27 Miles Underwater

Theories abound regarding the seven-year cycle. Even the most casual of searches yields a wealth of discourse on the philosophy, positing the occurrence of transformation (or even full rebirth) in the seventh year. Higher Power grow into a similar space on their second full-length offering and Roadrunner Records debut, 27 Miles Underwater. Uncovering the nexus between melodic vulnerability, metallic viciousness, and punk vitality, the Leeds, UK quintet—brothers Jimmy Wizard [vocals] and Alex Wizard [drums], Louis Hardy [guitar], Max Harper [guitar], and Ethan Wilkinson [bass]—deliver eleven anthems informed by everything from shoegaze and grunge to punk and thrash, yet defiant of era.
"We knew what we wanted it to sound like before we recorded it," frontman Jimmy Wizard previously told Kerrang! about the forthcoming full-length. "It's a record where everyone put everything they had into being the best they could be at that moment in time, in order to make the best record we could together. We all learned so much making this record; we progressed at our instruments as well as people. That's not to say (previous album) Soul Structure is a bad record, but it wasn't a record made by a band that knew what they had or what they were doing yet. In a lot of ways we still don't, but this record is definitely a huge progression for us."
As such, they embody alternative in the truest sense of the word.
"Song-wise, the record came from events and relationships over the past seven years," explains Jimmy. "I started reading about the seven-year cycle. It made a lot of sense in terms of my life. I'm 27 now. It feels like this is where the biggest changes are happening. Being underwater is a metaphor for being inside of your own head. I hate water, so going underwater is not a pleasant experience for me. When you're submerged, it's dark. You can't hear what anybody is saying. You can't open your eyes. You feel disconnected and alone. This is what the record speaks to."
Lead single "Seamless" opens with thrashing guitarwork and feral screams, curling towards a hypnotic hook - "And I wish it was as seamless as it seems—inside my head" - before a hauntingly melodic bridge nodding to the album title.
Jimmy goes on, "I don't talk to people about my problems. I'm very closed off, but I always have these ideas and feelings. When I attempt to translate them to the world, they are never as seamless as I want to say them. In my head, it all makes so much sense, but introducing them to others is super hard."
Meanwhile, "Lost In Static" shuffles between a pummeling beat, hulking guitars, and a headyrefrain punctuated by analog computer transmissions.
"I remember walking home from work after the shittiest day," recalls Louis. "I was a laborer at the time. I put on HUM's Downward is Heavenward. It completely lined up with how I was feeling. All of these weird chords came to me and inspired 'Lost In Static'."
"Sometimes, you just lose touch with people," Jimmy elaborates. "We're never home, so it's hard to maintain relationships. You come back to somebody, and you're just on different planets. 'Lost In Static' is about a friend. It helps when you realize the difference between you and the other person. It's okay if you end up worlds apart. It happens."
Elsewhere, "Low Season" trudges forward on a bouncing groove before a flourishing chorus about "How winter in England is super depressing, because you're stuck indoors, isolated, and doing nothing," as Jimmy says. Acoustic guitar entwines with caustic confessions on the intimate "In The Meantime," while "Staring At The Sun" offers up a different kind of heavy love song. " 'Staring At The Sun' is dedicated to my dog," smiles Jimmy. "He's the best friend I've ever had. I thought it would be cool to mess with convention."
Higher Power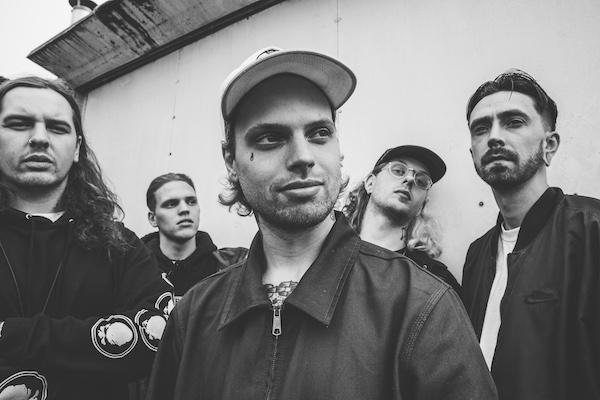 Higher Power
Hardcore punk from Leeds. Visually, they are an imposing bunch, but in reality they just really love dogs. They are graffiti artists, brothers, they are creative and hysterically funny, and they are trying to open up a genre of music that terrifies most listeners.
Higher Power's hardcore is about positive expression of aggression and a form of escapology. It is angry music - but lyrically they convey a lot about themselves as people. It's about finding a positive outlet for their anger, whether it's social issues or mental health, adding a social consciousness and depth to the genre.
'Classic NYHC crossover, with a touch of Jane's Addiction and a whole mess of streetwise British swagger thrown in for good measure' (Revolver)

This album contains no booklet.