---
Fauna (Deluxe Edition) Haken
Album info
Album including Album cover
I`m sorry!
Dear HIGHRESAUDIO Visitor,
due to territorial constraints and also different releases dates in each country you currently can`t purchase this album. We are updating our release dates twice a week. So, please feel free to check from time-to-time, if the album is available for your country.
We suggest, that you bookmark the album and use our Short List function.
Thank you for your understanding and patience.
Yours sincerely, HIGHRESAUDIO
1

Taurus

04:49

2

Nightingale

07:24

3

The Alphabet of Me

05:34

4

Sempiternal Beings

08:24

5

Beneath the White Rainbow

06:45

6

Island in the Clouds

05:46

7

Lovebite

03:49

8

Elephants Never Forget

11:07

9

Eyes Of Ebony

08:32

10

Taurus (Instrumental)

04:49

11

Nightingale (Instrumental)

07:25

12

The Alphabet of Me (Instrumental)

05:34

13

Sempiternal Beings (Instrumental)

08:24

14

Beneath the White Rainbow (Instrumental)

06:45

15

Island in the Clouds (Instrumental)

05:46

16

Lovebite (Instrumental)

03:49

17

Elephants Never Forget (Instrumental)

11:07

18

Eyes Of Ebony (Instrumental)

08:32

Total Runtime

02:04:21
Info for Fauna (Deluxe Edition)

If you're talking about modern progressive rock and don't bring up Haken, you're doing it wrong. Since the south English sextet started jamming together in 2004, they've been one of their genre's most loyal yet, simultaneously, adventurous forces. And how do you honour such an eclectic, unpredictable career? You make Fauna: Haken's most genre-busting and conceptually fascinating album to date. "The premise of the album when we started writing it was that every song would have an animal assigned to it," explains singer and co-founder Ross Jennings. "They all have something related to the animal kingdom that we could write about, but they also connect to the human world. Each track has layers, and some of them are more obvious than others."
Musically, Fauna represents Haken at their most diverse. Taurus commences the album with its scraping heavy metal chords, as polyrhythmic as they are jagged. However, Ross's melodic croon and the triumphant chorus are true Haken. Eyes Of Ebony is pure math rock, delicate in its start-stop clean guitar picking and chiming cymbals, while Island In The Clouds flaunts its bouncing bassline. Eighteen years deep, they're still evolving and keeping their fans on their toes. Is there any truer definition of what making progressive rock means than that?
Haken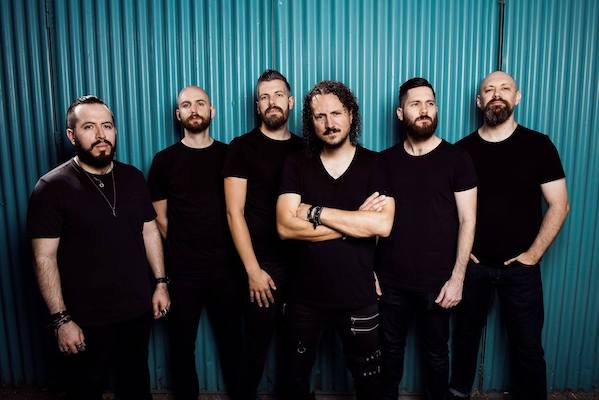 HAKEN
are arguably the most exciting sound to emerge from the modern progressive movement. Formed in 2007 by three school friends Richard Henshall, Ross Jennings and Matthew Marshall (ex-guitarist), Haken is a virtuosic and eclectic progressive rock/metal band from London, England, comprising the country's finest young musicians. Having met the band on an online forum, keyboard virtuoso Peter Jones (ex-member) soon slotted into the line-up, bringing with him close friend and drummer Raymond Hearne. After acquiring the support of renowned To-Mera guitarist Tom Maclean on bass, the band soon completed a thirty-five minute demo consisting of three tracks, 'Snow', 'Souls' and 'Manifolds'.
In July 2007, HAKEN showcased their music for the very first time to a packed out London bar with a great response, followed the next week by a sold out show at "the best live music venue in south-west London", The Peel in Kingston. Within months of this double-debut performance, HAKEN were billed in support of Riverside (Inside Out) at Camden's prestigious Underworld. HAKEN continued performing sets to packed houses throughout London and the UK during this time, most notably several sold-out shows at The Peel, as well as producing an additional three tracks for their demo, 'Blind', 'Sleeping Thoughts Wake', and 'Black Seed', the last of which featured on the cover CD for the second issue of 'Classic Rock presents Prog' magazine in June 2009.
In 2008, HAKEN received a massive blow in personnel and parted ways with Jones and Marshall, who went on to pursue other careers. It wasn't long, however, before acclaimed Linear Sphere/Anchorhead guitarist Charlie Griffiths fitted the bill, shortly followed by gifted keyboardist Diego Tejeida late in 2008. In the last year, HAKEN have gone on to enjoy UK tours in support of cult metal bands King's X (Inside Out), Bigelf (Custard Records), and To-Mera, including memorable shows to sell out crowds at The Wulfrun Halls, The Electric Ballroom and The Camden Barfly. They continued to extend their fan base as well as developing an eighty-minute epic concept album entitled AQUARIUS.
Early on in the writing process for the album, HAKEN were contacted by the Laser's Edge Group who later signed the band to their specialist progressive metal label Sensory Records, through which AQUARIUS was released worldwide in MARCH 2010 gaining many positive and exciting reviews, notably in Classic Rock Presents Prog [plus a detailed feature article on the band by the editor - Jerry Ewing] and on Prog Archives.
'I am totally blown away. Haken is the best thing to happen to progressive metal in many, many years. Hailing from England, this relatively young band has unleashed a masterpiece.' Rob Kachluba - Hell Hound.
In their brief existence, HAKEN have become highly respected within the British metal and progressive communities. Their unique and imaginative genre-bending approach to music has garnered praise from all corners of the globe and they are becoming more widely known in The States and across Europe with interest beginning to develop in Japan and Australia..
HAKEN continue to perform exciting live shows, sharing the stage with The Diablo Swing Orchestra at The Underworld and introducing their music to an enthusiastic wider audience at PROGPOWER EUROPE 2010 with Shadow Gallery and SUMMERS END 2010 with Karmakanic and Agent of Mercy.
Richard is currently writing the music for the highly anticipated second HAKEN album and the band is working collaboratively on developing the album in the rehearsal rooms.
They are looking forward enthusiastically to sharing the stage with FREAK KITCHEN in London in November 2010 and to their USA debut at PROGPOWER USA XII at Center Stage Atlanta in September 2011.

This album contains no booklet.