---
Album info
Album including Album cover Booklet (PDF)
Claude Debussy (1862 - 1918): Sonata for Violin and Piano in G minor:

1

Sonata for Violin and Piano in G minor: I. Allegro Vivo

04:58

2

Sonata for Violin and Piano in G minor: II. Intermède (Fantasque et léger)

04:15

3

Sonata for Violin and Piano in G minor: III. Finale (Très animé)

04:54

Leoš Janáček (1854 - 1928): Sonata for Violin and Piano:

4

Sonata for Violin and Piano: I. Con moto

05:20

5

Sonata for Violin and Piano: II. Ballada

05:13

6

Sonata for Violin and Piano: III. Allegretto

02:47

7

Sonata for Violin and Piano: IV. Adagio

04:59

Richard Strauss (1864 - 1949): Sonata for Violin and Piano in E-flat major, op. 18:

8

Sonata for Violin and Piano in E-flat major, op. 18: I. Allegro, ma non troppo

11:48

9

Sonata for Violin and Piano in E-flat major, op. 18: II. Improvisation (Andante cantabile)

08:20

10

Sonata for Violin and Piano in E-flat major, op. 18: III. Finale (Andante – Allegro)

09:55

Total Runtime

01:02:29
Info for Violin & Piano Sonatas

Two leading artists team up and bring together a selection of violin and piano masterpieces, performed in an outstanding and insightful way. Debussy's sonata, composed in the last years of the French composer's life, is full of sensuosity, while Janáček's four-movement sonata is full of nationalistic feelings and of intense fragmentary gestures. The recording closes with Richard Strauss's monumental and overtly romantic sonata, composed by the great German composer when still in his early twenties.
We can unashamedly say that Iturriagagoitia and Bagaría give one of the finest performances of these works and we truly believe this recording is a must have!
"As a producer, it is actually rare to come across with performances that are artistically and technically transcendent, like those I witnessed while recording this project at the impressive Mozart Hall of the Auditorio de Zaragoza, in Spain. Both Aitzol and Enrique are superlative artists that made recording this album an inspiring event. Each of the masterpieces recorded here is a universe in itself, from the sensual world of Debussy's sonata to the epic and overtly romantic character of Strauss' Op. 18, through the intense and nationalistic sonata of Janácek.
From the technical and sonic perspective, this is a different approach from our previous albums: the main sound comes from two Schoeps' MK21 with the CMC6 bodies modified by Rens Heijnis, while two Neumann U89's (also Rens Heijnis modified) on the piano and one Coles ribbon microphone on the violin were analog summed using a custom box made by Rens Heijnis. No DXD conversion has been done in the process." (Producer's Note from Gonzalo Noqué)
Aitzol Iturriagagoitia, violin
Enrique Bagaria, piano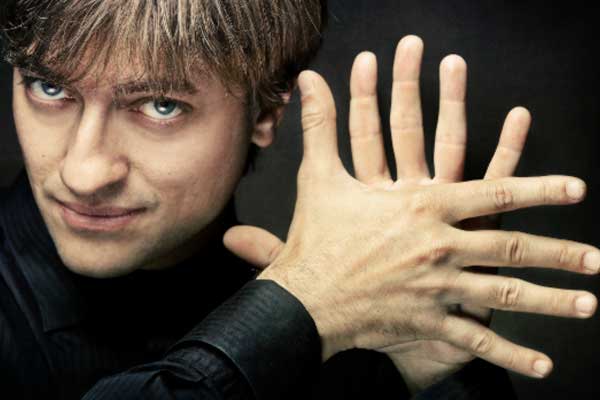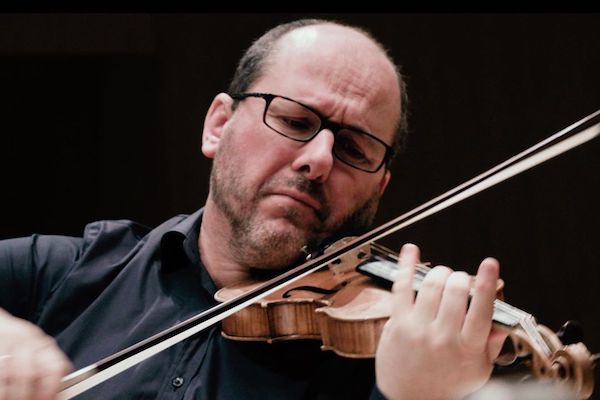 Enrique Bagaría
Winner of the María Canals International Piano Competition (Barcelona, 2006), Enrique Bagaría was born in Barcelona in 1978 and graduated in piano from the city's Conservatorio Municipal. During his undergraduate years he also spent some time at the École Normale Alfred Cortot in Paris. He went on to postgraduate studies at Barcelona's Conservatorio Superior de Música del Liceu, under the supervision of Stanislav Pochekin, and then at Madrid's Escuela Superior de Música Reina Sofía, where he worked with Dmitry Bashkirov, Claudio Martínez Mehner and Galina Eguiazarova. He completed his training with Vadim Sukhanov at the Richard Strauss Conservatory in Munich. He also attended masterclasses given by such eminent pianists as Alicia de Larrocha, Josep María Colom, Eliso Virsaladze, Andrzej Jasinski, Ralf Gothóni, Vitaly Margulis, André Watts and Boris Petrushansky.
In recent seasons he has performed at many of the world's major venues and festivals, including Barcelona's Palau de la Música Catalana and L'Auditori, Madrid's Auditorio Nacional and Teatro de la Zarzuela, the Auditorio de Zaragoza, Centro Cultural Miguel Delibes in Valladolid, Palacio Euskalduna in Bilbao and Teatro de la Maestranza in Seville; Barcelona's Ibercamera concerts, the Santander International Festival, Granada's Festival of Music and Dance and the Festival Castell in Peralada; the St Petersburg Philharmonia, National Philharmonic of Ukraine (Kiev), Salle Cortot (Paris), Teatro Dal Verme (Milan), Academia de España (Rome), Luis Ángel Arango Concert Hall (Bo- gotá), Oriental Art Center (Shanghai) and National Centre for the Performing Arts (Beijing), as well as appearing in various concert series in cities such as New York, Chicago, Brussels and Munich.
Enrique Bagaría has also appeared as soloist with the Mariinsky Orchestra, Wiener Kammer-Orchester, Salzburger Kammerphilharmonie, Orquesta Filarmónica de Bogotá and most of the Spanish symphony orchestras, including the Sinfónica de Galicia, Orquesta de Valencia, Castilla y León and Simfònica de Barcelona i Nacional de Catalunya (OBC), under the baton of such distinguished conductors as Valery Gergiev, Vasily Petrenko, Yoon Kuk Lee, Francisco Rettig, Pedro Halffter, Eduardo Portal, Salvador Brotons and Manuel Galduf, among others.
A keen chamber musician, he regularly collaborates with musicians from the Lucerne Festival Orchestra, including Lucas Macías Navarro, Guilhaume Santana, Vicent Alberola and José Vicente Castelló. Other chamber music partners include the Elias String Quartet, Cuarteto Quiroga, Stefano Canuti, Erez Ofer, Alexandre da Costa and Latica Honda-Rosenberg, Josep Colomé, Alejandro Bustamante and Pau Codina. Enrique currently teaches at the Conservatorio Superior de Música del Liceu in Barcelona.
Aitzol Iturriagagoitia
was born in Éibar in the Spanish Basque Country in 1975. He studied with Zakhar Bron at the Reina Sofía School of Music in Madrid, and with Kolja Lessing, Ingolf Turban and Hatto Beyerle at the conservatories of Leipzig, Stuttgart and Hannover respectively.
A prize-winner in the Henryk Wieniawski (Lublin) and European Broadcasting Union com- petitions, he has performed as soloist with the Orquesta Nacional de la República Dominicana, Vogtland Philarmonie, Mittelsächsischen Philharmonie, Joven Orquesta de Euskadi, Orquesta Sinfónica de Bilbao, Orquesta Sinfónica de Euskadi and Orquesta de Cámara Reina Sofía, with such eminent conductors as Yehudi Menuhin and Lorin Maazel.
He has collaborated with some of the world's leading musicians, including Christian Zacharias, Gidon Kremer, Heinz Holliger, José Luis Estellés, Asier Polo, Gerald Fauth, Frithjof-Martin Grabner, Vladimir Mendelssohn, Jean-François Heisser, Mariana Sîrbu, Marie-Elisabeth Hecker, Edicson Ruiz, Giovanni Bellucci, Kolja Lessing, Andoni Mercero, Marta Zabaleta, Mate Bekavac, Martin Spangenberg, Christian Pohl, David Apellániz, Luis Fernando Pérez and Enrique Bagaría.
As chamber musician he was first violin with the Cuarteto Iturriaga and, later, the Cuarteto Arriaga, and has been invited to perform at the most prestigious venues and festivals in Europe, including London's Wigmore Hall, the Berlin Konzerthaus, Palais des Beaux-Arts in Brussels, Palau de la Música de Barcelona and Palacio Real in Madrid (playing one of the palace's famed Stradivarius instruments), and the MDR-Musiksommer, Kuhmo Chamber Music, San Sebastián Musical Fortnight and Lockenhaus festivals.
He also has wide-ranging experience in contemporary music and has worked with Abel Ehrlich, Jacqueline Fontaine, Krzysztof Meyer, Heinz Holliger, Salvatore Sciarrino, Francisco Lara and Aristides Strongylis, among other composers, as well as playing with international groups such as Ensemble Modern (Frankfurt), Ensemble Avantgarde (Leipzig) and the Isang Yun Ensemble Berlin.
In a long and productive recording career he has made recordings for German radio stations including MDR, BR, SWR and NDR, as well as for Radio Nacional and other Spanish radio stations. Aitzol Iturriagagoitia has taught at some of Europe's most prestigious music schools. He has given masterclasses in Asia and Latin America as well as in Spain, and he currently divides his time between his performing and teaching violin at the Musikene conservatory (San Sebastián).

Booklet for Violin & Piano Sonatas