---
Album info
Album including Album cover
I`m sorry!
Dear HIGHRESAUDIO Visitor,
due to territorial constraints and also different releases dates in each country you currently can`t purchase this album. We are updating our release dates twice a week. So, please feel free to check from time-to-time, if the album is available for your country.
We suggest, that you bookmark the album and use our Short List function.
Thank you for your understanding and patience.
Yours sincerely, HIGHRESAUDIO
1

Black Vultures (Stripped)

03:55

2

Do Not Disturb (Stripped)

03:21

3

Chemicals (Stripped)

04:30

4

Heart of Novocaine (Stripped)

03:25

5

The Silence (Stripped)

04:47

Total Runtime

19:58
Info for Vicious (Stripped)

The GRAMMY® Award-winning band's fourth studio album, Vicious.
Recorded earlier this year at Nashville, TN's Rock Falcon recording studio with producer Nick Raskulinecz (Foo Fighters, Alice In Chains, Rush).
Halestorm's acclaimed third album, "INTO THE WILD LIFE," made a stunning top 5 debut on the SoundScan/Billboard 200 upon its April 2015 release while also entering Billboard's "Top Hard Rock Albums" tally at #1 – both marking Halestorm's highest chart placement to date. "INTO THE WILD LIFE" is highlighted by the record breaking smash "Apocalyptic," which ascended to #1 at rock radio outlets nationwide, as well as the top 5 Active Rock favorite, "Amen" and "I Am The Fire." Companion videos and much more can be found at Halestorm's official YouTube channel, HalestormRocks.
"Overall, this is their most eclectic album yet and, despite a couple of lightweight generic tracks, their most end-to-end enjoyable too. Clearly enamoured of late-70s and 1980s rock tropes, they will never be rule-bending revolutionaries, but they know how to balance compact pop-metal dynamics with gritty, sexy, alluring garage-punk attitude." (Stephen Dalton, loudersound.com)
Elizabeth "Lzzy" Hale, vocals, guitar, keyboards
Arejay Hale, drums
Joe Hottinger, guitar
Josh Smith, bass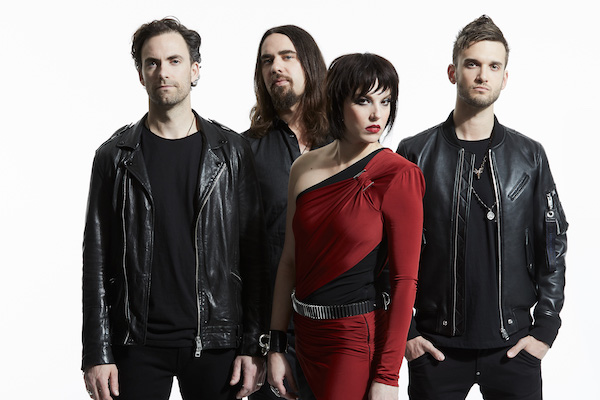 Halestorm
Self-doubt and depression clawed at the edges of Lzzy Hale's mind when it came time to pen Halestorm's fourth album, a follow-up to 2015's Into The Wild Life. The musician didn't feel like she was where she needed to be, both professionally and personally. When she and her bandmates, Arejay Hale, Joe Hottinger and Josh Smith, began writing, Lzzy wasn't even sure who she was. "I kept thinking, 'Can I still do this?'" she says. "I went down a lot of rabbit holes, and I'm my own worst critic. I needed to get over a lot of internal hurdles during this writing and recording process. This record was about overcoming inner demons."
The band began writing, but the first batch of songs didn't feel quite right, so Halestorm scrapped it and started over. And in the end, Vicious represents Halestorm's most personal and most inventive album, a deeply lived-with collection of songs teaming with genuine heart and soul. It's also how Lzzy got her groove back. "I don't think there was any other way for me to get through that difficult time than to write about it," she says. "This record was like therapy." The album was recorded with producer Nick Raskulinecz (Foo Fighters, Alice In Chains and Rush) at Nashville, TN's Rock Falcon recording studio, and the producer, with whom the band had previously worked with on their 2017 covers EP ReAniMate 3.0: The CoVeRs eP, pushed each musician to a new place musically. Each song went through five or six versions, and ultimately carry the listener on a journey, emphasizing the band's strengths while revealing a dynamic evolution.
"Nick pushed us from 10 to 11," Lzzy says. "He pushed us mentally and physically. There are some things on this record that I didn't think were physically possible for both myself and my bandmates. It was really exciting to see that happen for the first time in the studio. To be able to still surprise each other like that – and to surprise yourself – is no small feat."
One of the main goals in the studio was to capture real, human moments within the music, the sorts of unexpected instances that occur onstage. In recent years, Halestorm has introduced improvised flashes into their live sets with the idea of creating controlled chaos between the more orchestrated songs. The music on Vicious embraces this sensibility. The musicians worked to ensure that every song had its own dynamic feeling, both overall and within each verse. "It wasn't just about looping the same thing over and over again," Lzzy notes. "The idea was: Where can we take this that's not predicable?"
The resulting album, which was culled from over 20 recorded tunes, solidifies everything Halestorm stands for as a band. It's about empowerment, an ideal that the musicians have encouraged for years, and the songs urge you to be unapologetically yourself. Ultimately, it's not just about being strong and taking on the storm – but also about how you rise above that storm. The album's title comes from "Vicious," a gritty, surging rock number that was written during the last moments of studio time. The song features the line "What doesn't kill me makes me vicious," a rallying cry to overcome any obstacles. "It's about being strong and fierce," Lzzy says. "The climate of the world right now is always seeping in, so we wanted it to feel really positive and empowering." "Uncomfortable," one of the first songs written for the album, has a similar tone, featuring a rapid-fire verse and impressive vocal licks on the chorus. "You can't please everybody as much as you may want to try," Lzzy says of the song. "By being yourself you may make people uncomfortable. I saw a lot of our fans struggling with that. This song is saying that it's okay to not make everyone happy all the time. You can be yourself and that's okay. And, in fact, you should be proud of that."
References to Halestorm's fans and Lzzy's constant interactions with them online or on Twitter thread through the album. The musician, who calls the band's fanbase "our comrades in this crazy life," wanted to drop Easter eggs into the lyrics, reminding longtime listeners of past conversations or instances in Lzzy's personal life they'll likely remember. "I feel like our fans deserve that type of openness from us at this point," she says. "The love they've given us comes full circle."
Since their inception in 1998, Halestorm have toured extensively with a diverse variety of artists, including Eric Church, Avenged Sevenfold, Alice Cooper, Rob Zombie, ZZ Top and Evanescence. They've played around 2,500 dates around the world to date, and performed at festivals like Taste of Chaos and Rockstar Energy Drink Uproar Festival. The band scored a Grammy for Best Hard Rock/Metal Performance in 2013, and Lzzy was named the "Dimebag Darrell Shredder of the Year" at the Metal Hammer Golden Gods Awards in 2016. Both Halestorm and The Strange Case of… were certified Gold, further evidencing Halestorm's massively supportive fanbase. Halestorm have also made history: "Love Bites (So Do I)," the hit single from The Strange Case of… ascended to No. 1 at Active Rock radio in the U.S., making Halestorm the first-ever female-fronted group to earn the top spot on the format.
Today Halestorm exists as a beacon of hope and inspiration for musicians, particularly female musicians who want to brave the challenges of the music industry. Lzzy has been a pioneer in rock and proven that women have a place on the stage. Every night on tour, women – and men – in the audience can look to her and realize they too have the power to carve out their own path. Younger musicians admire her the same way she grew up admiring artists like Joan Jett and Stevie Nicks. "They helped me feel like I could do it, and I hope I've done the same for women today," Lzzy says. "Trying to be my best self and not trying to be anything I'm not and being unapologetic feels like a good message. I feel a lot of responsibility to keep upholding that. I'm just trying to be the best me."
Two decades into an accomplished career, Halestorm represents the results of true passion and hard work. The band has out-survived many of its peers and the musicians are still having fun after all this time. Vicious is evidence of a group of artists who refuse to ever plateau.
"This music chose us and we're just hanging on," Lzzy says. "Our greatest accomplishment is that we've been the same members for over 15 years and we're continuing to make and release music. We want to always try new things. We're still extremely hungry and open to opportunities, and we're hungry to prove we deserve to be here. We're so lucky to still be a band and have people care about our music. And there's still so much more to do."

This album contains no booklet.