---
Album info
Album including Album cover
I`m sorry!
Dear HIGHRESAUDIO Visitor,
due to territorial constraints and also different releases dates in each country you currently can`t purchase this album. We are updating our release dates twice a week. So, please feel free to check from time-to-time, if the album is available for your country.
We suggest, that you bookmark the album and use our Short List function.
Thank you for your understanding and patience.
Yours sincerely, HIGHRESAUDIO
1

Mirror Mirror

09:27

2

Turning Point

06:53

3

The Watchmaker (Time on His Side)

06:25

4

Maximum Velocity

08:11

5

Chrysalis

07:35

6

The Myth of the Mostrophus

22:14

Total Runtime

01:00:45
Info for The Myth of the Mostrophus

Ryo Okumoto who is known for his activity as keyboardist in Spocks Beard and The ProgJect presents his next solo album "The Myth of the Mostrophus". On more than one hour playing time his new album delivers entertaining progressive rock of the top class. In addition, "The Myth of the Mostrophus" features numerous guest appearances, such as Steve Hackett (Genesis), Jonathan Mover (Joe Satriani), Mike Keneally (Frank Zappa, Steve Vai), Nick D'Virgilio (Spocks Beard, Big Big Train), Michael Sadler (Saga).
It was November 28, 2020, and while participating in a livestream event called The Fusion Christmas Cracker, I saw a band called I Am the Manic Whale and was especially impressed by their lead singer/bassist Michael Whiteman, so I contacted him to see if he'd be interested in being a "collabowriter" for my next solo album. He enthusiastically said, "Yes."
It has been 20 years since the recording and release of my fourth solo album, Coming Through [2002], but I never stopped composing. I sent 30 ideas to Michael; he got to work and began sending back demos, one by one, and as they say, the rest is history – I had the basis of my album!
But wait…I had to wonder, "Who is going to play all the songs? They not only have to be the best players, but their personalities need to match each song."
I wanted to produce my own version of Spock's Beard, so I called the members and they all agreed to participate. The first song on the record is called "Mirror, Mirror", which happens to be the episode from "Star Trek" where Mr. Spock has a beard. A perfect match! Another song, "The Myth of the Mostrophus", is a 22-minute epic and is also the title song on the album. Who doesn't like epic songs?! "Myth" felt like it should be the last song on the album, which also led to my decision to go with Spock's Beard members. I called Nick D'Virgilio, who recorded his drums at Sweetwater Studios, and the wheels were in motion. Dave Meros and Alan Morse then overdubbed their parts at their respective home studios, and lastly, Nick and Ted Leonard sang – "Ryo's Beard" was complete.
For the other four songs I needed to shift gears away from Spock's Beard. At the time, I was rehearsing with Jonathan Mover in preparation for ProgJect's debut tour in April 2022 (it's from here, in my bunk on the tour bus, traveling from Cleveland to Buffalo with this all-star Ultimate Prog Rock Experience, that I'm writing this!). Jonathan agreed to play on the four remaining songs, so I sent him the demos and we got together to listen, talk, rehearse and [re]arrange, and he was ready to go. I then called Rich Mouser and we recorded Jonathan's drums at Rich's studio (Mouse House) in Pasadena.
Now that we had the rhythm tracks done, who was going to play everything else? I had used Steve Lukather on both Makin' Rock and Coming Through, but he was busy working on his solo album and putting the new TOTO together so I asked Jonathan for any recommendations. He contacted Lyle Workman and Steve Hackett. Bingo! Soon after, Mike Keneally joined ProgJect, so I asked him to participate, and prior to Mike, we had also played with Marc Bonilla – both said, "Yes."
I still needed a great R&B bass player for a couple of unique, demanding songs, who could groove but also rock, and once again, Jonathan stepped up and contacted Doug Wimbish from Living Colour. I couldn't believe it…like everyone else, Doug said, "Yes"! "Chrysalis" and "Turning Point" feature his amazing playing.
Last but not least was the extremely important choice of lead vocals. I'm very lucky to have my ProgJect bandmate Michael Sadler onboard, along with the multi-talented Randy McStine, and of course, my co-writer Michael Whiteman.
Special thanks to Rich Mouser, the engineer who recorded and mixed all of Spock's Beard's records, who did the same for me.
There's nothing better than to have a song – your song, which is like your baby – taken in and adopted by a great family of musicians that help nurture it to adulthood. I'm very excited at how this album came together and I hope people will appreciate every note painstakingly written and expertly executed.
Ryo Okumoto, keyboards, synthesizer
Michael Sadler, vocals
Ted Leonard, vocals
Jimmy Keegan, vocals
Steve Hackett, guitar
Mike Keneally, guitar
Marc Bonila, guitar
Al Morse, guitar
Randy McStine, guitar, vocals
Lyle Workman, guitar
Michael Whiteman, guitar, vocals
Dave Meros, bass
Doug Wimbish, bass
Jonathan Mover, drums
Nick D'Virgilio, drums, vocals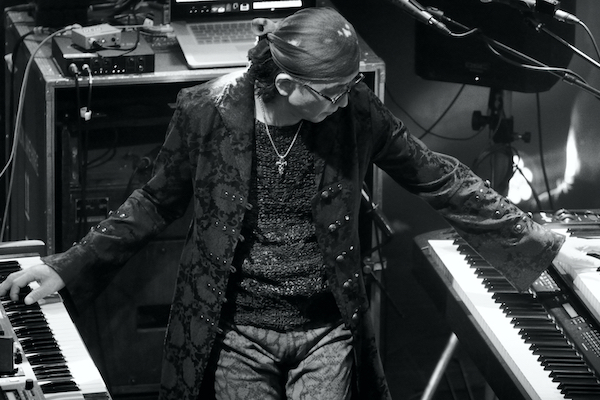 Ryo Okumoto
was born in Osaka, Japan. He began playing classical piano at the age of three and continued through 13. He became a professional musician at the age of 15 performing at the Live House in Osaka for a year. Because of his great desire to learn more about different styles of music and his strong independence, he moved to Tokyo at the age of 16. Ryo performed in nightclubs and discos for the next five years.
Ryo's first real break started in 1978 when he was 19. He toured with a well-known group called "Creation" and recorded on their album "Best of Creation." The next year Ryo toured with the legendary Kitaro and recorded on their album, "Live in Parco."
In February of 1980, Ryo's first solo album, "Solid Gold" was released with Canyon Records. He recorded this album at Air Studio in London with well-known musicians: Richard Baily (drummer for Jeff Beck), Kuma Takeda (bass), Katsutoshi Morizono (guitar) and Delandro Winston (guitarist for Elton John).
Two months later in April, Ryo released his second solo album, "Makin' Rock" with Canyon Records. This album was recorded at Sound Labs Studios in Hollywood. He once again had the best musicians recording behind him: David Foster (keyboards), Jay Graydon (guitar), Steve Lukather (guitar), Jeff Porcaro (drums) and Neil Stubenhaus (bass).
Ryo's third album was released in June that same year with Canyon Records. This was called "Synthesizer" and recorded at Sound Design Studio in Tokyo.
The following year, Ryo decided to make the big move to the States and relocated to Los Angeles in March. Tokyo seemed to have become stagnate to him and he yearned to learn more about the different styles of music that L.A. had to offer.
Ryo studied at Dick Grove School of Music for the next four years. Upon graduation, his unique style and technique were welcomed by the American music scene and he has been involved in numerous projects worldwide ever since.
Some of the artists he has performed with include Phil Collins, Eric Clapton, Aretha Franklin, Barry White, Eric Burdon, Peabo Bryson, and Roberta Flack. Ryo also has been part of countless world tours.
It was 1994 when Ryo became part of Progressive Rock group SPOCK'S BEARD. The band quickly hit the top of the prog scene with many successful European and US tours. Their fourteenth studio album "Noise Floor" was released in 2018.
Ryo's skills are internationally recognized now and he is reaching audiences all over the world. He has been featured in many magazines worldwide - Dutch Rock magazine "iOPages," for example.
Spock's Beard released their most recent album, "Noise Floor", and have been performing for the past 28 years. Meanwhile, Ryo has been performing with ASIA, Lou Gramm and many more!
He has most recently joined the prog supergroup ProgJect, featuring Jonathan Mover, Michael Sadler, Mike Keneally and Matt Dorsey. They started touring in April of 2022.
Ryo's creativity has no limitations and his undying passion for music will always keep him visible, whether it be rock, jazz, R&B or a broadway production. He will always be in the public's eye.

This album contains no booklet.