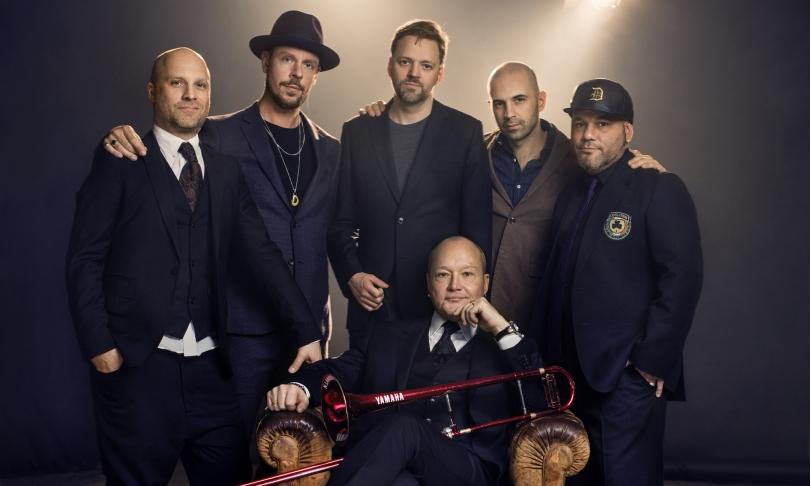 Times are hard. The need for the normal and also for consolation is growing strongly. The jazz scene increasingly takes this into account with feel-good music and even with soul comforting music. The new, eleventh album by the Nils Landgren Funk Unit can be counted among the former. Funk is my Religion is claimed by the Funk Unit, whose leader, the Swedish trombonist with his bright red trombone, has been familiar with the more upbeat style of jazz since his long history as a sideman, when he played with ABBA and Herbie Hancock, among others. He has successfully transferred the relaxed mood to his Funk Unit, founded in the nineties, which nowadays includes bassist Magnum Coltrane Price, who has been with the band from the beginning, tenor saxophonist Jonas Wall, guitarist Andy Pfeiler, keyboard man Petter Bergander and drummer Robert Ikiz.
The tracks on Funk Is My Religion alternate between instrumentals and the vocals of the band, led by Nils Landgren, who can easily pass for a credible soul singer, whose Nordic accent is that little something that makes him pleasantly exciting and different from his peers. The tracks on the album, by the way, are all written by the members of the band, with the majority of the tracks coming from the band's leader.
If you like jazzy party music à la funk, you will love this album. However, Funk Is My Religion also appeals to non-party people who like upbeat jazz that simply makes them feel good. With this approach, the band brings momentum to the party and thus fulfills the currently particularly needed longing for the normal and worth living.
The fun of listening to the album begins with "Amanda," a track that introduces the world of funk in a rather gentle grooving manner, which is immediately put into action without restraint in the following tracks. "Anyway You Want It" immediately gets down to business, pushed forward by the trombone and the saxophone, in a funky way. Linking to James Brown, "See Ya In Court" pushes the funky goings-on further. "Funk Is My Religion" recalls the early days of funk, when call-and-response choruses were in, which are rarely heard in funk today. For all its funky pace, the band doesn't forget to dedicate the track "ES in Memorian" to the late colleague Esbjörn Svensson. "NLFU Will Never Stop" (NFLU = Nils Landgren Funk Unit ) confirms the colorful funk hustle and bustle on the album, which reaches its end with "Scramblin" 'solemnly' and invites to its immediate dacapo.
The Nils Landgren Funk Unit once again succeeds in keeping funk jazz, whose beginnings date back to the seventies, thriving and spreading fun and joy in our rather gloomy world with Funk Is My Religion.
Nils Landgren, trombone & vocals
Magnum Coltrane Price, bass, vocals & additional keyboards
Jonas Wall, tenor saxophone & vocals
Andy Pfeiler, guitar & vocals
Petter Bergander, keyboards & vocals
Robert Ikiz, drums