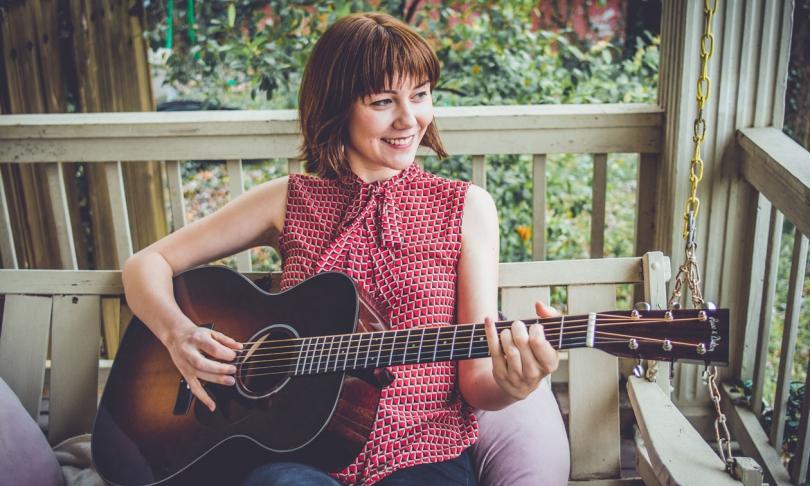 American Molly Turtle, songwriter, banjo player and guitarist known for her flat picking, has managed to win over a worldwide following in a relatively short time. This is not only because she is considered one of the top guitarists of today's generation, but also because of her talent for writing songs with meaningful content, which is also true of her latest, her third album Crooked Tree, which gathers quality bluegrass and folk songs from her pen. Dobro player Jerry Douglas, esteemed by relevant communities and known as a true master on his instrument, produced the album, and his playing can be heard here and there on it. Douglas, as producer, makes sure that each instrument is heard clearly, so that each musician gets a chance to shine. Tuttle has enlisted a number of guest artists on individual tracks who are no strangers to fans of the folk and bluegrass genres, including Old Crow Medicine Show, vocalist Gillian Welch, with whom Molly Turtle, whose clear voice can be admired throughout the songs, recorded a fantastic cow-girl duet, and singer Margo Price. These soloists are integrated into the authentically presented bluegrass playing of the band Golden-Highway, Molly Turtle's live backing band. Last but not least, she was able to enlist her father Jack Tuttle, a well-known bluegrass multi-instrumentalist who, along with her grandfather, is responsible for her being lastingly infected by the bluegrass virus when she was a young child, as a fellow player for Crooked Tree. That's not to say that Molly Turtle is exclusively on the bluegrass circuit, however; rather, she made a name for herself as a specialist in Americana with her first album, When You're Ready, released in 2019, and her second album, But I'd Rather Be With You, released in 2020, presented a collection of appealing cover versions, including She's a Rainbow by the Rolling Stones.
The most emotional song on Crooked Tree is the album's final track, "There Is Always Love." Here, Molly Turtle Tuttle autobiographically recounts her first trip to Grass Valley, California, for the annual bluegrass festival there. Over a bed of shimmering strings and slow guitar chords, she tells of the four-hour drive with her father and of being "ten years old and happy a week early out of school." The music builds to a gently ambling bluegrass song as she arrives at the festival, bobbing along happily. She describes "Jam grass for the hippies / Old stuff from the '50s / And pretty much nothing in between." She closes the narrative as an adult musician returning to the festival, noting, "A shy kid with a mandolin / I see her standing on the sidelines staring at me / She looks just like me / When I first came to Grass Valley."
The other songs on Crooked Tree also tell entrancing stories taken from the heart of life, such as in "San Francisco Blues," which details the steep rise in the cost of living that has forced so many people to leave the Bay Area, where Molly Tuttle grew up, in recent years. None of these songs, however, quite approach the intense atmosphere of "There Is Always Love," which inevitably goes to the heart with its warmth. A song for the ages.
Crooked Tree not only spreads authentic bluegrass atmosphere, which also can be found elsewhere, but this is a perfectly realized album on all levels, from the production to the contribution of each individual musician, which must be heard.
Molly Tuttle, guitar, vocals
Golden Highway:
Bronwyn Keith-Hynes, fiddle
Dominick Leslie, mandolin
Shelby Means, bass
Kyle Tuttle, banjo
Additional musicians:
Old Crow Medicine Show
Darol Anger, fiddle
Ron Block, banjo
Christian Sedelmyer, fiddle
Jason Carter, fiddle
Mike Bub, upright bass
Viktor Krauss, upright bass
Todd Phillips, upright bass
Tina Adair, backing vocals
Lindsay Lou, backing vocals
Melody Walker, backing vocals