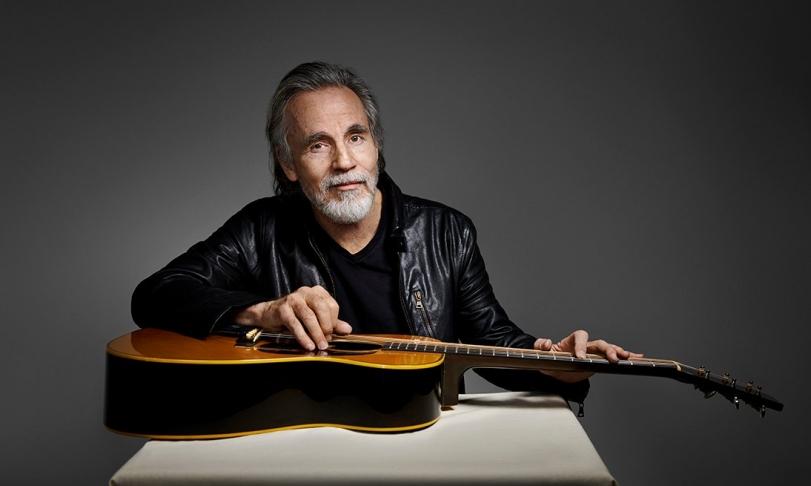 Jackson Browne, who celebrates his 73rd birthday on October 9 this year, is an American rock musician and singer-songwriter, more precisely one of the most famous rock musicians and singer-songwriters in the United States, who helped shape rock music beginning with the 70s. Hits like Running On Empty and The Pretender, as well as personal ballads like These Days and In the Shape of a Heart, bear witness to this. In the U.S. alone, more than 18 million copies of his albums have sold, and both in rock and roll and as a songwriter, Jackson Brown has been inducted into the Hall of Fame.
Downhill from Everywhere, his first album in seven years continues the saga of Jackson Brown's evolution from young, sentimental singer/songwriter to curmudgeonly doomsday prophet. His once gentle voice has since morphed into the curmudgeonly rasp of a man who has seen more than he cares to remember. The looming specter of a nation in flames haunts even the more upbeat tracks with a sense of urgent despair as it did on Standing in the Breach , his last album from 2014.
The album was highly self-produced by Jackson Browne, who makes his home in Culver City in Los Angeles County, and recorded at Groove Masters, Santa Monica. In addition to piano, acoustic and electric guitars and vihuela, he does most of the vocals on the album and performs together with Von Val McCallum, vocals and electric and acoustic guitars, Greg Leisz, also acoustic and electric guitars and lap and pedal steel, Bob Glaub , bass, Mauricio Lewak, Pete Thomas and Russ Kunkel and Jay Bellerose, drums, Mark Goldenberg, electric guitar, Jason Crosby, piano, Jeff Young, Hammond organ, Jennifer Condos , bass, Patrick Warren keyboards, Waddy Wachtel, electric guitar, Raul Rodriguez, palmas, Chavonne Stewart, Aletha Mills, Leslie Mendelson and DeAnte Duckett, vocals. So all in all, he had a strong and powerfully cast group for producing his new album.
A good part of the songs on Downhill from Everywhere announces in best Jackson Browne manner the concern for our environment, the one and other political aspect and the in his opinion insufficient contribution of the younger generation to the open questions of our time. Browne likes to roam in the musical world far away from the USA. "Love Is Love" has a Caribbean feel to it, and the rhythms of the closing track, "A Song for Barcelona," have a distinct Latin feel to them. Finally, the album also features a love song in the form of "Minutes to Downtown", which is addressed to a much younger woman and unspokenly includes his own mortality: "The years I've seen that fell between my date of birth and yours / fade beyond the altered shore of a river changing course".
The track by track exceedingly skillfully crafted and perfectly musicianed album scores graphically with an unusually lovingly designed cover based on Edward Burtynsky's photograph from his Shipbreaking series of an abandoned ship washed up on shore. This cover fits perfectly with the songs gathered on the album, rather darkened in terms of their mood, which do not and cannot succeed in solving the problems of the world. However, the songs very well give an impetus to deal with the problems. Finally, the songs do not leave you standing in the vale of tears, despite all seriousness, but convey at least a little hope on the horizon that we will eventually come to terms with our pressing problems.
Jackson Browne, vocals, guitar
Greg Leisz, guitar
Val McCallum, guitar
Bob Glaub, bass
Jeff Young, keyboards
Mauricio Lewak, drums