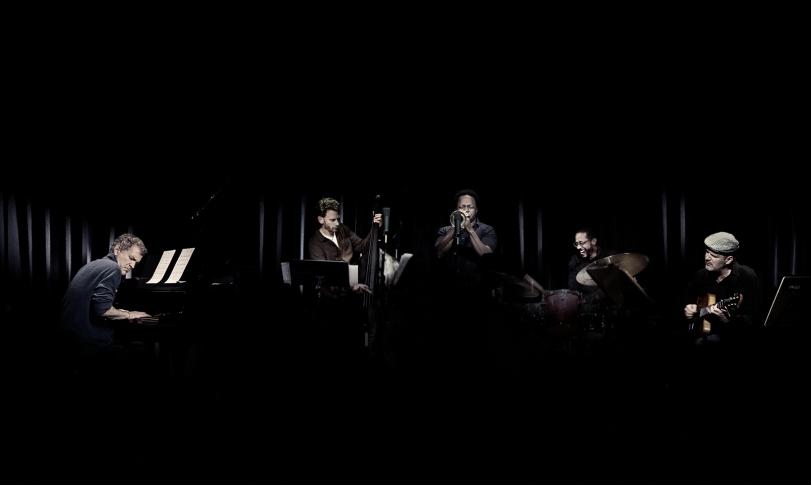 After Driftwood this is the second Muthspiel-album on the ECM label. Driftwood's trio formation with bassist Larry Grenadier and drummer Brian Blade, along with guitarist Wolfgang Muthspiel, has been complemented on Rising Grace with the pianist Brad Mehldau, one of the greats of his guild, and Ambrose Akinmusire, a young trumpeter, acted as a shooting star in the US jazz scene, to a promising quintet with expanded range of expression.
And indeed, every song on Rising Grace solves the promise convincingly in his own way. Together, the songs are never a superficial gait. Rather, a restrained gesture is asked for, allowing to vary the compositional requirements of Muthspiel relaxedly. Highly competent music playing away from any superficiality is called for. Each of the five musicians takes full advantage of his individual abilities, being careful however to ensure that his contribution does not become a self-purpose but harmoniously integrates into the quintet's statement as a whole.
The melodic, ostinato guided title song shows indeed where the journey goes: right into the realm of poetry. In the song Intensive Care, Muthspiel conjures up the pleasures of poetry on the acoustic guitar, first as soloist, before the rest of the instruments expand and weave the narrative prescription of the guitar. In Father and Sun, we encounter a modified roll-up, in which the bass, supported by the piano, takes over the leading role Muthspiel is playing in Intensive Care, whose guitar finally draws up the soloist role again. Above all Akinmusire's lyric trumpet sound is hovering delicately.
Wolfgang's Waltz by Brad Mehldau is the only song on this album, which is not from Wolfgang Muthspiel. Apparently, referring to Muthspiel, this guitarist, with his steel-string guitar, gains the lead, to exchange the leading role with the trumpet in the further course and to play together with this instrument. The intense electric guitar playing on Boogaloo certainly defines the emotional climax of the poetic song sequence on Rising Grace. We get into a quieter part of the water with the song Den Wheeler, Den Kenny, taken by Muthspiel to bow before the art of the trumpeter Kenny Wheeler, a role model from early youth. Ambrose Akinmusire, superbly pianistically supported by Brad Mehldau, follows convincingly in the footsteps off the trumpet. It is a good thing that the ending of the album is not yet reached with the song Ending Music, but we are given an encore with Oak.
Last but not least a special tribute is due to the drummer Brian Blade for his always highly flexible, imaginative contribution to the success of the truly poetic album Rising Grace. Finally, the ECM recording and production team deserves praise for the acoustic masterpiece in realizing Rising Grace.
Wolfgang Muthspiel, guitar
Ambrose Akinmusire, trumpet
Brad Mehldau, piano
Larry Grenadier, double bass
Brian Blade, drums