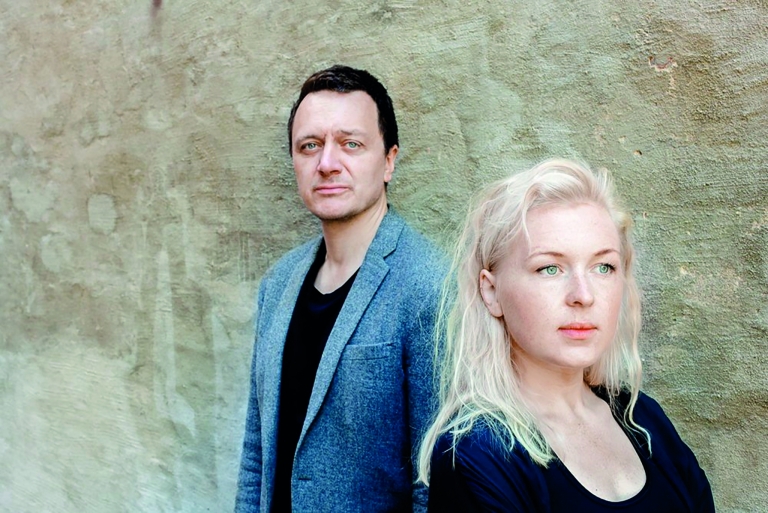 This is very Nordic undercooled, what the Norwegians Siril Malmedal Hauge and Jacob Young deliver on their second joint album Chasing Sunsets. One would like to put on warm clothes spontaneously, in order to master the already with the first song spreading chill. A few songs later, however, one has acclimatized as a southern resident of Europe to the especially cool Norwegian pace on Chasing Sunsets and switches with still slightly cold ears in the enjoyment mode.
What the two Norwegians have in common is an extremely solid education devoted to jazz, immediately followed by numerous concerts in which they were able to consolidate their skills as singer and guitarist, respectively. Siril Malmedal Hauge successfully participated in the jazz program at the Norwegian University of Science and Technology before plunging into the Norwegian jazz scene with vigor. Jacob Young studied music at the University of Oslo before, armed with a scholarship, expanding the guitar skills he acquired there at the New School for Jazz and Contemporary Music in Manhattan. His guitar teachers in New York were Jim Hall and John Abercrombie, and Jacob Young studied jazz composition with Richie Beirach, Bob Belden and Kenny Werner. Successful concert performances in the world's jazz capital on the Hudson River followed, providing the guitarist with the tools for his debut album This Is You upon his return to Oslo.
Siril Malmedal Hauge and Jacob Young's first album, Last Things, released in 2018, hit home with the international press as well as audiences. Japan's Jazz Critique Magazine awarded Last Things the Silver Award for Best Jazz Vocal Album of the Year in the same year of its release. In the songs "How Can I Advise You", "The Ceiling" and "High Alert" you can hear not only the voice of the singer, but also the voice of the guitarist, which unite here as if made for each other congenially to a duet. Jacob Ylung contributes two songs from his own pen: "Bounce with me" and "Last Things". Incidentally, pop songs from, among other places, the Nordic region can be heard on Last Things, whose character is optimally implemented by the cool approach of the two album artists. You can hear, among others, "The Lovesong" (Kjærlighetsvisa) by the Norwegian Halvdan Sivertsen, but also the classic "I Say A Little Prayer" by Burt Bacharach/Hal Davids.
All of the pop songs from foreign pens enjoy on Last Things coherent arrangements that thrive in their originality. The realization of these songs, but also of the original songs by Siril Malmedal Hauge and Jacob Young succeeds, embedded in a Nordic cool basic mood exceedingly excellently. The enormous success of the first album of the two Norwegian artists should no doubt be repeated for their second album.
Siril Malmedal Hauge, vocals
Jacob Young, guitar, vocals
Knut Riisnæs, tenor saxophone