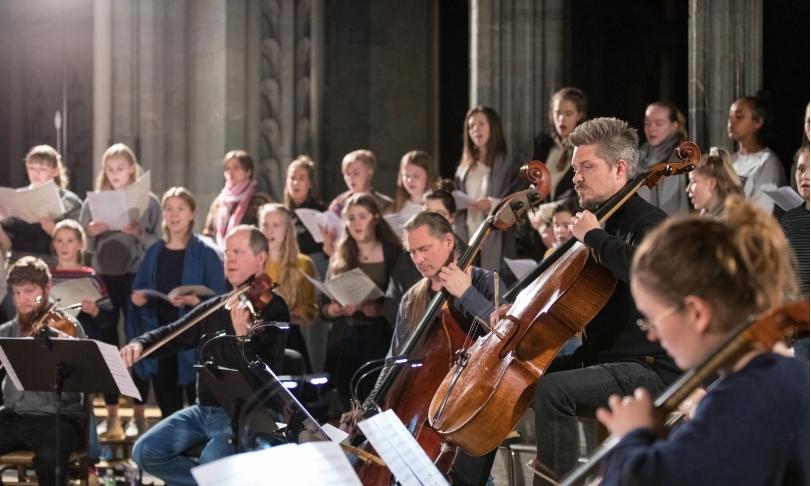 The Norwegian label 2L is one of the pioneers of high-resolution digital sound recordings. Even at a time when CDs were still widely considered as a pinnacle of digital sound culture and SACDs as a sonic overkill, 2L counted on high sampling rates of PCM recordings and of course on the DSD format of the SACD. Like few of the Hirez guards, 2L propagated multi-channel recordings of various formats that are available today on audio Blu-ray discs. The progressive profile of this label is rounded off by a crystal-clear sound, which as such is unique and makes every 2L recording instantly acoustically identifiable as an acoustic fingerprint. Artistically, too, 2L distinguishes itself from the internationally oriented competition by a down-to-earth selection of outstanding artists of predominantly Norwegian provenance with the Trondheim soloists in the orchestral center of recordings from the classical and modern repertoire.
Also, on the album LUX, the Trondheim soloists form the orchestral backbone of contemporary choir compositions, vocally shaped by the girls' choir Nidarosdomens jentekor and recorded in the Nidaros Cathedral, Trondheim. Ståle Kleiberg contributes two of his works to LUX to be realized by choir and string orchestra: "Hymn to Love" and "The Light". Brightness and optimism prevail in both compositions, in which the choir cleverly takes on the role of the light donor on the basis of the subtly tinted orchestra and the organ, subtly played by Petra Bjørkhaug. When one has heard these two works in the interpretation of the Nidarosdomens jentekor and the Trondheim Solistene recorded by 2L, one walks full of light, full of confidence, well prepared for the worst into the day.
Andrew Smith's "Requiem" completely abandons the orchestral backbone for the choir and relies on the composed contribution of the organist Ståle Storløkken and the improvised contributions of the saxophonist Trygve Seim to accompany the girls' choir. The requiem commissioned by the choir essentially follows the Catholic rite and text of the funeral mass, which is partly replaced by contributions that refer to the tragic fate of innocent children in today's crises of warlike nature. The compositional style of Andrew Smith is strongly reminiscent of Gregorian chant, finely developed by the excellent girl choir into ethereal realms, supported by the natural reverberation of the church and the formidable recording technique and the saxophonist and organist, involving the listener at home fully into the process of interpretation.
As expected from 2L, the album LUX, which was originally recorded in the DXD format (352.8kHz / 24bit), is available in various digital formats from the conventional FLAC stereo version with a sample rate of 176 kHz based for this review up to the Hybrid SACD and MQA CD as well as various surround sound versions on the audio Bluray.
Nidarosdomens jentekor
TrondheimSolistene
Trygve Seim, saxophones
Ståle Storløkken, organ
Petra Bjørkhaug, organ
Anita Brevik, conductor