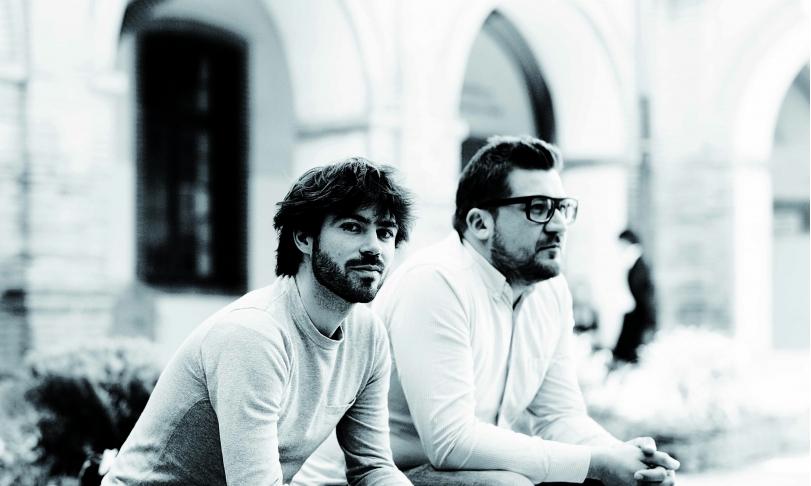 One can assume that the founders of a new band have thought about their name. Why "Endless"? How can a band, its music, or its programmatic orientation be endless? It is good that there are a whole series of synonyms for "endless", which can contribute to the explanation why a two-man-band chose the name "Endless". "Boundless" as well as "incessant" do not seem to be helpful. On the other hand, "inexhaustible" as a reference to unrestrictedly imaginative shaping of musical ideas could point the way, to be taken by the band Endless. And this because the pianist Grégoire Aguilar and the saxophonist David Haudrechy, indeed unconventionally tread new paths of carving musical content with their first work, the album "Lost Lake" far away from the mainstream of jazz and classical music, putting together both worlds dreamingly securely, uncompromisingly innovative.
How this is done, and how easy it is for the listener to immerse in the dream world of Endless, can be experienced from one track to the other of the eleven tracks of the album, nine tracks of being compositions of the two album musicians, whereas two titles originate from none other than the extravagant Jazz pianist and organ player Carla Bley and the film music giant of the sixties Henry Mancini. Carla Bley's contribution to Lost Lake is the ballad "Ùtviklingssang""from 1980. Only rarely do musicians second-hand utilizing a piece from the pen of another in succeeding to refine the piece in the sense that it gains in meaning. Originally inspired by environmental protests of the seventies, the Endless' version of this Carla Bley piece charges its emotional content without however overburdening it. Henry Mancini's "Charade" from Stanley Donen's comedy thriller featuring Audrey Hepburn and Cary Grant rises like the original in the style of a waltz, but loses in the version of Endless increasingly his perfidious dance character, to abduct the listener like the genuinely misleading film plot to total confusion, before the waltz time takes over again inaugurating the surprising dissolution of the thriller action. A masterpiece of modifying a famous original. Henry Mancini would have liked that.
No less masterly designed and virtuosically performed the own compositions of Endless are coming along having provided a spectrum from relaxing to thrillingly exciting. After a brief hour of enchantment by the album and admiration for its interpreters, one wishes that another album of the two musicians may follow soon, especially since the recording quality of the high-resolution downloads is simply excellent. Highly recommended.
David Haudrechy, soprano saxophone
Grégoire Aguilar, piano