---
Biography Quatuor Manfred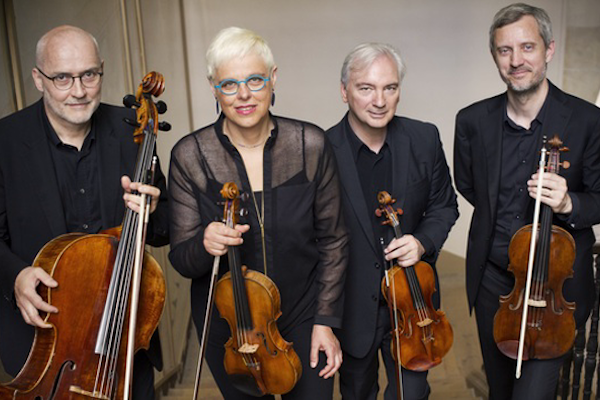 Quatuor Manfred
In 1986 four musicians, graduates of internationally renowned institutions (Julliard School, New York – Geneva Conservatory – National Conservatory, Paris) decided to found the Manfred Quartet. As early as 1989 the quartet won two prestigious international competitions: Banff (Canada), becoming the first European string quartet to win first prize there, and Evian (France), which made the Manfred the leading prize-winning French quartet of its generation.
Thus the Manfred Quartet has been invited to play with a large number of well-known musicians: Mstislav Rostropovich, Yuri Bashmet, Tatiana Nikolaieva, Bruno Canino, Anne Queffélec, Jean-Claude Pennetier, Claire Désert, Nicolas Bône, Raphaël Oleg, Florent Héau, Pascal Moraguès, Paul Meyer, Romain Guyot, Raphaël Pidoux, Marc Coppey, Manuel Fischer-Dieskau, Xavier Phillips, Jean-Paul Fouchécourt, Pierre-Yves Pruvot…
For 30 years, the Manfred Quartet has shared its passion and its performances with audience not only in France but also in Germany, the Netherlands, England, Italy, Spain, the United States, China, Indonesia, Singapore and Chile.
The Manfred Quartet's discography reflects its attachment to the romantic repertoire and to early 20th century composers. Its recordings of Berg (ffff Télérama), Schoenberg, Janacek, Smetana and Prokofiev met with great critical acclaim, as did those of Schumann, Mozart (5 Diapasons) and Chausson (4 Diapasons, 4 stars Classica).
Since 1986, the Manfred Quartet is in residence in Dijon where it has created its own season. After having played the complete works for string quartet of Haydn, Schubert and Beethoven, the Manfred Quartet is now presenting all the Mozart and Jadin string quartets. Its partnership with Palazzetto Bru Zane – the French romantic music Centre, in Venice – leads the Manfred Quartet to play works of little-known composers such as T. Gouvy, G. Onslow, G. Samazeuilh, much appreciated by a keen to discover other repertories.
The desire to broaden its musical horizons has led the Quartet to develop projects with jazzman Raphael Imbert and his group Nine Spirit resulting in two recordings: Bach-Coltrane (Zig-Zag Territoires 2008) and Heavens, (Mozart and Duke Ellington – Harmonia Mundi 2013).
Also, with the singer Marion Rampal, the Quartet has created a programme of 1930's music – cabaret and film (Bye Bye Berlin! at the Grand Théâtre, Dijon Opera, in January 2015). A new recording of this repertory is due in November 2016 adding another element to the Quartet's already considerable discography.
In order to continue sharing its enthusiasm for chamber music, the Manfred Quartet founded in 1994 « Musiques » en Voûtes », an itinerant festival in the four provinces of the Burgundy region, which combines national heritage and chamber music. Thus the Quartet, often with prestigious guest artists, gives concerts under the romanesque arches of churches or chapels in small villages and reaches out to a new public.
It has always been important for the Manfred Quartet to work with young musicians. The « Musiques en Voûtes » festival has for many years included a chamber music workshop and improvisation sessions with the jazz saxophonist Raphaël Imbert. Then in 2014 the Quartet created a season « Hors les murs » in partnership with music schools in the Côte-d'or province of Burgundy, combining teaching sessions with very young musicians and concerts. These events, but also numerous masterclasses in France and abroad, give the Manfred Quartet the possibility to pass on to the next generation of musicians not only what they learnt from their teachers but also from their own experience over the years.
The Manfred Quartet receives support from the Ministry of Culture and Communication through the Regional Council of Burgundy.