---
Biography Stefano Zanchetta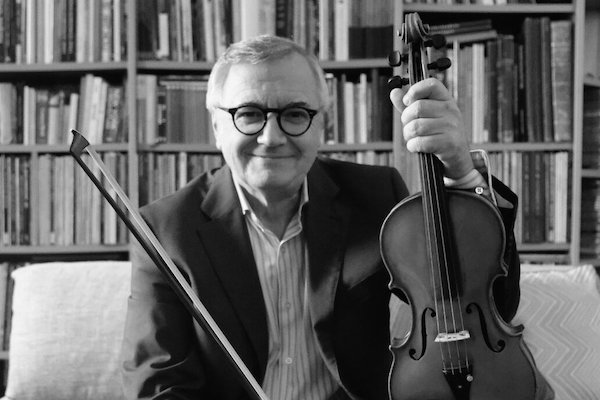 Stefano Zanchetta
began studying the violin with Sirio Piovesan at the Venice Conservatory, later being regarded as the sole heir to his violin school, where he obtained diplomas in violin and viola with the highest honors. Later, at the Mozarteum in Salzburg, he specialized with Sandor Vegh and with Antonio Janigro in chamber music. He has won important prizes with the trio with Mario Brunello and Massimo Somenzi such as at the Paris Chamber Music Competition and the prestigious Colmar Trio Competition. Moreover, he has been the only violinist chosen from numerous national selections: 1978 Auditorium competition organized by RAI and awarded with a live radio recital from the Auditorium in Turin. He also obtained several first prizes at the Vittorio Veneto violin festivals for 5 consecutive years.
Alongside his violin teaching, Stefano Zanchetta has an extensive concert activity that leads him to perform all over the world and in the most prestigious halls and theaters such as Carnegie Hall in New York, The Tchaikovsky Hall in Moscow, and in countries and regions such as Japan, Australia, China, South America, the United States, New Zealand and throughout Europe and the Middle East. He has collaborated as first violin with the Orchestra of the Teatro La Fenice, the orchestra of the RAI in Rome, the Abruzzese Symphony Orchestra of L'Aquila, the Orchestra of the Theater of Treviso, the Regional Orchestra of Udine, the Orchestra of the Italian-Slovenian musical youth, and the Italian String Orchestra conducted by Mario Brunello, with whom he has had the role of soloist.
His interest in the music of the 20th century led him to perform works by A. Berg, K. Weill, R. Zandonai, A. Schnittke, etc. In the field of Baroque music, he has collaborated with I Virtuosi di Roma, the Orchestra A. Vivaldi of Venice, founded by his maestro Sirio Piovesan, and the Sonatori della Gioiosa Marca with Cecilia Bartoli at the Musikverein in Vienna. Furthermore, Zanchetta has to his credit numerous recordings for the Erato companies together with Claudio Scimone and the Solisti Veneti, Decca, Cpo of Berlin, Divox, Phone, Denon, among others. Claudio Abbado wanted him in the first violin stands in his prestigious Lucerne Festival Orchestra for a series of concerts at the Musikverein in Vienna with Maurizio Pollini as a soloist.
Stefano Zanchetta serves on juries in violin competitions such as the Postacchini in Fermo, Vittorio Veneto, Treviso, etc. He has recently published 12 etudes for violin and 4 pieces for violin and piano from Italo Calvino's Invisible Cities and will soon release a Paganiniana written for solo violin. In 1980 he began his teaching activities at the Conservatorio B. Marcello, and many students who graduated under his guidance hold important positions in prestigious symphonic institutions and chamber groups. Faithful and heir to the violin tradition of his teacher Sirio Piovesan, he is considered as the sole heir of his school and wants to perpetuate its valuable teachings.